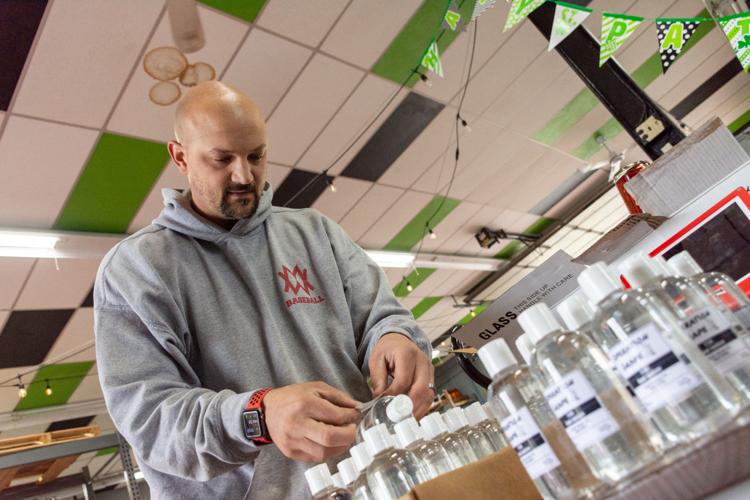 NEW WILMINGTON — When the federal government asked for help addressing a shortage of hand sanitizer, Fractured Grape Wine Cellars answered the call.
"We're trying to fill a gap that's needed," said Walter Novosel, owner of the winery-brewery. "We want to help support the local community as much as we can."
The business, 138 S. Market Street, is repurposing the alcohol it makes for hand sanitizer during the COVID-19 pandemic. Alcohol is the main ingredient in hand sanitizer. 
Novosel owns Fractured Grape Wine Cellars, Nova Cellars in Pulaski and Knockin Noggin in Volant. 
Since Gov. Tom Wolf ordered the closure of all non-life sustaining businesses, the three locations have consolidated and are now selling wine, several kinds of craft beer, hard cider and hand sanitizer through their new drive-thru operation in New Wilmington. It operates from noon to 8 p.m. daily and delivers within a 20-mile radius.
Nova Destinations, which encompasses all the businesses, is donating most of the hand sanitizer it produces through "Operation Grape," its nonprofit venture.
"We have been donating hand sanitizer to first responders and nursing homes," Novosel said. "We will probably give away 80 percent and sell 20 percent of the sanitizer to cover the cost."
Federal regulators provided guidelines to follow to make the sanitizer and Nova Destinations has been making it at the Fractured Grape location 24 hours a day since Thursday.
"The World Health Organization recommended a formula that is about 70 percent alcohol, so we've just been following their guidelines," Novosel said.
Novosel said Nova Destinations is bottling the hand sanitizer for now in 4-ounce, 8-ounce and 16-ounce containers.
"I recommend people hold onto their bottles and we can provide refills," Novosel said. "When we run out of bottles, we're going to start canning sanitizer."
He estimates the business has been producing 24 to 30 bottles of sanitizer a day.
Nova Cellars began operations in 2012, when Novosel started the business out of his garage with his wife, Katie.
The couple's goal at each location is to continue to implement a family-centered atmosphere including family friendly entertainment to provide "A Crafted Experience", all while giving to those in need. After years of planning, in 2018 they were able to start a nonprofit, Operation Grape: Drink For A Cure.
"Every wine donates to different charities," Novosel said. "We believe that's our calling and our purpose."
Fractured Wine Cellars will be producing hand sanitizer during the COVID-19 crisis.
"We will re-evaluate this at the end of March and we hope to expand operations again after that," Novosel said.
The company takes online orders through its website at www.nova.wine. Customers also can order by calling 724-901-0005.
Follow Melissa Klaric on Twitter and Facebook @HeraldKlaric, email: mklaric@sharonherald.com