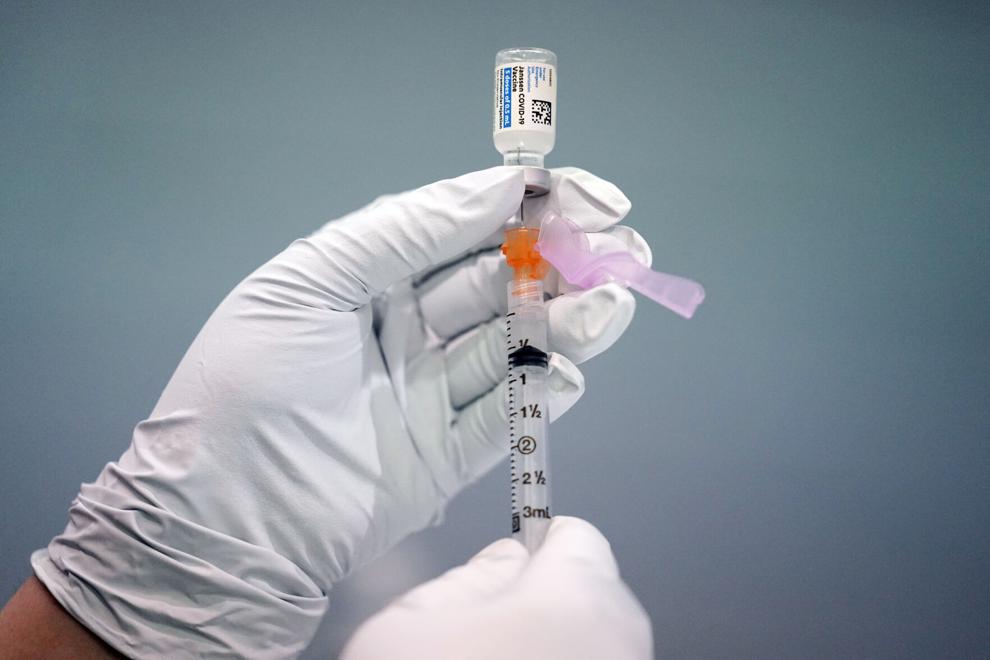 HARRISBURG — The Pennsylvania Department of Health told COVID-19 vaccine providers Tuesday to pause administering doses of the Johnson & Johnson vaccine until at least April 20 in response to a warning from the Centers for Disease Control and Prevention and Federal Drug Administration that the vaccine had been linked to six cases of women with serious blood-clots.
The CDC is convening an emergency meeting Wednesday of the Advisory Committee on Immunizations Practices to further review cases for any details on the significance of this rare occurrence, said Dr. Peter Marks, director of the FDA's Center for Biologics Evaluation and Research.
Nationally, about 6.8 million Americans have received the Johnson & Johnson vaccine, according to the FDA.
The Johnson & Johnson vaccine has represented only a fraction of the doses administered in Pennsylvania, Acting Health Secretary Alison Beam said Tuesday afternoon. There have been 262,739 doses of the Johnson & Johnson vaccine administered in the state. Overall, vaccine providers have administered 6.5 million vaccine doses as of Tuesday, and 2.44 million Pennsylvanians are fully-vaccinated.
Prior to last week, the state had been using the Johnson & Johnson vaccine to immunize educators, Gov. Tom Wolf said that more than 100,000 educators received the Johnson & Johnson vaccine as part of an initiative intended to encourage schools to reopen for in-person learning.
Since then, the state has directed some of its Johnson & Johnson allocation in the state prison system.
Approximately 17,427 inmates and 1,891 staff members have received the Johnson & Johnson vaccine, Department of Corrections spokeswoman Maria Bivens. An inmate "with a significant number of comorbidities" died Friday, 48 hours after being given the Johnson & Johnson vaccine, Bivens said. The Department of Corrections hasn't found any "clear causal relationship" linking the death to the vaccine, she said.
Beam said the state was due to get 20,000 doses of the Johnson & Johnson vaccine this week. The state is scheduled to get 270,000 doses of vaccine produced by Pfizer and Moderna.
Most of the vaccine doses that the state had administered have been Pfizer and Moderna vaccine doses, Beam said.
The state's move to expand eligibility to all adults was based on confidence in the supply of Pfizer and Moderna, she said, noting that since the Johnson & Johnson vaccine was approved, the supply of that vaccine has fluctuated.
Beam said the federal move was "prudent, to allow us to retain the trust around the vaccination process."
Dr. Stanley Martin, director of infectious diseases for Geisinger, said that the move was done "out of an abundance of caution" based on the apparent risks suggested by the six cases identified by the CDC and the FDA.
"It's obviously fairly low association. If you're talking about a little Less than one in a million," Martin said. "If you look at some other medication, oral contraceptives, the birth control pill, the risk of a blood clot in that, is just a little bit higher," he said.
Martin said he's somewhat concerned that the move could reinforce vaccine hesitancy among members of the public which could slow the progress being made to try to slow the spread of COVID-19.
"When you have one person who doesn't want to get vaccinated, we all suffer as a consequence. If we want to conquer this pandemic and get past this, vaccination is a critical part of that equation," Martin said.
"I don't want to be critical of the FDA or the CDC because their mind is in the right place," he said. "A lot of people have trouble with this type of math. When you talk about 1 person out of a million. People tend to not truly understand what that means for their own risk, which is incredibly negligible."
In a call with reporters Tuesday, Anne Schuchat, principal deputy director of the CDC said that the pause was intended to generate guidance for vaccine providers and health providers about what symptoms they should be looking for and how to respond if a person experiences the blood-clotting side effects.
Janet Woodcock, acting commissioner of the FDA said that federal officials expect the pause to last "a matter of days" and Schuchat said that federal regulators will be "expeditious" in providing the guidance to state and local health care officials.
Marks said that there have been no reports linking the Moderna and Pfizer vaccines to similar incidents.
These six cases occurred in women between 18 and 48 who were among the 6.8 million Americans who received the Johnson & Johnson vaccine. This announcement shows that the federal oversight process of a vaccine's safety and effectiveness is working, and all steps are being taken to protect Americans.
"While this announcement is challenging, it highlights the vaccine evaluation process," Beam said. "The CDC and the FDA are closely monitoring vaccines for safety and effectiveness, and if there is a cause for concern, they will take action because safety is paramount. This protocol should give all Pennsylvanians confidence in the safety and effectiveness of the Pfizer and Moderna vaccine, and individuals should proceed with getting vaccinated as soon as possible to fight the virus, particularly as our case counts rise."
Individuals who have appointments scheduled to receive a Pfizer or Moderna vaccination should keep those appointments., Beam said. If you are not aware of which vaccine type you are scheduled to receive, be assured that effective immediately, providers will not be administering the Johnson & Johnson (Janssen) vaccine, Beam said.
Anyone who has received the Johnson & Johnson (Janssen vaccine) and has any health concerns, contact your health care provider, Beam said. People who have received the Johnson & Johnson vaccine who develop a severe headache, abdominal pain, leg pain or shortness of breath within three weeks of their vaccination should contact their health care provider, Beam said.
Francis Scarcella of The Sunbury Daily Item contributed to this story.