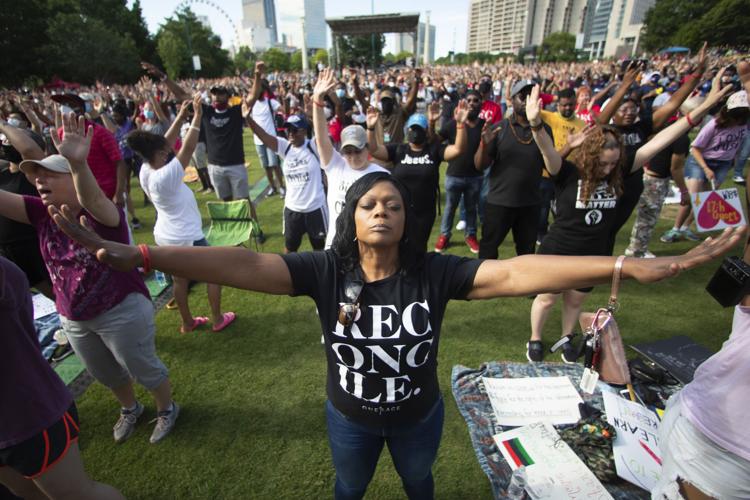 FARRELL — Annual observance of Juneteenth is nothing new in the Shenango Valley.
This year's event was to have been Farrell's 26th annual Juneteenth. But that was before restrictions from the COVID-19 pandemic made holding the celebration — held annually at Veterans Square in the city — impossible.
Even as the virus claimed Farrell's observance, Juneteenth is receiving widespread national attention this year. The irony isn't lost on Farrell Councilwoman Olive McKeithan, who took on a role for many years organizing the city's Juneteenth celebration.
"You don't know how sad I am about that," she said.
Juneteenth — a portmanteau of "June" and "Nineteenth — marks June 19, 1865, when word of the Emancipation Proclamation and the Union's victory in the Civil War finally reached Galveston, Texas, officially freeing the nation's last enslaved people.
This year, Juneteenth has taken on a new importance, as it falls after nearly a month of protests sparked by the death of George Floyd, a black man killed by white former Minneapolis police officer Derek Chauvin.
The protests have grown beyond Floyd's death to become an assertion of civil rights. Dr. Erin Houston, president and CEO of the Shenango Valley Urban League, said Juneteenth should always have had the recognition it has taken this year.
Houston's view is that Juneteenth is a critical part of black history, which should be an expanded part of American educational curriculum.
"I think we need to do everything we can do, read about the history of what Juneteenth means and just educate ourselves on why we celebrate," she said.
Juneteenth marked the final step of enforcing the Emancipation Proclamation, signed by President Abraham Lincoln on Sept. 22, 1862. Five days earlier, Union forces defeated the Confederates at the Battle of Antietam, giving the president a military victory on which to issue the order.
The Emancipation Proclamation, which went into effect Jan. 1, 1863, freed enslaved people in states engaged in conflict with the Union, but not in the four — five when West Virginia joined the union in 1863 — slave states that remained in the United States.
However, the proclamation could be enforced only as the Union army conquered Confederate territory and freed the enslaved people who lived there. Finally, the Confederate surrender in April of 1865 freed all enslaved people aware of the outcome.
Juneteenth marked the arrival of the news in Texas, effectively ending slavery in the United States.
Michael Muha — a Hermitage city commissioner, member of the Shenango Valley Urban League board and self-proclaimed Civil War buff — said the process that includes Juneteenth went back even further than the Civil War.
"It symbolizes that all men and women are created equal," he said.
The emancipation of enslaved Americans is the culmination of the work begun by the nation's founders, who established a democratic republic to replace the British monarchy, he said. But the founders left out black Americans in general and enslaved Americans in particular.
Muha said the holiday should be important to all people, white and black alike, because it represents the process toward an ideal of equality.
"Juneteenth is a celebration of that continuum," he said. "There were thousands of slaves in Texas and they were treated as chattel."
But it was recent events — including the killing of Floyd and other extrajudicial killings of black men and women — that make clear there is still work left to be done.
Marquis Lampkins, who has organized protests through #WWCTHEVOICE, said she appreciated the newfound attention Juneteenth is getting, but she wished that the circumstances could have been different.
"I feel like it's sad that it did have to take on greater weight because of current events," she said.
Lampkins had hoped to hold a Juneteenth celebration Friday, but instead will attend the observance today in New Castle, after attending funeral services for murder victim Amari Wise, killed June 5 in Lawrence County. Lampkins said she is friends with Wise's parents.
While Lampkins was unable to celebrate Juneteenth in Farrell this week, she said that #WWCTHEVOICE — WWC stands for "We Want Change" — didn't want to overshadow the Shenango Valley's black elder statesmen and women like McKeithan who helped make Juneteenth a tradition in the area.
McKeithan said this year's Juneteenth observance was to have had a theme of "unity." Traditionally, Juneteenth has been an event to promote togetherness in the city, with police officers and county officials spending time with residents.
"It means coming together as a community of people as one," McKeithan said.
This year though, even in its absence, the holiday is taking on a meaning that hearkens back to the first Juneteenth, when Union Gen. Gordon Granger stepped onto the balcony on one of the finest homes on Galveston Island, read General Order No. 6 and declared the formerly enslaved Americans to be free men and women.
Houston, of the Shenango Valley Urban League, said Juneteenth, set against the background of current events, serves as a reminder that the work of freedom and equality — begun on June 19, 1865 — is not yet finished.
"Juneteenth is a reminder that we need to continue working for that change," she said. "It's symbolic for a huge part of change in history and that's what we're fighting for — change."
Follow Eric Poole on Facebook and Twitter @HeraldEricPoole. Email him at epoole@sharonherald.com