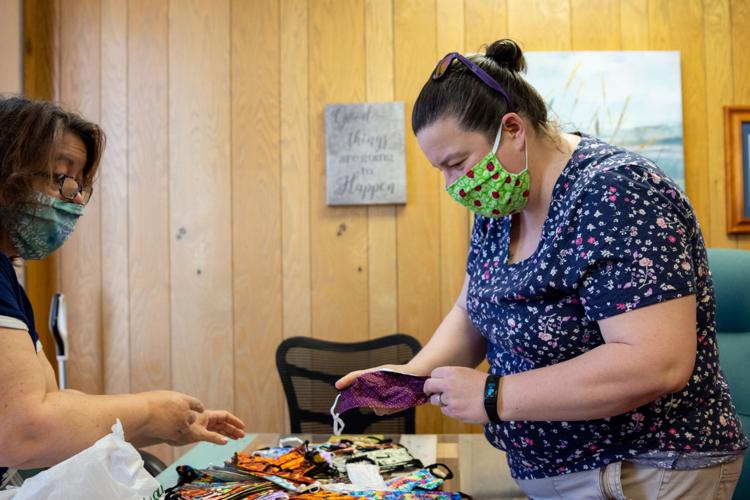 SHARON — As businesses in the area emerge from COVID-19 pandemic-imposed restrictions, Sherris Moreira, executive director of the Shenango Valley Chamber of Commerce, said part of her job is to provide support.
That's why the chamber is helping Saturday with a mask giveaway by the Greenville-based Let's Make Masks group.
"We just see this as another way to promote the health of the residents, but also to help the businesses in our community," she said.
Mercer County is under the yellow designation of Gov. Tom Wolf's "red-yellow-green" protocols designed to return Pennsylvania businesses to operation after pandemic-related closures. Many retail businesses are allowed to reopen with restrictions, including requirements that employees wear masks and enforce social distancing for workers and customers.
The mask giveaway will be held from 10 a.m. to noon at the Shenango Valley Chamber of Commerce offices, 41 Chestnut Ave. in Sharon, and the Medical Equipment Recycling Program plaza, 707 Farrell-New Castle Road in Farrell.
Members of THRIVE Shenango Valley will hand out the masks at a drive-through. Each car will be allowed to have a maximum of two masks.
Moreira credited "Let's Make Masks" and group member Amy Clark for providing many of the roughly 2,000 masks that the chamber will have available for distribution, and said Hermitage resident Peggy Katona made 200 masks by herself.
Wearing masks is a measure people can take to prevent another outbreak that would force greater restrictions and another round of closures of business that have barely survived this one, Moreira said.
"It's another way to help keep people safe and keep business open," she said.
NOTE: This article and the headline have been edited to indicate that "Let's Make Masks" is distributing the masks.