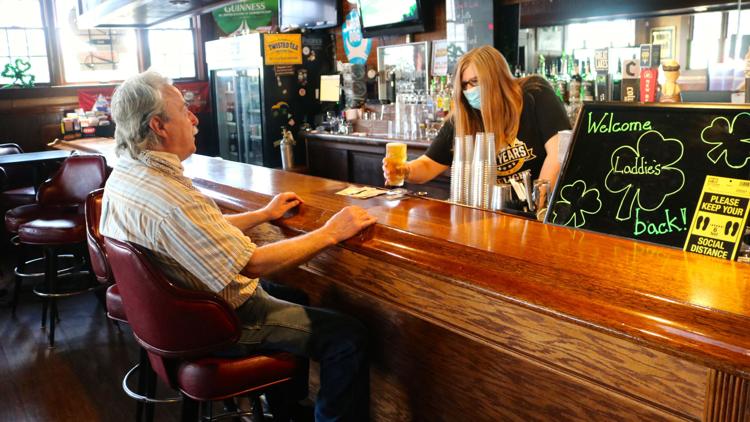 BROOKFIELD – Seated at PaPa Louie's Italian Kitchen & Motocross Cafe's bar in Brookfield Thursday afternoon, Gary Dickerson didn't hesitate when asked his age.
"I've been here almost 78 years,'' Dickerson, a Brookfield resident, said.
That drew a quick response from bartender Aleta Fonagy.
"He doesn't mean that he's been at the bar for 78 years,'' Fonagy said with a hearty laugh.
Ohio restaurant owners and their customers were in a cheerful mood on Thursday, the first day Ohio allowed these business to serve meals in their dining area in over nine weeks. Until now restaurants in the state were allowed to stay open during the COVID-19 pandemic, but they could only offer takeout service. Pennsylvania allows restaurants to offer takeouts but still prohibits indoor dining.
Since PaPa Louie's bar was closed during the height of the pandemic, Fonagy found herself unemployed.
"I'm luckier than others, because everything I have is paid for,'' she said.
Still, the absence of work took its toll.
"I cried a lot and I prayed a lot,'' Fonagy said.
To keep herself busy, she redid the flowerbed around her home and played with Maxie – her rescue dog.
It helped.
"I learned you can't control what you can't control,'' Fonagy said.
While the restaurant offered takeouts, it wasn't close to what the business normally sees in revenue, said Irene Delung, owner of PaPa Louie's. She figures revenues were down 50 to 60 percent.
'It's stressful,'' Delung said. "We hope to see that people will be coming back to the bar as steadily as they use to.''
A late Thursday afternoon tour of Brookfield restaurants that reopened for dining found a small but steady flow of customers.
Still, there were signs this wasn't business as usual. All of the restaurants had signs asking patrons to observe the 6-foot social distancing rule, hand sanitizers were in easy reach everywhere and acrylic glass was installed in key areas to separate people.
"We measured out the tables so that they're six feet apart,'' said Laddie Simco, who was working behind the bar at Laddie's Sky Club in Brookfield. Simco's extended family owns the bar and restaurant.
Regular Frank Airila occupied a seat at the bar, with a cold draft beer in front of him.
"It's good to be back,'' the Brookfield resident said.
Diane Duncan, co-owner of Bad to the Bone BBQ & More restaurant, enjoyed herself serving customers. 
"This is much, much better,'' Duncan said of being open.
She did her research in guidelines issued by the state, such as all employees needing to wear masks.
"We're not allowed to have anything on tables like salt, pepper or even utensils,'' Duncan said. "It's only after someone sits down that we can bring those things out to them.'' 
John Zell, a regular at the restaurant, said he was grateful for more than just the restaurant's food.
"I was getting cabin fever,'' Zell said. "This makes you feel like it's a some kind of normal.''