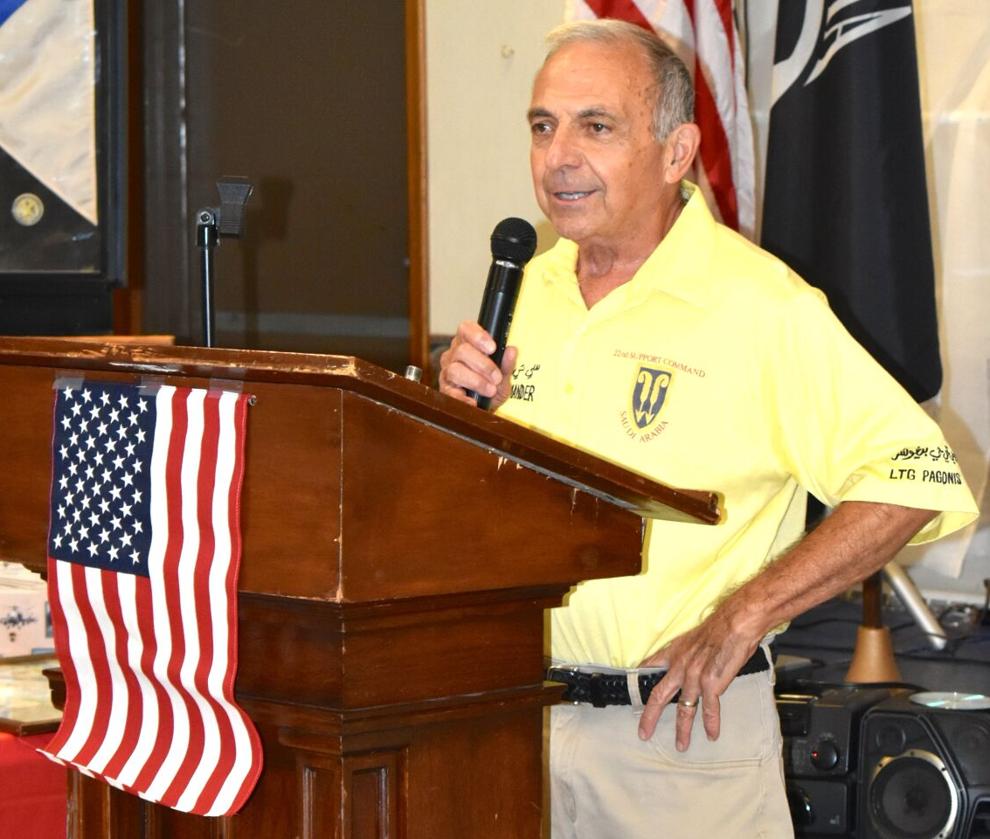 SHARON – When the ground attack began in the Gulf War, military leaders thought the war would last at least a year, retired Lt. Gen. William G. Pagonis told an audience at the Sharon Elks Lodge on Saturday afternoon.
"We never dreamed the war would end in 100 hours,'' Pagonis said.
Retired Lt. Col. Larry Scheetz and his wife, Dawnle, created the 30th reunion of Desert Storm veterans and invited Pagonis to speak. Desert Storm was the ground attack to drive out the Iraq military that invaded Kuwait.
At 5 feet 6 inches tall, Pagonis doesn't physically dominate a room. But his military service, which included the Vietnam War, commanded the respect of the 150 who attended the event.
The U.S. led 35 nations in response to the Aug. 2, 1990, Iraq invasion of neighboring Kuwait. Coalition forces struck back starting Jan. 17, 1991, with an aerial and naval to bombardment. The ground assault struck on Feb. 24, and within 100 hours it was over – Iraq no longer controlled Kuwait.
Pagonis was in charge of logistics, which is supplying the military with everything from boots to missiles.
When preparing the attack Pagonis was a major general – a two-star general officer. But just before the ground assault he was promoted to lieutenant general, a three-star general.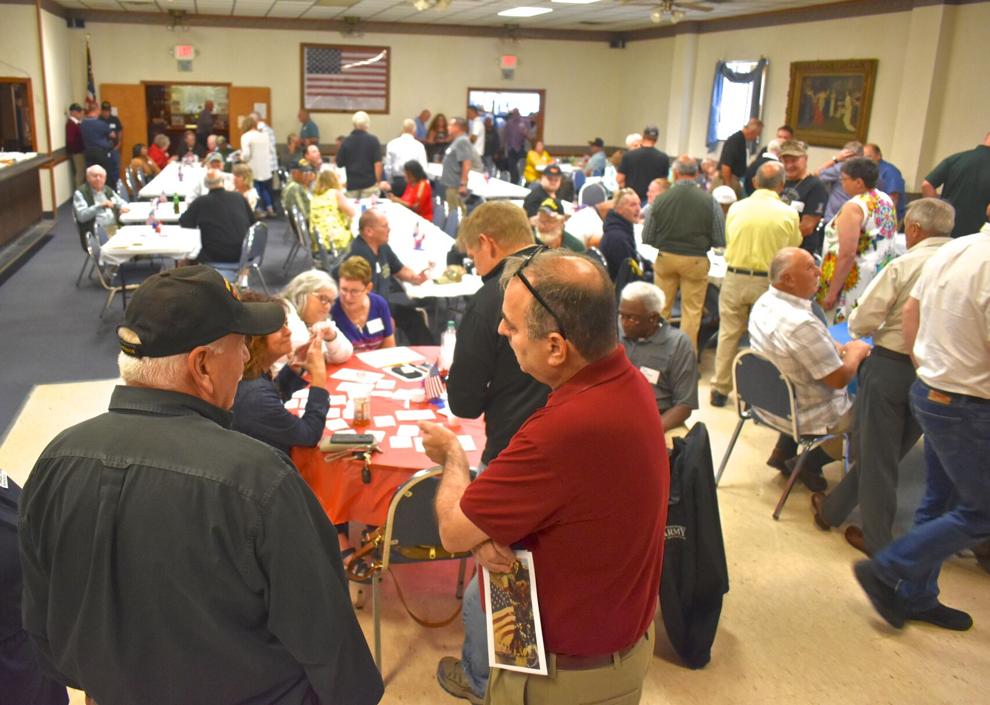 "There's a regulation that if there's a major battle, whoever runs logistics has to be a three-star,'' he said.
After the battle he also was given charge of enemy prisoners. Over one 24-hour period, 60,000 Iraqi prisoners were taken in, he said.
He told a couple of Gen. Norman Schwarzkopf stories. Schwarzkopf was the four-star Army general who led all coalition forces in the Gulf War.
Before the ground battle started, Schwarzkopf invited more than 100 reporters to a news conference. He asked them to keep a secret – the main invasion was going to be by sea.
It was a hoax. Schwarzkopf knew it would be a ground invasion. He applied a long-time military tactic, the use of deceit to throw off the enemy.
Within hours the "secret'' spread like wildfire.
"The whole world thought we were coming from the sea,'' Pagonis said with a laugh.
Coalition forces had a huge advantage in technology, he said.
But the military had to use technology of the time, said Ranaee Janis, who served as an Army captain with the 646 Quartermaster unit based in Kingwood, W.Va.
"You have to remember that was the early '90s,'' Janis said. "They didn't have computer technology then. We used paper.''
The phone system was equally as primitive, she added. It was an old crank phone, like the kind used in the TV show M*A*S*H.
And budding technology like GPS was rationed.
"Only the elite forces got GPS,'' Janis said.
She and her husband Rick, who remains on active duty as a lieutenant colonel with the unit, traveled from their Virginia home to attend the reunion. Their friend Frankie Sines, who served as a master sergeant with the unit during Desert Storm, traveled with them.
For Hermitage resident John Croyle, Desert Storm has heartbreaking memories.
Croyle served in the Vietnam War from 1969-72 with the Air Force at Yokota Air Base in Japan. Eventually he joined the Army and in Desert Storm was a first sergeant with the 475th Quartermaster Group, which was deployed to Saudi Arabia. The 475th's base is in Farrell.
An Iraqi Scud missile hit a building housing more than 150 members of that unit. Croyle was sleeping in another building less than a half-mile from the blast.
"The concussion of the missile was so bad it blew out the windows in my building,'' Croyle said. "I was so tensed up it turned my body into a rock.''
With his pistol in hand, he dashed to the blasted building.
"I thought we were going to have a fire-fight,'' Croyle said of a possible enemy ground attack.
Pulling out dead and wounded members of his brothers in arms from the rubble is painful to talk about. He remembers one soldier.
"He had a hole in the side of his body that I could put my fist in,'' Croyle said. "But he survived.''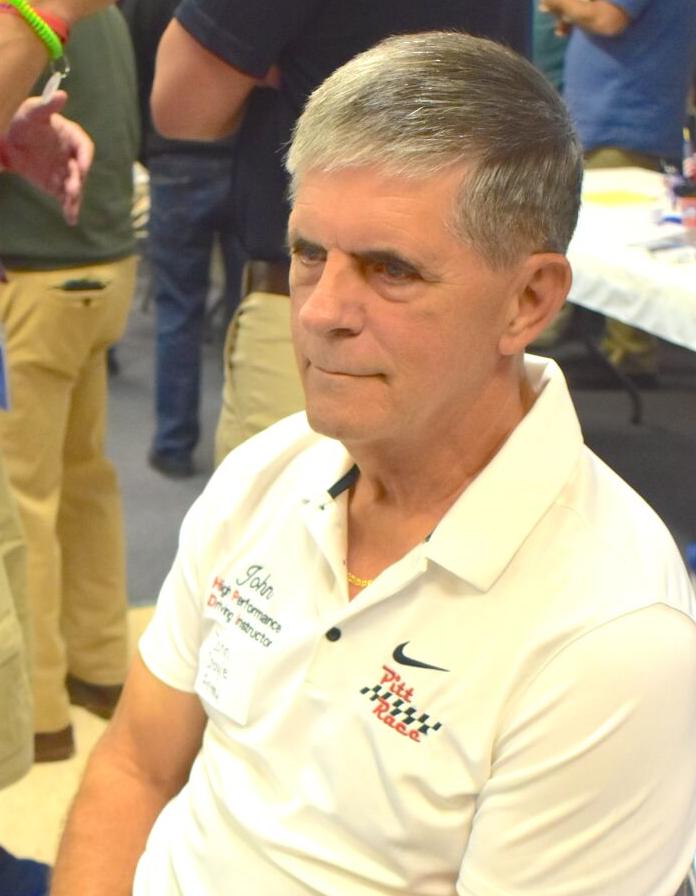 In all, 28 were killed and 100 wounded. Serving as a 475th company commander during the war, Scheetz couldn't recall any local resident listed among the casualties. He also is the retired Mercer County director of Veterans Affairs.
Croyle was grateful civilians learned a lesson from the Vietnam War. When returning home from that war he recalls a scornful public.
At the time of Desert Storm he was a Warren, Pa., resident who served on the city's fire department.
"The fire department picked me up with a fire truck and had the siren going through town,'' Croyle said.
Arriving at the fire station, 250 people were there to greet him.
"I was in tears,'' he said. "It was a happy time.''