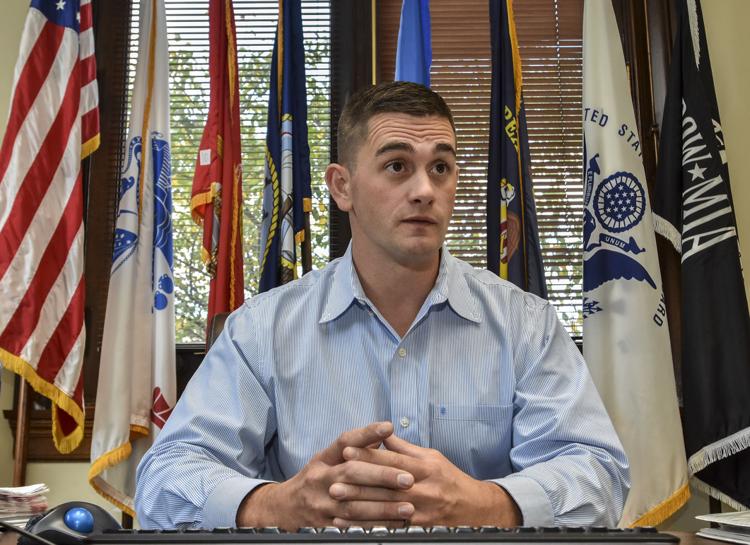 MERCER — There's no one-stop shop for local veterans, but the new Mercer County Veterans Affairs director, Bradley Alan of Hermitage, said he's here to help.     
Alan was appointed director in August when former director Larry Scheetz retired. Before accepting the position, Alan previously worked as an engineer.
A Marine Corps veteran and former gunnery sergeant, Alan remains in the reserves, where he serves as a Marine For Life Network representative. He considers himself a servant to other veterans and their families, he said.
"We connect veterans to resources," Alan said. It's serving other veterans and veteran organizations. Some people get out of active duty and don't know what services are available to them."
There are different organizations in the community that help veterans "transition" back into civilian life, he said.
Before they can apply for services, veterans must file their DD-214 papers or military service record. Then there are the benefits' claims forms, which Alan calls a very "technical" process.
"That process, if not correctly managed, can greatly affect a veteran," Alan said. "Veterans need to have an advocate to assist with that process. We are advocates for the benefits' claims' process advocating on behalf of the veteran."
Jodi Fitchko, the county's assistant director of veterans affairs, agreed.
"We just try to guide veterans in the right direction for all benefits," she said.
Policies change often, so it's helpful to have resources, Fitchko said.
The services the veterans affairs office provides include assistance with "disability compensation claims, pension claims, real estate tax exemption for 100 percent permanently and totally disabled veterans, emergency financial assistance, applications for VA home loan certificate of eligibility, applications for VA healthcare, Post Traumatic Stress Disorder counseling, recording or requesting military discharge papers and death gratuity benefits," according to the Mercer County Government website.
There are job opportunities in western Pennsylvania and a Mercer County CareerLink veterans representative who is ready to lend a helping hand, Alan said. Community Action Partnership of Mercer County has resources available to help veterans with housing, too, he said.
"There are people in the county devoted to helping veterans," Alan said. "There are representatives here to assist."
If veterans are looking for resources, it's best to call the Mercer County Veterans Affairs office and leave a message, briefly state their needs, and a representative will get back to them as soon as possible, he said.
"We are thankful for those that have served," Alan said. "We're excited for the opportunity to serve them here in the future."