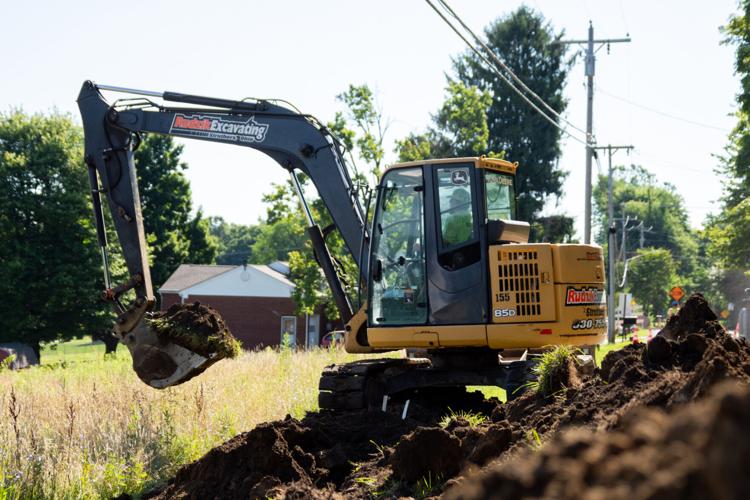 SHENANGO TOWNSHIP – The sewer project for Shenango Township ran into a rocky patch — literally.
Construction work on the $18 million project began in the spring. While digging near the Sieg Hill corridor, crews discovered a thick plane of rock, said Jim Tressa, project manager for Rudzik Excavating, the project's contractor.
"We hit some very hard rock that was hard to get through,'' Tressa said. "It was like sandstone.''
Huge excavating equipment had to be called in to pound away enough rock to lay down the lines, he added.
"It was double the time we anticipated to get through the rock,'' Tressa said.
Thick rock aside, the project has been going well, he said. The project still looks like it will be completed in April, as construction work is expected to continue during the winter.
"Unless the temperature gets down to the single digits, we work through the bad weather,'' Tressa said.
No work schedule is available, he said, as crews have to deal with changing conditions. Under the contract, workers will install 12 miles of sewer pipes in the first phase, with another 5 miles planned for the second phase.
The township is required to upgrade its sewer system under a consent decree with the Department of Environmental Protection.
Shenango Township Municipal Authority will notify homeowners by mail when they have to connect to the sewer system. That will likely be early next spring, said Tom Hubert, a Shenango Township supervisor who also serves on the municipal authority board.
"People should be looking for contractors for their connection lines,'' Hubert said.
Residents can access low interest loans to cover costs of tapping into the system. They can contact the sewer authority for details, Hubert said. 
Township residents' monthly sewer bills average $57, but initial estimates had the price going as high as $137.
But Hubert said the township got low-interest loans and grants through the Pennsylvania Infrastructure Investment Authority, and monthly bills will likely be in the $80 range.
The sewer work is one of two substantial building projects this year in the county. Crews are nearing completion of the township's $2.3 million expansion and upgrade of its municipal building. The community's police department and administrative offices will soon move into the building, Hubert said, after being temporarily housed in a temporary office on Carbaugh Street behind Shenango Steel Buildings in West Middlesex.
An open house of the renovated building probably isn't in the cards due to COVID-19 guidelines, he said.
"I'm hoping we can at least have a virtual tour online for residents,'' Hubert said.