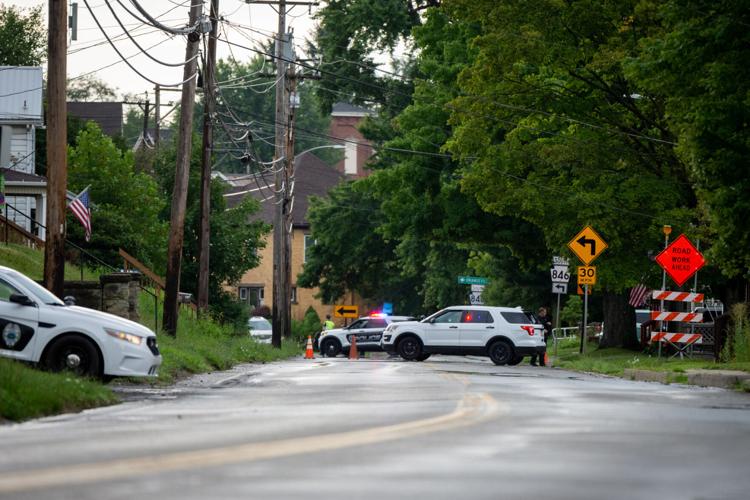 GREENVILLE – Police have charged a Greenville man and his girlfriend after a five-hour standoff with police Monday.
Matthew R. Thompson, 30, of 6 Church St., was charged with endangering the welfare of children, making terroristic threats and resisting arrest after he refused to come out of his house Monday.
Thompson's girlfriend, Haylei Renee Upton, 27, of the same address, was also charged in the case with unlawful restraint of a minor and endangering the welfare of children.
According to a criminal complaint, police said officers went to Thompson's home at 2 p.m. Monday on two arrest warrants for probation violations. Pennsylvania Bureau of Probation and Parole agents and police were aware of several confirmed sightings of Thompson at his home.
Police went to the home, and Thompson and his girlfriend refused to come to the door, police said.
After obtaining a search warrant, police and agents entered the home about 3 p.m., and found that Thompson had apparently barricaded himself with Upton and their two young children, ages 5 months and 17 months, police said.
The police officers and agents called on Thompson to come out. According to the criminal complaint, he responded by saying that he had taken hostages and had a weapon.
Police then contacted the Mercer County Critical Incident Response Team, which provided a negotiator to talk with Thompson.
After speaking with Thompson, police said the negotiator talked him into coming downstairs about 8:30 p.m. He eventually came down with Upton and their two children.
No one was injured.
Thompson was arraigned Wednesday in front of District Judge Brian R. Arthur, Greenville. He was taken to Mercer County Jail after failing to post $75,000 bond.
When police spoke with Upton, she said she was aware that there were several armed officers in her home and saw the armored vehicle across the street. She said she did not think the children were in danger and that they were just hanging out with Thompson like it was a regular day. 
Upton told police that Thompson wanted to spend time with his kids before he went to jail. She also said that she could have left the home with her children at any time.
Greenville-West Salem Township police Lt. Paul Molton said the children were placed with Mercer County Children and Youth Services. 
Upton was arraigned in front of Arthur Wednesday and taken to Mercer County Jail after failing to post $50,000 bond.
Preliminary hearings for both were scheduled for Aug. 11.
Follow Melissa Klaric on Twitter and Facebook @HeraldKlaric, email: mklaric@sharonherald.com