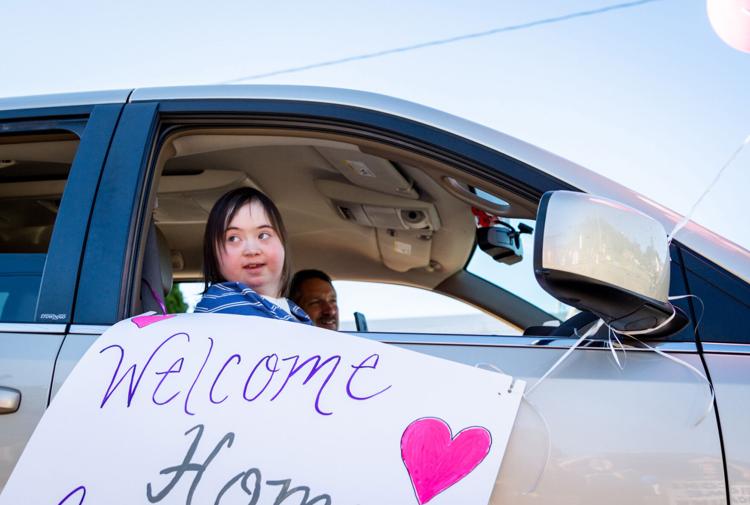 7-1-20: Police close to solving 50-year-old case: The Hermitage Police Department announced that advancements in DNA technology may help them identify those responsible for abandoning a newborn baby girl in 1970 in the woods off Lynnwood Drive in Hermitage.
7-2-20: Planning her own future: Hermitage Director of Planning and Development Marcia Hirschmann, who worked with the city since 1977, announced her intent to retire in 2020 after watching the city grow and change over the decades.
7-2-20: Consumer fireworks sales on fire this year: As the COVID-19 pandemic cancelled traditional celebrations for the Fourth of July, local residents decided instead to stock up for their own backyard fireworks displays.
7-3-20: Buhl Park to host summer programs for kids: Despite the COVID-19 pandemic's limits on gatherings, the staff at Buhl Park were able to adjust their annual Summer Youth Program to allow for more, smaller groups of local children.
7-3-20: County official retires after 25 years: Mercer County Court Administrator Pete Morin retired after 25 years in the court administration business and Mercer County's longest court administrator in the county's history.
7-4-20: Superintendent's 1st year was trial by fire: Brookfield Local Schools District Superintendent Toby Gibson reflected on his first year as the district's top administrator, dealing with both the usual challenges of running a school district and the additional challenges created by the COVID-19 pandemic.
7-7-20: A pretty penny: As the COVID-19 pandemic affected the nation's coin supply, local retailers started asking customers to pay with exact change to limit the coin shortage's effects.
7-8-20: Church extends a virtual hand: Officials at Faith Presbyterian Church invited local leaders to come speak on topics both religious and otherwise on their digital podcast "Engage(d)."
7-9-20: Businesses returning to good health: Unemployment across Mercer County began to drop after the lockdowns from the COVID-19 pandemic were relaxed, but local businesses struggled to maintain their hours as some workers opted to remain on unemployment.
7-10-20: Back to business: Local stores "The Perfect Bite" and "Rita's Italian Ice and Custard" in Hermitage prepared to open for business after having their original openings delayed due to the pandemic.
7-10-20: The fair is off, but the race is on: Though the Great Stoneboro Fair was cancelled due to the COVID-19 pandemic, officials with the Pennsylvania Horse Racing Commission looked to move forward with horse races at the fairgrounds.
7-11-20: Sharon company CEO out after video tirade: Jason Woods, the former head of Actionable Insights, a digital marketing company based out of Sharon, resigned from the company after a viral video of him making racial slurs while intoxicated in a California bar was posted online.
7-11-20: Election director to step down: Mercer County Director of Elections Jeff Greenburg stepped down after serving for about 13 years in the position, although he vowed to continue living in the county.
7-11-20: Community shows support after vandalism: The community came together to help replace a free library that was vandalized in Buhl Park. The library was erected in honor of Danielle Greenburg, who passed away in 2011 due to sarcoma cancer.
7-13-20: Musical playground comes to Buhl Park: Local donors came together to create a new playground for Buhl Park and the Shenango Valley, featuring musical playground equipment based off of instruments such as drums and xylophones.
7-14-20: City creates plan to improve neighborhood traffic safety: Hermitage city officials look to create a traffic-calming plan that could be implemented city-wide, using the area of Ridgewood Drive as a starting point.
7-15-20: 98-year-old woman dies after crash: Beautrice Snow, 98, of Masury, Ohio, died following a traffic accident in Brookfield, Ohio, after the SUV she was riding in collided with a motorcycle on U.S. Route 62.
7-16-20: Farrell breaks ground on commercial plaza: Farrell city officials broke ground on a property at Wallis Avenue and Roemer Boulevard to mark the beginning of construction toward a new commercial plaza across from the Farrell municipal building.
7-17-20: Game room unveiled at Stey-Nevant: A new game room for teens, made possible by Seeds of Faith Ministry, was officially unveiled at Stey-Nevant Public Library in Farrell.
7-18-20: See you in 2021, hopefully: WaterFire Sharon was forced to cancel its event planned for Sept. 19, 2020, due to the restrictions in place from the ongoing COVID-19 pandemic.
7-20-20: Shifting standards: As the 2020-2021 school year approached, school district superintendents planned to begin the school year virtually or with the various safety guidelines in place for students and staff, even as changing standards were issued by the state.
7-21-20: Pastor's gift will keep giving: An endowment of $1.27 million from the estate of Monsignor Salvatore Mitchell, former pastor of Church of the Good Shepherd in West Middlesex who passed away in 2016, was put toward scholarships for students at Kennedy Catholic High School.
7-24-20: Loan fund on hold: Hermitage commissioners voted to defer payments for six entities toward the city's Revolving Loan Fund for a period of three months, providing some relief from the economic impact of the pandemic.
7-25-20: Iranian hostage crisis artifacts preserved: A collection of photographs and artifacts from a museum dedicated to the Iranian hostage crisis were donated to the Hermitage Historical Society. The museum was formerly located near the Avenue of 444 Flags and was owned by the late Tom Flynn.
7-27-20: Nostalgia, local pride drive sales of apparel: Hermitage men Patrick Chovan and Jason Koerth discussed their business Shenango Valley Clothing Co., which focuses on clothing with imagery based on local history, culture and businesses.
7-27-20: Pet food giveaway supports the furry ones in need: The Animal Protection League of Western Pennsylvania organized their first pet food distribution for people who needed help feeding their pets due to the COVID-19 pandemic.
7-28-20: Standoff in Greenville ends peacefully: A five-hour standoff at a home on Church Street in Greenville involving two children younger than two years old came to an end peacefully when the suspect surrendered himself to police.
7-28-20: Database beginning to yield data: A program initiated by Mercer County Coroner John Libonati began to yield data, as organizations throughout Mercer County from nursing homes to EMS crews learned to adopt the same forms for reporting deaths.
7-29-20: Recovery 'hardest thing' for local couple: Couple Adam and Katie Nowland reflected on Adam's struggle with COVID-19, during which he had to be put on a ventilator while the community provided support in various ways.
7-30-20: A new vet at Tails of Hope: Dr. Nicole Grable was brought on as the new veterinarian at Tails of Hope Spay and Neuter Clinic in Hermitage, after the clinic lost their main vet earlier in the year.
7-31-20: 5 Farrell firefighters quarantined: Five firefighters with the Farrell Fire Department, including Chief Mike Renner, were quarantined after one of the department's firefighters tested positive for COVID-19.
August
8-1-20: Shooting suspect caught near Pittsburgh: Christopher M. Stinson, 30, of Turtle Creek, was arrested by police in Turtle Creek, ending a manhunt stemming from the non-fatal shooting of a Sharon man the previous September.
8-3-20: South Py gets K-9 officer: South Pymatuning got its first K-9 officer in Patrolman Austin Krauss, after South Pymatuning police Chief Paul Ferm was able to use his connections to set up both the training and a vehicle specifically for the K-9 officer.
8-4-20: West Middlesex to stagger start: Instead of adopting a strictly in-person or virtual approach to education, officials at the West Middlesex Area School District organized a staggered return for their high school students, with two groups alternating between in-person and virtual instruction.
8-5-20: A lot to look forward to: Volunteers with the organization Lots to Love went to work beautifying and building a community garden on a vacant lot along Fourth Avenue in Sharon.
8-5-20: Animal Shelter to develop business plan: The Shenango Valley Animal Shelter board of directors reached out to Maggie Horne, director of Gannon University's Small Business Development Center, to help develop a business plan toward a new building for the animal shelter.
8-8-20: Local store finds market for custom sneeze shields: Warehouse Sales in Sharon finds itself catering to a growing market for custom-sized plexiglass sneeze shields, with customers ranging from Brookfield Local School District to the Sharon VFW.
8-10-20: Covering the community with love: Local volunteers with Let's Make Masks started the Pieces of Love quilt project, using leftover material from masks to make quilts that helped raise money for community organizations.
8-10-20: Random Acts of Artists headline show: Artists from the group Random Acts of Artists, based out of Sharon, had their work created during the pandemic featured in at the Trumbull Art Gallery.
8-12-20: Abandoned dog recovered in Sharon: The Humane Society of Mercer County recovered an emaciated dog who was left in a plastic container along a sidewalk in Sharon.
8-13-20: Heart Walk to go virtual: Instead of holding the annual Heart Walk at Thiel College, event organizers planned an alternative wherein smaller groups of participants could hold separate walks and then share their progress online.
8-13-20: Local forge might be closing: Following their purchase by Milwaukee Forge, Mercer Forge Corporation announced that they would be relocating to Wisconsin and laying off about 150 of its local employees, after about 30 years of business in the Mercer area.
8-14-20: County hires election director: Mercer County leadership announced it had hired Thad Hall to replace Jeff Greenburg as the Mercer County election director, following Greenburg's departure for a position with the National Vote At Home Institute.
8-15-20: Neighbors' freedom of expression infringed: Residents throughout Mercer County reported their election signs, both Republican and Democrat, were vandalized or stolen in the leadup to the election.
8-17-20: Hermitage firm aims to connect families in an age of distancing: OhanaLink Technologies, a communications company out of Hermitage, held their first ribbon-cutting ceremony while the COVID-19 pandemic helped develop a need for alternative modes of communication.
8-17-20: Eyes on the skies: Local Boy Scout Hunter Steines, the Army Corps of Engineers and Shenango Valley Birdwatchers came together to produce a bird-watching board, where birdwatchers could keep a record of the various bird and animal species spotted.
8-18-20: Goddard gets a new face: Mark Scarpitti was announced as the new manager for Maurice K. Goddard State Park.
8-20-20: Welcome home, Autumn: Mercer County's first COVID-19 patient, Autumn DelMonaco, returned home to South Pymatuning after spending 152 days in the hospital.
8-20-20: For farmers, it's been a long, strange summer: Local farmers reflected on the lack of rainfall throughout 2020, while others suggested crops did very well that year, with canning supplies running short due to the popularity of at-home gardening.
8-21-20: Live, in-person: It's the PSU fall semester: Officials at Penn State University's Shenango campus rolled out the new school year with multiple safety measures in place to allow for in-person instruction.
8-22-20: Park adds boat ramp, rentals: Buhl Park unveiled its new "Floppy's Float'n Boats" program where people can rent different kinds of boats and paddle along Lake Julia.
8-24-20: Picketers rough up Herald reporter: Reporter Michael Roknick was thrown to the street while covering the protests at NLMK Pennsylvania, where workers went on strike due to alleged unfair labor practices by the company.
8-24-20: 1st-time cycling event showcases city: The cycling tour Bikes, Brunch and Brews was held for the first time throughout Sharon, promoting both health and the city.
8-25-20: Aldon's Army soldiers on: Lisa Blom made "Gigi's Goodie Bags" for children suffering from diffuse intrinsic pontine glioma, a rare type of cancer, in memory of her grandson Aldon Blom, who passed away in 2020 as a toddler.
8-27-20: Sharon Regional names new president: Robert Rogalski was announced as the new president for Sharon Regional Medical Center.
8-28-20: Grove City cancer care expands: Allegheny Health Network launched AHN Cancer Institute-Grove City, which provides cancer care at AHN Grove City Hospital.
8-29-20: Policies push Desai out of U.S.: Former director of the eCenter@LindenPointe, Ketaki Desai, ended up in Toronto, Canada, due to difficulties with U.S. immigration policies.
8-31-20: The final closing: Realtor Sandy Gurgovits announced her intention to retire after spending 37 years in the real-estate business.
8-31-20: Newly formed animal non-profit launches with fundraiser: The newly-formed Animal Protection League of Western Pennsylvania launched their first fundraiser, which raised about $2,000 for the organization.
September
9-1-20: Fair food, without the fair: Instead of the traditional Great Stoneboro Fair, fair officials approved the Lakeview Area Labor Day Weekend Drive Thru, which allowed local visitors to enjoy food from 10 local vendors.
9-2-20: Body found in Sharon creek: The body of an unidentified man was located in a creek below Stambaugh Avenue.
9-3-20: He filled the world with joy: Sharon resident Joseph George, the retired head of Joy Cone Co. and community philanthropist, passed away at the age of 83.
9-4-20: COVID-19 becomes Grinch to city's Holiday Light Parade: Hermitage's annual Holiday Light Parade was cancelled by city officials, due to concerns over how the safety guidelines of the COVID-19 pandemic could be observed in a parade.
9-4-20: Candlelit Solidarity: A prayer vigil and rally was held outside of NLMK Pennsylvania in a show of support for striking employees.
9-7-20: Classrooms in the 'new normal': The Buhl Child Care Center rolled out a new program for students who needed to learn virtually but had no one at home to watch or assist them, as schools adapted to virtual learning.
9-8-20: A volunteer in the name of science: Brookfield, Ohio resident Gwen Martino volunteered to be a test subject for the Moderna COVID-19 vaccine, while also calling on people to come together and follow the safety guidelines to help stem the virus' spread.
9-9-20: Event to honor veterans, area's first responders: A new event that recognized local veterans and first responders was held at Thelma's Sports Nook in Sharpsville, featuring awards for those recognized and musical performances.
9-10-20: 50% occupancy... meh, say restaurant owners: In-person dining was relaxed to 50 percent occupancy, although local restaurant owners said the measure would still affect them economically.
9-10-20: OSHA finds multiple failures in fire: An investigation following a fire at Combined Systems Inc. near Jamestown by the U.S. Occupational Health and Safety Administration found that multiple failures by the company led to the February fire.
9-11-20: Monument to keep 9/11 memory alive: The West Middlesex Volunteer Fire Department and local business T. Bruce Sales, Inc., came together to create a monument of the World Trade Center to commemorate the attacks of Sept. 11, 2001.
9-11-20: All that glitters... is for sale: Local gold retailers found the prices of gold were driven higher due to the economy and national gold prices.
9-14-20: A 'thank you,' 70 years on: Transfer resident and Korean War veteran Kenneth Shaffer received a new medal from the South Korean government, thanking him for his service in the Army during the Korean War.
9-15-20: Teen entrepreneur gets PayPal grant: Local Hermitage student Cynthia Torrence, 16, received a $10,000 PayPal Empowerment grant for her juice company NIU Flamingo.
9-16-20: Barborak to guide foundation's next steps: Executive Director Mickey Gula of the Buhl Regional Health Foundation, announced her intention to retire at the end of the month, and her replacement Jennifer Barborak.
9-18-20: Wilt named Penn-Northwest's new leader: Sugar Grove Township native Rod Wilt was announced as the new executive director for the Penn-Northwest Development Corporation.
9-19-20: Urban League urges 'Reclaim Your Vote': The Shenango Valley Urban League held the "Reclaim Your Vote: Protest to the Polls" event to help mark the first-ever National Black Voter Registration Day.
9-21-20: Girl Scouts donate birthday bags: Girl Scout troops in the Grove City area donated about 600 birthday bags for needy children to the Grove City Community Food Pantry.
9-22-20: A loving mom cat helps foster families: Sue Smith was recognized by the Shenango Valley Animal Shelter for her work fostering hundreds of cats before placing the cats in their forever homes.
9-23-20: SVSS rolls into the future: The Mercer County Regional Council of Governments unveiled their first environmentally-friendly bus in use with the Shenango Valley Shuttle Service.
9-24-20: Accusation of addiction by prescription: The family of the late Janell Miller filed a wrongful death lawsuit against the Pain, Spine, Aesthetic and Wellness Center in Hermitage, alleging that Miller was overprescribed painkllers.
9-25-20: Filling teachers' 'wish lists': The Facebook group "Adopt a Mercer County Teacher" allowed the community to donate supplies toward teachers in local school districts.
9-26-20: Under the microscope: Local residents and police officials discuss issues of race and increasing diversity in police departments, as well as how to improve interactions between the community and police.
9-28-20: Creating art 'brings out who they are': Whole Life Services, which serves people with intellectual disabilities, demonstrated their handmade "Pieces of Love" ornaments at the agency's Fall Festival craft show.
9-29-20: GM to repay Lordstown $40 million: The company General Motors agreed to repay Lordstown, Ohio, $40 million after the company closed its Lordstown plant despite state backing to remain open.
9-29-20: Local native, global impact: Hermitage native Dr. Cindy Amundsen participated in the virtual International Urogynecological Association's meeting, sharing her research at Duke University in North Carolina.