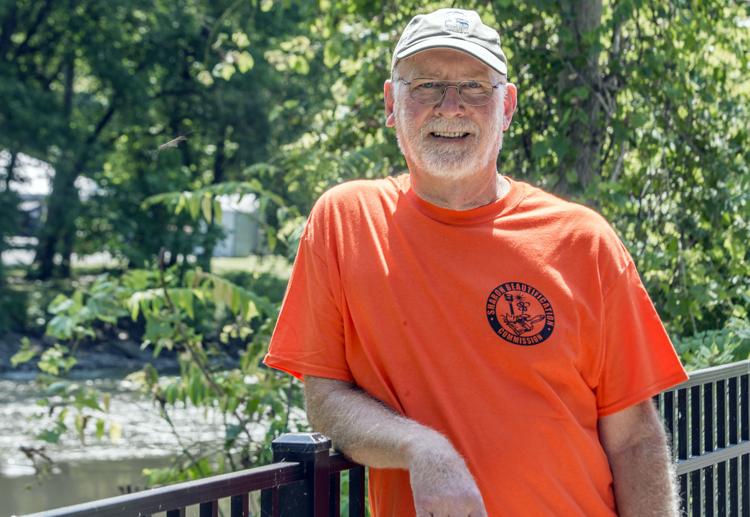 EDITOR'S NOTE: This is the second in a series of stories profiling 2019 Buhl Day honorees.
SHARON – Jim Mondok is an honored guest at this year's annual Buhl Day event.
But he did not expect to receive the honor.
"I didn't see it coming," he said. "I've seen resumes of other people and I don't think mine matches up with that. But, I'm flattered."
Jim grew up in Hermitage and now lives in Sharon with his wife, Christine.
He is a 1964 graduate of Hickory High School and received a degree in business administration from Thiel College.
Jim received a draft notice two days after college commencement. He went into the Army and was an infantry soldier in Vietnam in 1970. He was a squad leader and acting platoon sergeant and went to Cambodia. He then got out of the Army.
Jim got a job at the Mercer County Conservation District in 1971. He spent 44 years there before he retired.
He was a manager of the district and worked on environmental improvement, including soil erosion control, stream bank protection and reforestation. He worked on anything that had to do with soil and water related resources including environmental education.
In the meantime, he attended Youngstown State University and received an associate's degree in civil engineering technology – "which helped me on the job for designing projects on the ground," Mondok said.
He was a founding board member for the Munnell Run Farm Foundation, established in 2001 to help foster the development of Munnell Run Farm in Mercer into a first-class environmental and agricultural education center.
Mondok is still a board member and past board president.
He is also part of Trout Unlimited, which helped established a trout nursery at Munnell Run Farm. The trout nursery there raises 2,000-plus trout a year for local stocking.
Trout Unlimited recently established a veterans committee for those with Post Traumatic Stress Disorder, which Mondok was diagnosed with years ago.
"We're trying to get veterans who might be in a position to make bad choices to try to give them something to occupy their time," Mondok said. "So there is fly-fishing, that sort of thing."
Mondok is actively involved in the Penn Soil Resource Conservation Development Commission, which covers eight counties in Pennsylvania. It helps to foster economic development through resource improvements and developments. The commission was established in 1964 as a federal agency. It's now a non-profit organization. One of its first projects was McKeever Environmental Center in Sandy Lake.
In 1986, there was a move to establish a conservation organization for the Shenango River. That became the Shenango Conservancy. Mondok was a charter member of the group and served in various offices.
"We tried to promote the river as a resource," Mondok said. "We had canoe floats down the river in the '80s and '90s."
The Shenango Conservancy also developed the area around the Kidds Mill covered bridge in Pymatuning Township.
"One of the big projects early on was the bridge itself. It was pretty much ready to fall into the river," Mondok said.
So, the conservancy got grant money and hired a contractor who was a timber frame expert, and they repaired the bridge in 1993. The bridge was repaired again two years ago.
The conservancy also established the "Gobble Wobble," Thanksgiving Day foot race in Buhl Park. They put on the popular race for 28 years.
Mondok is a lifetime member of Pennsylvania Association of Sustainable Agriculture.
"It's not necessarily organic; there's a lot of research to show that chemical agriculture and industrial agriculture might not be so sustainable," Mondok said. "So that organization works toward another angle of it. Concerned with the food supply."
So they do on-farm instruction and workshops.
"It's an amazing resource for information of all sorts regarding food and agriculture techniques," Mondok said.
Mondok has lived in Sharon since his marriage in 1995. He has two stepchildren, four granddaughters and two grandsons.
He is a member of the Sharon Beautification Commission and is especially proud of the public garden in River Gardens Park in downtown Sharon.
Follow Melissa Klaric on Twitter and Facebook @HeraldKlaric, email: mklaric@sharonherald.com