HERMITAGE – Chris Spradlin knows from experience that the ROAR Center's doors are always open for anyone who needs help.
Spradlin spoke Saturday at the Recovery Day in Buhl Park to share his story of addiction and a message of hope.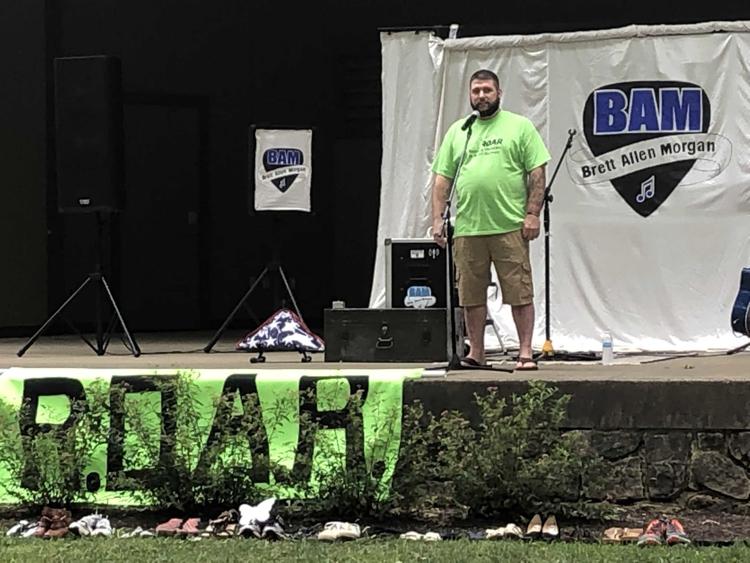 ROAR, Removing Obstacles to Assist Recovery, is a Sharon-based branch of the Mercer County Coalition for Drug Awareness (MCCDA). The center marked Saturday with a walk, cookout, speakers and a band for Recovery Day.
The event was a celebration for those, like Spradlin, who have experienced addiction and are successfully in recovery.
Spradlin told those who attended Saturday's event that he has been free of heroin since Nov. 15, 2016. But that was the end of his story of addiction.
It began when he was in his 20s, suffering from psoriatic arthritis. Spradlin went to a doctor who prescribed Vicodin. Although the medication alleviated his physical pain, it exposed an unexpected dark craving.
"When I took that Vicodin for the first time, it helped with the pain, but it also made me sociable," he said. "It made all my fear go away. Because I was afraid. I was afraid everybody was judging me."
Spradlin started buying pills off the street. It became a $300-a-day habit. He had a good job. He was making decent money. He could afford it – at first.
He lived that way for a few years, he said. Then, there came a point where he couldn't afford the habit anymore. He started borrowing money, and then was introduced to heroin.
His habit cost $20 a day and, Spradlin said, his soul, his job and every relationship he had.
"Everybody who was ever close to me, didn't want to be around me," he said. "My parents wouldn't talk to me. I wasn't Uncle Chris. I wasn't allowed to be around my family."
Spradlin said he couldn't attend functions without putting something in his body.
"The power that drug had over me, I honestly wanted to resort to suicide because I didn't want to wake up another day and chase that drug or battle that demon," Spradlin said.
At that point, he hadn't talked to his mother for a while, but he finally reached out and admitted his addiction to her.
"I'm completely broken. I have nothing left. I'm ready. It's either that or death," Spradlin said.
He then came in contact with a recovery center in Youngstown, which put him through detoxification.
"For the first time in my life, I felt better," Spradlin said. "Without drugs and without alcohol, without pills – without anything in my system I felt better."
In recovery, Spradlin started trying to help others.
"They told me when I got involved in this, that I got to give it away to keep it," Spradlin said. "That's how I stay sober."
Spradlin said he regained the life he had before. He became "Uncle Chris" again.
He got his job back that he had lost. Two years ago, he got engaged and in May he had a baby girl.
"Today I have a beautiful support group of people that care about me and want to see me succeed," Spradlin said. "That's how this recovery thing works. You can't do it alone. You won't do it alone. It's a 'we' thing."
Spradlin was grateful for the chance to tell his own story, and for the chance to promote ROAR and the MCCDA, which he credits for helping him and his family through his addiction and his recovery.
"I hold the Mercer County Drug Coalition very dear to my heart because when I was in active addiction, that's where my mother turned," Spradlin said. "I am absolutely forever grateful for the coalition and everything that they do for the recovery community."