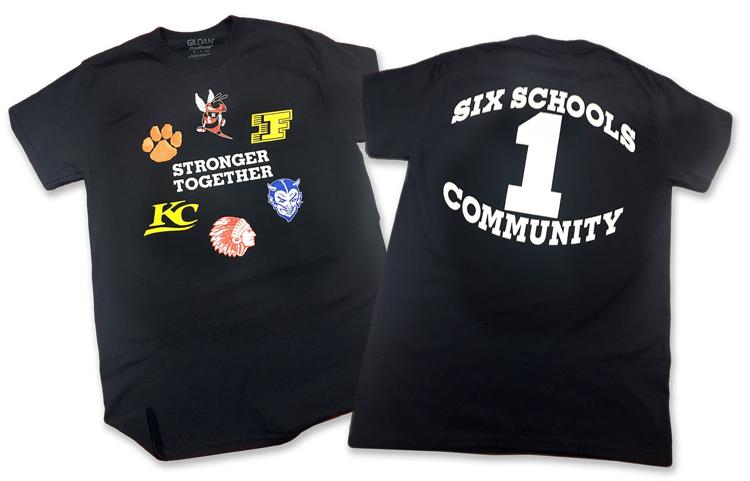 HERMITAGE — Years after graduating from Hickory High School, and completing on the Hornets' athletic teams, Sean Zippie remembers the rivalries among the schools in the Shenango Valley.
But when Hickory students Alexis Myers and Danielle Nelson were killed in a car accident earlier this year, Zippie saw that the support didn't stop at the Hermitage school district boundaries.
Food came from all throughout Mercer County and beyond. Students at other schools made signs and offered support on social media.
Even without knowing either of the girls personally, Zippie said he saw the rivalries disappear as entire communities rallied around the students' families and their classmates.
"It really felt like a lot of people, myself included, wanted to do something," Zippie said.
So he decided help.
Zippie had previously organized T-shirt sale fundraisers, so he reached out to Guy and Linda Piccirilli of Valley Silk Screening in Sharpsville.
Together they designed a T-shirt that incorporates the six high schools — Farrell, Hermitage, Sharpsville, Sharon, West Middlesex and Kennedy Catholic — in the Shenango Valley.
The phrase "STRONGER TOGETHER" is printed on the front, with "SIX SCHOOLS 1 COMMUNITY" on the back.
"It really blew up on Facebook, and there were a lot of people early on who would come in and say, 'I need 10 or 15 shirts,'" Zippie said.
Proceeds from the sale will go toward starting a scholarship in Myers' and Nelson's names through the Community Foundation of Western Pennsylvania and Eastern Ohio. Any student from one of the six Shenango Valley schools will be able to apply.
Zippie said Myers and Nelson's families will determine what the guidelines for the scholarship, such as what majors the applicants want to pursue.
The organizers are planning to award the program's first scholarship in the spring of 2020.
"If we can get around $20,000 or $25,000, we could look into making the scholarship into an endowment so that we could have it every year," he said.
Shirts can be purchased from student clubs at each of the six schools, Philadelphia Candies in Hermitage and Donna's Diner in Sharon.
John Macris, a manager at Philadelphia Candies, is an associate of Zippie's, but Donna's Diner manager Laura Ackley said she knew Zippie only through his father before the fundraiser.
"I originally went to buy a shirt from him for my daughter because she saw it online, and when I saw what he was trying to do, I offered my store as a retail outlet," Ackley said.
At Donna's Diner, however, the shirts are not only displayed — the waitresses can be seen modeling them as well, she said.
"All of the girls at the diner except my daughter are from Ohio," she said. "They don't even really know anybody involved, but they wanted to help support and promote this."
Zippie said he has sold about 700 shirts since early March. There's no planned "end date" for the sale, and the T-shirts will be available as long as there is interest.
"I know everyone started coming together because of this tragedy, but I hope that this spirit of community continues," he said.
T-SHIRTS ARE $15 each and can be purchased by texting Zippie at 724-813-5244 or by emailing him at zippie235@gmail.com. Checks should be made out to the Community Foundation of Western Pennsylvania and Eastern Ohio.
Like David L. Dye on Facebook or email him at ddye@sharonherald.com.