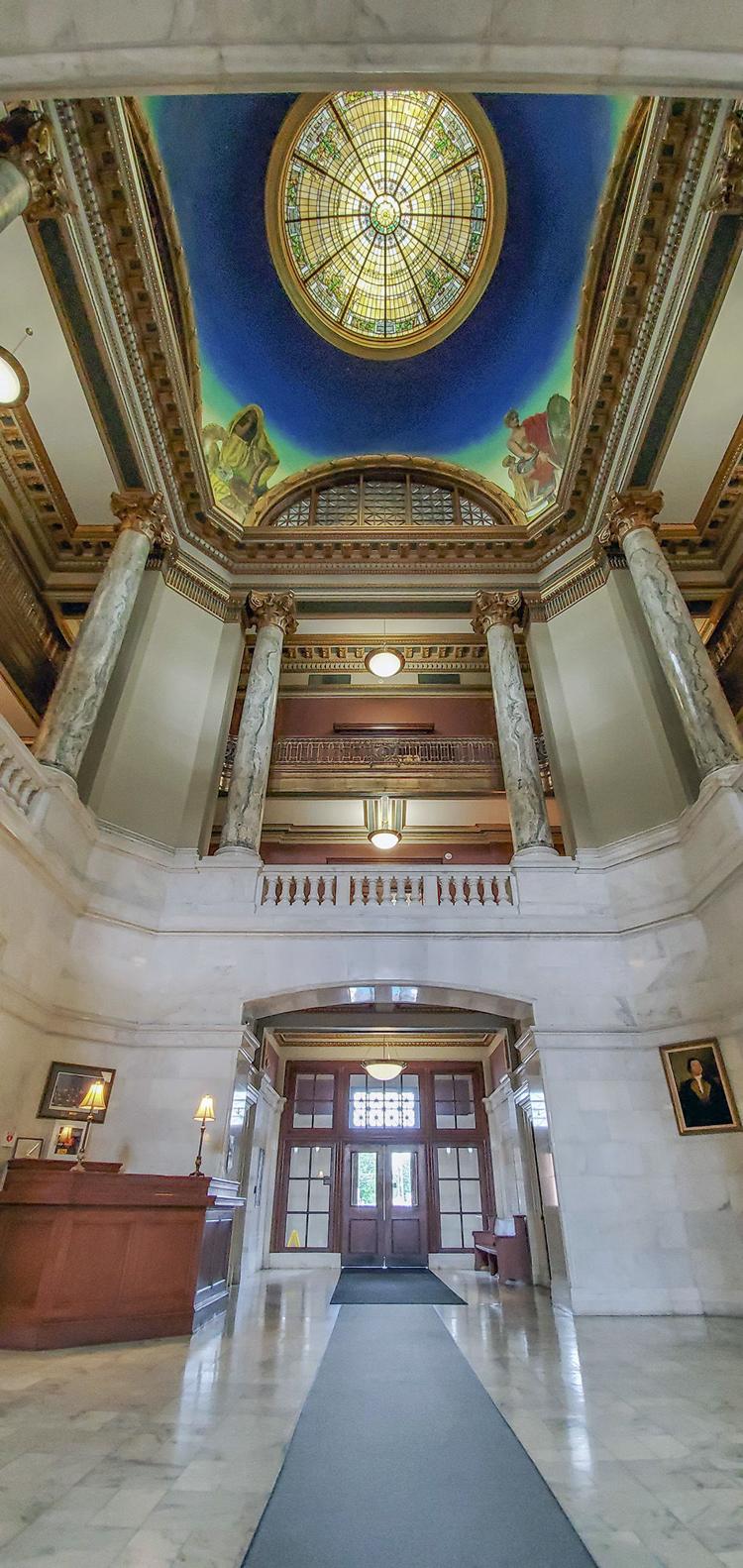 MERCER – As Mercer County sheriff, Roni Shilling has a long list of concerns, including security in the county courthouse.
County sheriff deputies often serve as a first line of security in the courthouse, which is one of the few county court facilities in Pennsylvania without a single entry and exit point and security screening. Shilling said that is the kind of thing that keeps her up at night.
"Yes, it does," she said. "All the time."
Next week, the county commissioners and other security stakeholders will begin discussions on how to proceed in improving security at the courthouse. The commissioners voted Sept. 5 to begin examining options, which most likely will include single-point entry and security screening at the one entry and exit door.
But that's not as simple as it sounds, Commissioner Tim McGonigle said.
"That's part of the reluctance on the part of the other commissioners," he said. "Because it's not an easy fix."
McGonigle announced earlier this year that he backed tightening security, based on the recommendation by Mercer County Common Pleas Court President Judge Robert Yeatts. Commissioner Scott Boyd announced last month that he would recommend reviewing options for entry and exit security.
In his statement, Boyd also cited Yeatts' recommendation. Yeatts' predecessor, former President Judge Thomas Dobson, had been opposed to changing the entry and exit alignment.
Commissioner Matt McConnell, the board chairman, has said he doesn't think single-point access and metal detector screening would be effective, and voted against the Sept. 5 measure for reviewing entry door security. But he also said that he would cooperate with the other two commissioners to adopt the best alternative.
Under its current alignment, the Mercer County Courthouse has two entrances, which face north and south. There are also east and west doors, but those unlock only during emergencies.
The south entrance is handicapped-accessible, which would make it an obvious choice for the single-point access. But the alignment of that entrance makes the installation of a screening system impractical, if not impossible, Shilling said.
Immediately upon entering the courthouse through the south door, visitors face a wall, the back side of a staircase that leads up to the main floor. Anyone going into the building at that entrance must turn right or left, with both hallways likely too small for installing a metal detector.
Further, the building's only handicapped-accessible restrooms are next to that entrance, with all of the other facilities lodged between floors, with only stairway access from the building's elevators.
The main floor entrance, on the courthouse's north side, has ample space for a metal detector, Shilling said, but there is no wheelchair access from that door.
Shilling, who supports upgrading security at the courthouse, acknowledged that the commissioners have a challenging task ahead of them.
"Sometimes you have issues you have to overcome," she said.
McGonigle said he expects that the county will have to hire an architect to develop a plan for single-point access.
"It's not going to be simple," he said.
Follow Eric Poole on Facebook and Twitter @HeraldEricPoole. Email him at epoole@sharonherald.com.