SHENANGO TOWNSHIP – PennDOT representatives revived the agency's annual public safety event the Interstate 80 Eastbound Welcome Center Thursday for the first time since the COVID-19 pandemic.
The event, held since 2018, included talking with visitors about safety topics, including impaired driving, work zone safety, litter pickup, boat and water safety and the Yellow Dot program. The Pennsylvania DUI Association, Northwest Regional Highway Safety and the Department of Conservation and Natural Resources groups were also represented.
"All it takes is one second for something to go horribly wrong," said Saxon Daugherty, a PennDOT safety press officer. "Speeding and distracted driving causes most accidents, and it is important that we always educate drivers on how to drive safely and prevent accidents because everyone has a loved one. An accident is not just an accident."
Visitors were able to practice safety on a driving simulator paid for with grant funding. The simulator had two settings, impaired or drunk driving.
The simulator included real life distractions – passengers, pedestrians, texts, phone calls and other cars. When the driver has violated enough rules, a police officer pulls the car over, takes the driver through the field testing and arrest processes, then ends with a court trial.
"We obviously want the simulator to be as accurate as possible, which includes what happens after a crash or being pulled over," Daugherty said. "We want people to know that driving is a privilege, not a right."
Regional DUI Program Administrator Craig Amos reiterated the point.
"The purpose for arrest is so one can hopefully learn from their mistake," Amos said. "We want those to get the help they need to modify their behavior and keep others and themselves safe."
Some ways to prevent impaired driving are planning to remain at an event when indulging in alcohol or drugs, having a designated driver who will not be partaking in those activities or taking alternative transportation, such as an Uber.
"If you feel different, you drive differently," Amos said. "Impaired drivers don't discriminate. Accidents happen at every hour, all days."
One of the biggest problems that police are facing with public safety is driver impairment from the use of prescription medications.
"We're seeing a lot of people getting pulled over for being impaired from prescriptions, and most think that because they are prescribed whatever it is that it cannot affect their driving. But that is not true," Amos said. "If it impairs you, you cannot drive. Consult your doctor if it is from your prescription or do not take over-the-counter medication that can have bigger effects, like Benadryl, around when you know you will be driving."
The event also included the PennDOT Workers' Memorial, which honors the memory of 90 employees lost in the line of duty since 1970.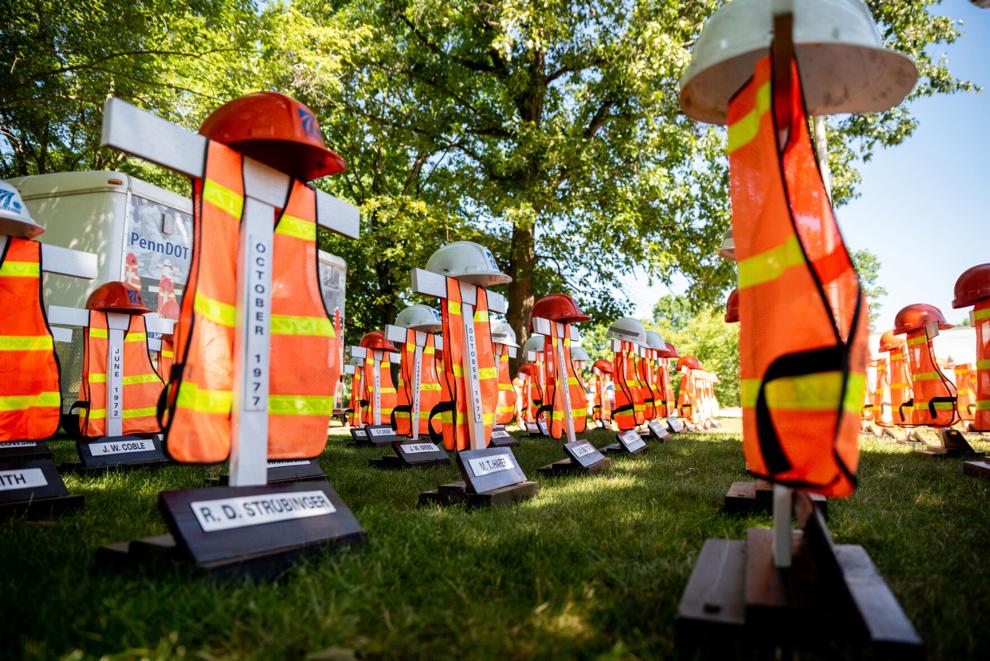 "These 90 are solely PennDOT workers, so it does not even count for the private construction companies or the victims who are hit by drunk or impaired drivers," Daugherty said. "The memorial travels all around the state, and the biggest thing we want visitors to take away from it is that these deaths could have been avoided if people slowed down in work zones. We always say to expect the unexpected, and you can never be too careful."
Also on display was a kayak with safety equipment that Presque Isle State Parks Trooper Brian Gula demonstrated how to use to visitors and for them to practice with.
"Most water injuries happen when people are getting in and out of kayaks," Gula said. "Always be prepared before you do any sort of recreational activity, whether hiking or even sunbathing. Safety does not get in the way of the fun but keeps you having a great time."