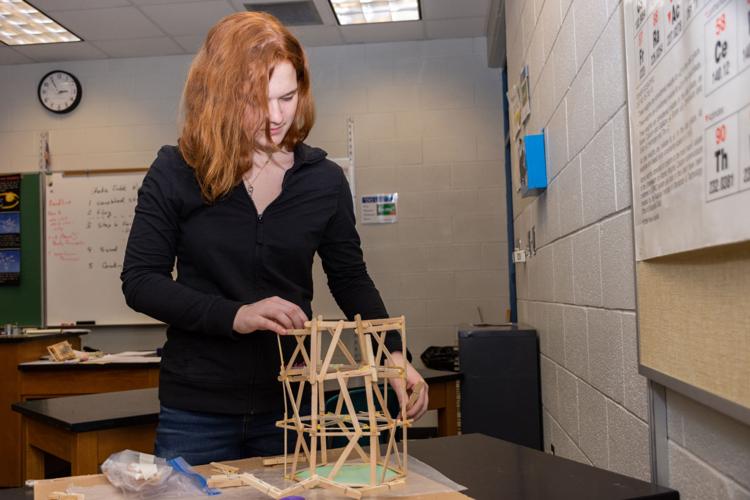 MERCER — Students in Gary Krenzer's science, technology, engineering and math classes at Mercer High School have been learning how to shake things up.
Students recently spent about a month constructing an "Earthquake Shake" project from scratch. Using engineering and math skills, students designed and built structures of at least four levels and were, "'self-supporting,' freestanding, sat within a standard lot and could withstand a moderate earthquake," Krenzer said.
Students built their structures out of coffee stirrers, straws, fishing line, popsicle sticks, splints, toothpicks, wood glue, masking tape, construction pins, rubber bands, a foot of string and one egg carton container.
Using an earthquake simulator plate, students then tested their projects to test their durability.
"It was really well done," Krenzer said. "Most of our students have been able to achieve much better results than they thought they would."
Mercer Middle/High School students have taken the project-based STEM class for two years.
"This class fills a specific niche," Krenzer said. "Most of my students are achieving their third and final science class."
Krenzer is trying to meet students where they are. There are no tests and no homework and students are exposed to physics in a "non-traditional" way, he said.
Instead, students are learning how to think "creatively" to solve problems, Krenzer said.
"It doesn't mean they're learning less," Krenzer said. "They're learning differently."
Every "type" of student has taken the STEM class and students like it because it's "hands-on," Middle/High School Principal Eric Mausser said.
About 20 to 40 students sign up for the class every year, Mausser said.
"They're creating and building," he said. "It's one of the ones I enjoy going in to watch."
Krenzer said he enjoys interacting with his students and is excited to see them succeed beyond their expectations.
In addition to working in the classroom, students came in on their own time before and after school to work on their projects, Krenzer said.
"Kids are excited about what they're learning," he said.
There was one student whose project stood out from among the crowd and that was junior Sam Ellison's structure, Krenzer said.
"His structure performed very, very well," Krenzer said.
Krenzer said Ellison's four-story building withstood multiple intensities of earthquakes.
"Sam's is the most dynamic design we have," Krenzer said. "This is the third time we've tested this building. It still held up."
The chemistry and STEM teacher said he is grateful to Mercer Area School District administrators for purchasing simulation-based subscriptions.
"I try to come up with real-world projects," Krenzer said.
Like Heidi Warren on Facebook or email her at hwarren@sharonherald.com.