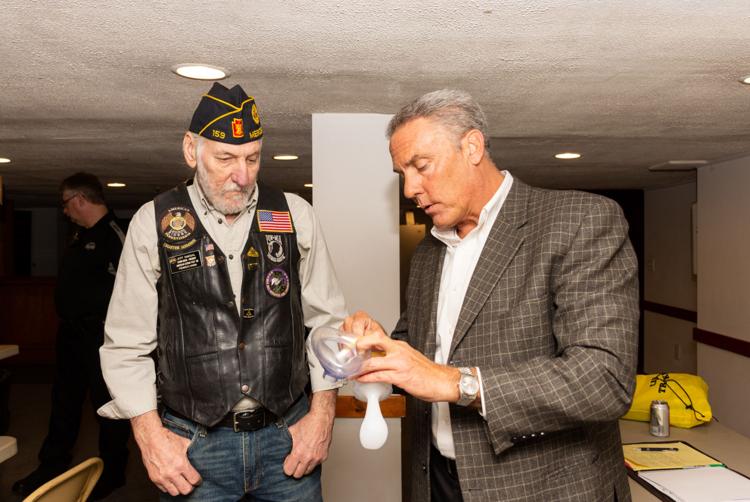 MERCER – Spurred by personal tragedy, Harlowe Mattocks rallied his fellow American Legion Riders to improve safety for children and adults in Mercer County.
Mattocks' great-niece, Aizeya Mattocks, died in 2012 when she choked on a hot dog at Mercer Elementary School. Her death left Harlowe Mattocks determined to prevent other children from dying by choking.
He donated items for a raffle, overseen by the American Legion Riders, to raise money for LifeVac choking prevention devices. The LifeVac is a portable suction apparatus that pulls obstructions from the windpipe of a choking person when the Heimlich maneuver fails.
Arthur Lih III, CEO and founder of LifeVac, said the Heimlich maneuver does not work about one-third of the time when performed by trained professionals.
Harlowe Mattocks said he was haunted by the possibility that Aizeya might still be alive if a LifeVac had been available.
"I always think if we would've had this back then, it would've been a very, very different outcome," he said. "And it has just bothered and bothered me."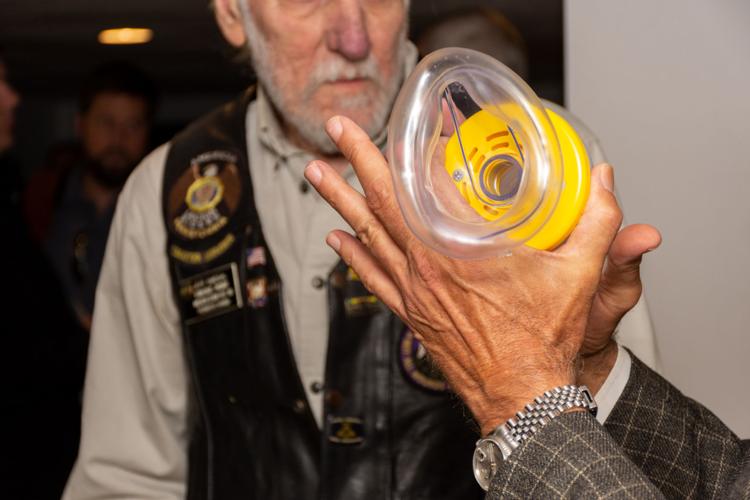 With Harlowe Mattocks leading the effort, the Riders raised $1,200 to purchase 27 LifeVacs. The group donated them Wednesday to the Creative Learning Christian School, Jefferson Township police and fire departments, Lakeview School District, Mercer Area School District, Mercer County Career Center, Children's Aid Society, Sunshine Preschool, Mercer Methodist Church and Mercer American Legion.
The American Legion Riders presented the devices during a luncheon at the Mercer American Legion.
Harlowe Mattocks' niece Jamie Mattocks said she began looking at choke-prevention devices after Aizeya's death. Jamie found out about the LifeVac and connected with the company's CEO and founder, Arthur Lih III of New York.
Last year, Jamie raised enough money to donate 10 devices — at $70 apiece — to East End Fire Department in Mercer and five to the Mercer Police Department.
"After this incident happened with Aizeya, I wanted something to advocate about how often children choke," Jamie said. "Two years ago, Arthur and I connected and I'm so glad that he came into my life so we can let others know that if the Heimlich fails, there is another option. It's your loved one. You want to do whatever you can to save them."
Lih spoke Wednesday at the luncheon and demonstrated how to use the LifeVac. Lih said he was in the hospital with his daughter and met a woman whose son was on life support after choking on a grape.
Lih said the experience affected him and he thought about what he would do if his daughter or someone else close to him were to choke. After discovering that the Heimlich maneuver failed about 33 percent of the time, he worked with doctors to create the LifeVac.
He said the LifeVac has saved 51 lives so far and is 100 percent effective.
Lih credited the Mattocks family for getting the LifeVac into schools and other places where it can save lives.
"Jamie and her family are really heroes. To rise up and think of other people is what makes people heroes," Lih said. "I'm just so proud and impressed and in awe of the courage and strength in this community, working together to make a difference."
The Legion Riders are already gathering the troops to raise money to purchase more devices to make more donations.
"The Legion Riders are very honored to do this and we will continue to do this as long as we can. We already have money built up to start the second round of this," said Jeff Smegal, the group's president. "We do not charge for these. These are donated because you cannot put a price on a life."
Hendley Hoge, superintendent of Lakeview schools, attended the luncheon to accept Lakeview's LifeVac.
"Going back to school today, I'll feel more comfortable and at ease now that we have these," said Hoge, a former Mercer superintendent. "So thank you for this."