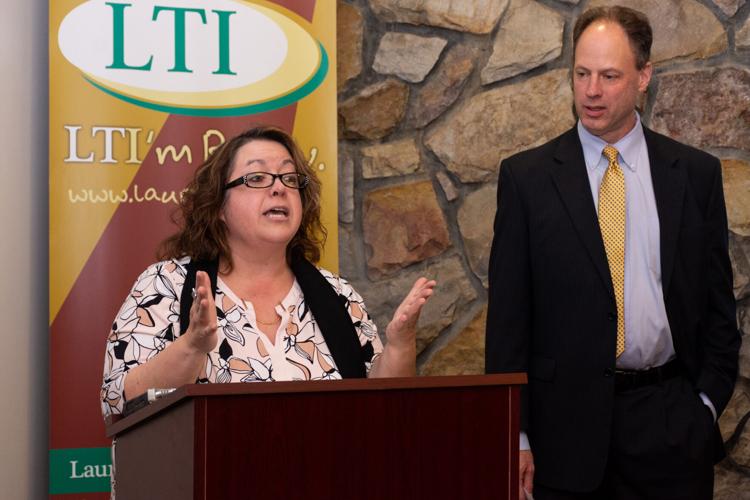 HERMITAGE — For four years, Kara Wasser prepared her online, cellphone-friendly app, honing the service, testing the market, making the function "useful but simple."
When Wasser was ready earlier this year to roll out her creation, it turned out to be exactly what people needed. And exactly when they needed it.
Wasser began working to create a virtual, mobile health-care waiting room after what she called a chaotic experience trying to get reliable information on her sister's pregnancy and birth. In June, she started her company, OhanaLink Technologies, and released the app OhanaLink Baby.
Since then, OhanaLink has followed up with OhanaLink Health and OhanaLink Health Kids. The apps offer medical patients the opportunity to connect with one another in a virtual waiting room.
And with the COVID-19 pandemic preventing people from visiting hospitalized loved ones in real life — "IRL" in online lingo — OhanaLink is offering a service that is in high demand.
"We were able to provide a solution when it's most needed," Wasser said.
Wasser is building on the success of OhanaLink Baby by beefing up the tech start-up's staff. In the last few months, she added Lisa DiMuccio-Zgela, former marketing director for Sharon Regional Medical Center, as OhanaLink Technologies' chief marketing officer.
On Monday, Shenango Valley Chamber of Commerce Executive Director Sherris Moreira announced that she was joining the OhanaLink team as director of business development. Her last day at the chamber will be Dec. 31.
Wasser is tasking Moreira with expanding OhanaLink into alliances with health care providers and enterprises beyond health care.
The OhanaLink family — Ohana comes from the Hawaiian word for "family" — of apps provide patients and their families with a way to connect, through audio and video, with those who care for them.
Through the apps, patients can provide immediate, accurate information about treatment with those in their inner circle, and those in the patients' inner circle can pour love and support back toward the patient, said Wasser.
The OhanaLink apps carry a subscription fee for the person who sets it up, but is free for those who are invited to join, and admission is limited only to those who are invited, and everyone who participates knows exactly who is listening to their discussions.
Going forward, Wasser said OhanaLink's apps will provide ancillary services, such as a games function on the OhanaLink Health Kids app, "so kids can play tic-tac-toe with their grandparents."
Wasser expects that the OhanaLink apps will be able to provide those in the virtual waiting room with services, so users can order flowers or gifts for patients in hospitals far away. The company will also seek partnerships with health care providers — obstetricians on the OhanaLink Baby app, for example — to reach additional users.
Those functions are where Moreira will contribute to OhanaLink's growth. Wasser said Moreira will work on building relationships between OhanaLink's sales team on one side, with health care providers and businesses who serve patients and the health care community on the other.
Moreira said she is looking forward to promoting not only her new employer, but also enterprises that can join with OhanaLink, which isn't all that much different from her work as chamber director.
She envisions that the company's success could trigger a technology enterprise boom in the area.
"It's really exciting to be a part of a tech company in the Shenango Valley that is not only helping people, but is also helping to retain the next generation of leaders," she said.