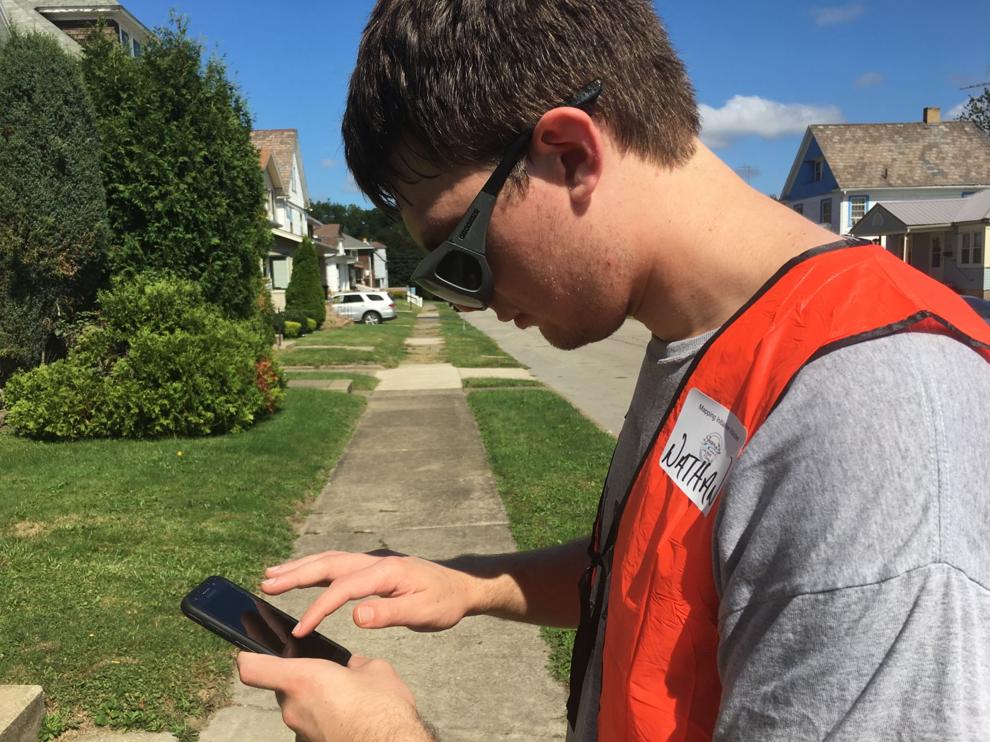 SHARON — Nathan Danneker went from house to house on Sherman Avenue in Sharon Saturday afternoon, documenting each house's address, what it was built of, its general repair condition, and taking a snapshot of the front.
Because of the orange safety vest the Sharon resident wore, a few residents asked what he was doing. Most of the time though, the only feedback Danneker received was from barking dogs at front doors.
"So far it's just been hot ," Danneker said.
Following Danneker on his survey along Sherman Avenue was fellow volunteer Angelo Garofali, of Masury, who helped with survey forms and a street map to keep track of which houses Danneker had covered.
Danneker and Garofali were just two of about 70 who volunteered Saturday in the geographic information system mapping initiative, which aimed to collect information on the roughly 6,500 residential properties in Sharon. The goal was to do the bulk of them in a single day using the army of volunteers and their cellphones.
Despite not being a Sharon resident, Garofali said he decided to volunteer after seeing a prior story in The Herald and always having an interest in historical homes.
"Maybe if they decide to do a similar survey in my area, I could help out with that," he said.
Though he has only lived in Sharon for about a year and a half, Danneker said he heard about the survey while on a history walk during WaterFire Sharon and thought the survey would be an opportunity to contribute to his new home.
"I've always wanted to help out with something, so I wanted to do something for the city I live in," he said.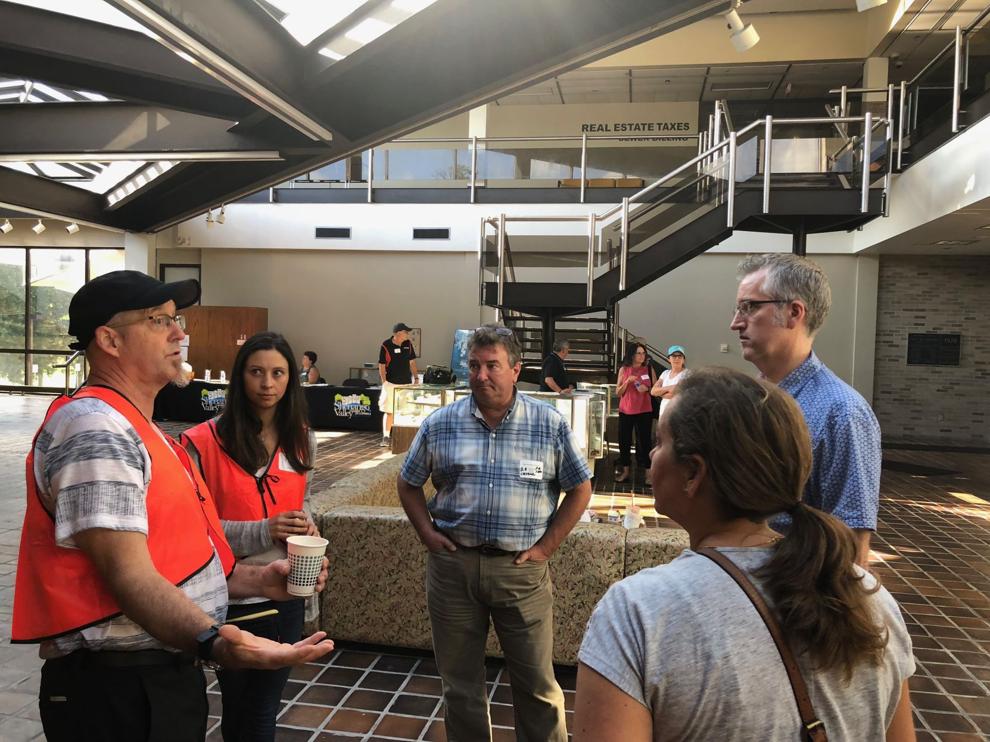 The survey will provide updated information to city officials on which neighborhoods are dealing with blight, while also providing Mercer County 911 with information on the status of homes first responders may be called to, said Bill Dodd with the Sharon Neighborhood Revitalization Committee. The software app used in the survey, Survey123, was provided by the Pennsylvania Historic Preservation Office.
"One of the committee's priorities for this project was it had to be free," Dodd said. "If we were to purchase the same software from somewhere else, it would be about $100,000."
Besides the 70 volunteers who took part Saturday, some volunteers who came to three training sessions earlier in the week went surveying on their own after training. Overall, Dodd said, about 200 people participated in the survey.
"It really shows that people care about their neighborhoods and they want to do something about it," Dodd said.
Another benefit of the mapping project is that it will let city officials move forward with plans to demolish several dozen properties concentrated in a single neighborhood. Since the city would have to use Community Development Block Grant funds, the demolitions had to be approved by both city and state officials, Community and Economic Development Director Melissa Lynn Holmes said.
However, the demolition project was put on hold last spring due to concerns that some of the properties being targeted for demolition may have had historic value, Holmes said.
"There's an area called the 'East Sharon Historic District,' and it takes up about three quarters of the city," Holmes said.
Upon seeing how many people volunteered their time for the survey, Holmes said it was "powerful" to see residents take an interest in their neighborhoods and that it was indicative that the desire to help improve the city of Sharon was from the bottom up.
"As a public servant, we have a responsibility to the people to try and make decisions that the people want," Holmes said.
The survey was the first of its kind for the City of Sharon, but the survey was also the largest that had been undertaken in Pennsylvania. Though similar studies had been carried out in the past using the Sur vey123 system, they mostly focused on particular neighborhoods instead of an entire city the size of Sharon, said Bill Callahan, community preservation coordinator in the Western Pennsylvania Region with the Pennsylvania State Historic Office.
"Anytime you have this many people coming out to volunteer for something like this is just great," Callahan said.
After the volunteers finished surveying the properties, Dodd said the information would be collected and checked for any gaps in the survey. Then another group of volunteers will analyze the information and present their findings and recommendations to city officials, Dodd said.
"We've got five people who already volunteered," Dodd said. "We're looking at maybe analysts or people who might be retired and looking for a way to help out."