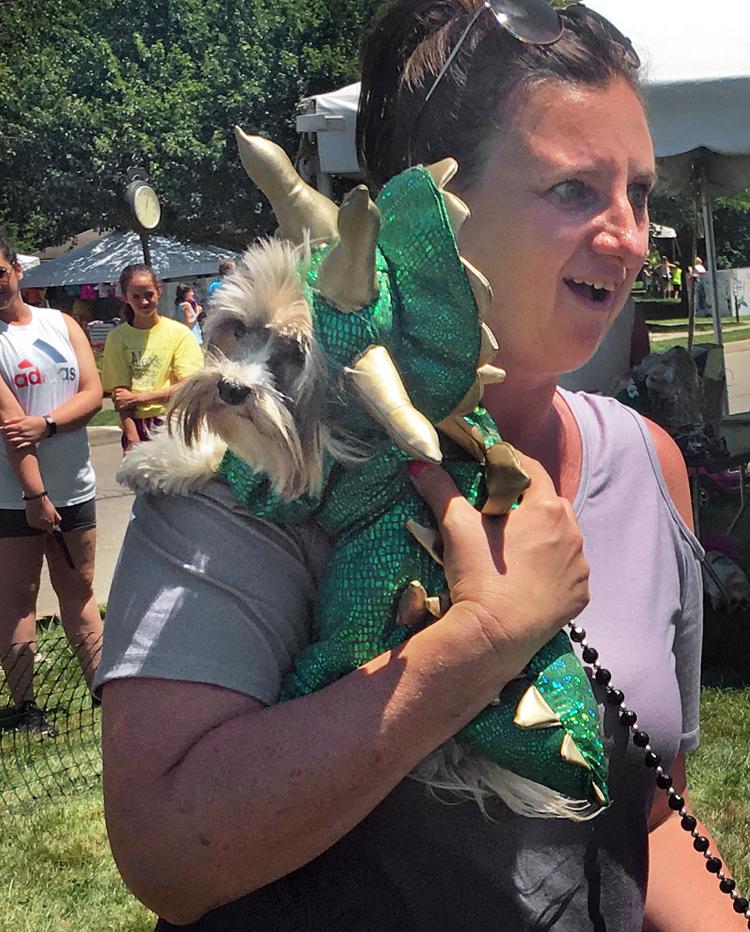 HERMITAGE — They were too small to be real dinosaurs, but the dogs nonetheless sported some colorful and sometimes scaly costumes.
Taking part in a "dogasaurus"-themed dog show were about four dogs with costumes ranging from stegosauruses to triceratopses, who were given awards in categories such as "most unique" to "best costume."
Pushing around her dog dressed as a baby triceratops in an "egg" was Danielle Pursel of Hermitage with her dog Winston, who seemed to enjoy the attention of dozens of onlookers.
"He has a fun time, but you can tell he's definitely excited when the costume comes off," Pursel said.
Held at 1 p.m. Sunday, the dog show was one of the many attractions at the Hermitage Arts, Food and Music Festival held Saturday and Sunday at Rodney White Olympic Park in Hermitage.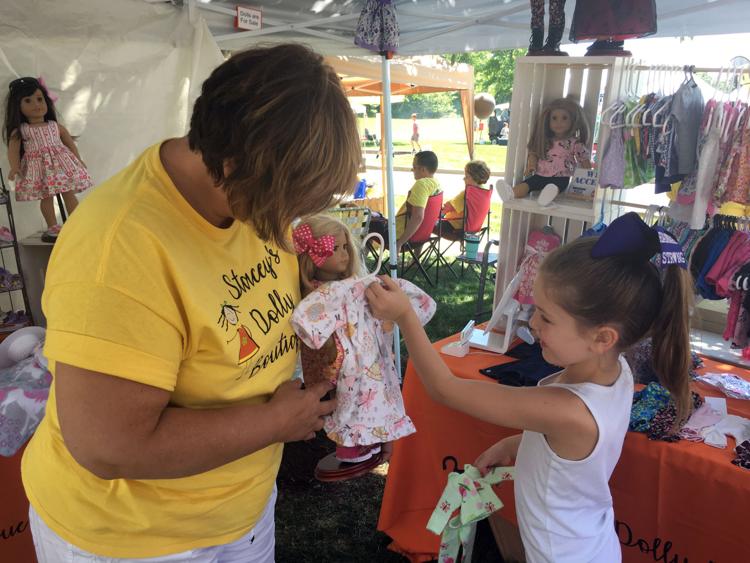 The annual dog show has been going on for the past few years with a different theme each year, said Duane Piccirilli, president of the Shenango Valley Animal Shelter's board of directors. A series of baskets were donated by local businesses including PetCo, Pet Supply Plus and Agway for the dog show which were awarded, Beth McCracken Griffin said.
"It is a fun event for people to bring their small pets and take part in a fun, family activity," Piccirilli said.
Fellow dog show participant Debra Witkowski, of New Wilmington, whose dog Lucy wore a bright blue dinosaur costume, likewise said the dog show was part of the reason she enjoyed the Hermitage Arts Festival.
"It's a beautiful event, and it's nice to see something that people can do with their dogs," Witkowski said.
Festival organizers Mary Ellen McKendry and Ed Chess said the event had 45 vendors this year, which likely drew about 2,000 to 3,000 people over the course of the weekend. While some vendors are new every year, around half tend to be vendors who have returned every year of the festival's 15-year history, McKendry said.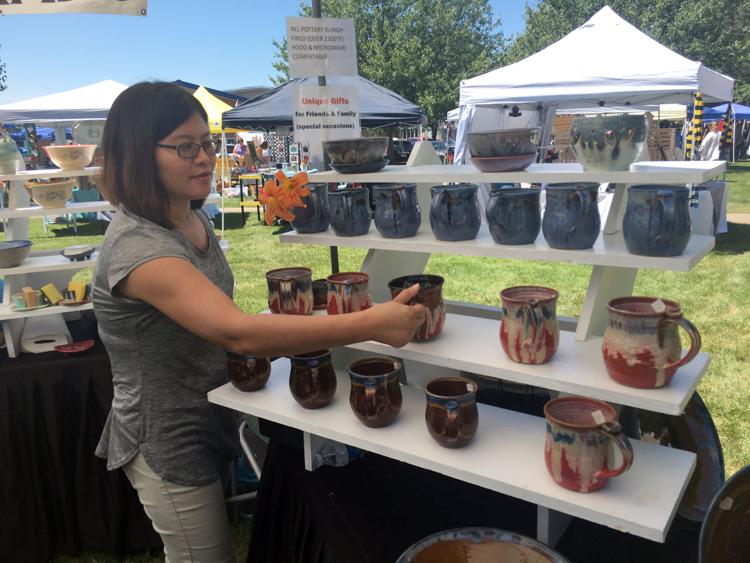 "We're really dependent on the weather, but this weekend's been pretty good to us," Chess said. "It's been really nice outside today — bright and sunny, but not too hot, and there's a nice breeze."
Next to the dog show's tent was another vendor where animal lovers could have some fun, where a tent was set up by PetCo with a spinning wheel that allowed participants to win points or prizes such as balls or Frisbees. While the proceeds will go toward the animal shelter, PetCo Store Manager Colin Quinlan said there was already a "small pile" of supplies the shelter animals would be getting as well.
"We've had a lot of people who don't even have dogs that'll win a toy or something, and they'll say 'keep it, put it toward the shelter,'" Quinlan said.
At another tent were a series of dresses arranged in different styles and sizes, though none were big enough to fit even a child. The dresses, whose designs sometimes even included local schools such as Hermitage or Sharpsville, were intended for dolls, said Stacey Squatrito, of Stacey's Dolly Boutique.
Working on the business year-round, Squatrito said she got her start making dresses for her granddaughter's doll. After posting some pictures online, Squatrito started making doll dresses for others people's children, which led to her participation in the arts festival during the last couple years.
"My favorite moment is when a little girl walks in and goes 'Oh!' when she sees all the different dresses," Squatrito said.
Not far from Squatrito's display was Rhonda Cocain's display for her hobby, "The Glass Garden." Instead of just a tent and shelves, Cocain's work — flowers and bird feeders made from recycled plates and dishes — were arranged throughout nearby flowerbeds and hanging from trees.
Going through about 54 plates on Saturday, Cocain said she often uses repurposed dishes and bowls in her work that she drills together instead of using glue. In some cases though, people come to her with family heirlooms to be used in her work.
"I've had many times where people come to me with their grandmother's china or their mother's dishes because of the memories they attach to those items," Cocain said.
While many of the vendors were local participants who come year after year, a few people came from far outside Mercer County to experience the festival for the first time.
Though she normally teaches art to special education students in Florida, Xiubo Pearce of Cui Ceramics was spending her off time in Indiana when she heard about the arts festival being held in Hermitage. Having participated in different art shows before, this was Pearce's first time participating in the Hermitage Arts Festival, but one that Pearce said was "very well run."
"It's very organized here, and the volunteers were so helpful with setting up our tables and everything," Pearce said.
Food and refreshments were also available, with one vendor offering cups of lemonade in exchange for a donation to support Alex's Lemonade Stand Foundation, which in turn supports cancer-related causes.
Behind the counter was the Beighley family, who holds the lemonade stand at their home earlier in the summer before hosting a tent at the art festival. Sunday marked the eighth year the family has participated in the festival which normally raises $1,100 a year for the foundation, said Megan Beighley, herself a leukemia survivor whose daughters helped pour lemonade.
"We do have some people that don't know the story behind it, but since we've been here for so long we usually see a lot of the same people," Beighley said.
Like David L. Dye on Facebook or email him at ddye@sharonherald.com.