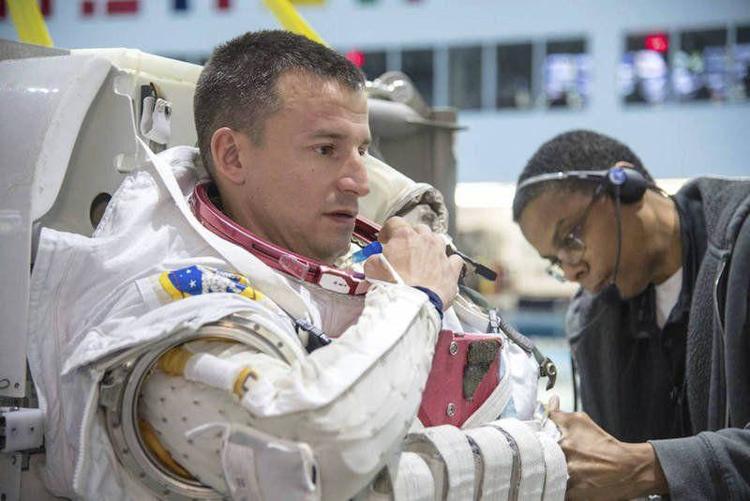 Col. Andrew Morgan is sitting at 18 days and counting down to launch.
Morgan is in Star City, Russia, making the final preparations for a 12:38 p.m. July 20 launch to the International Space Station from Baikonur Cosmodrome in Kazakhstan.
He will be joined on Expedition 60 by Luca Parmitano of the European Space Agency and Alexander Skvortsov of the Russian Space Agency for the journey to the orbital laboratory. Morgan will stay aboard the space station for nine months and also will be part of Expedition 61.
The flight takes place on the 50th anniversary of the Apollo 11 moon landing, a historic date in space flight and one which makes Morgan feel honored to be representing the space program.
"It is a huge honor to be launching on the anniversary of Apollo 11," said Morgan, who will be flying with an Apollo 11 patch he received from the Smithsonian Museum in Washington, D.C. "To do that 50 years to the day is an incredible opportunity and an honor for us. In the year that NASA has reaffirmed its plan to put astronauts on the surface of the moon by 2024 makes it even more exciting."
Morgan, who calls New Castle home — his parents and grandparents still live in the area — said he is representing all of New Castle and western Pennsylvania in space.
Morgan said he and his compatriots "train right up until the final days before launch."
"Training is a huge part of what we are doing. It keeps our skills fresh and in our mind."
However, the former Army surgeon also is preparing for a departure from his family, which is similar to his military deployments with one exception — this time, he will be in space.
"We also spend a fair amount of time preparing our personal lives as well," Morgan said. "It is important to prepare our families for separation and the launch. I have spent a lot of time connecting with my family.
"As I have gone through this process with my family before, there are a lot of analogies for preparing for this deployment. There is the training and the building and preparation for launch, getting my family ready.
"Then there is the post-deployment and re-adaptation to integrating with your family. The important difference between NASA and the Army is my body has to adapt to getting used to being back in gravity."
Morgan said he feels his family is prepared for this deployment.
"We are very well rehearsed in this," Morgan said. "They have been supportive through it all, and I attribute that to being a military family."
Morgan believes he is fully prepared leading up to the launch.
"I was selected to be an astronaut six years ago and selected for this mission 18 months ago," Morgan said. "I am training for the mission to be on board the International Space Station. The program is well built to make it very successful. I am excited to get underway. My mission is going to be longer than the typical mission. I will be there for nine months, and this is a huge opportunity to serve the International Space Station and our country."
He said he also has worked to integrate his family into the experience and will be able to communicate with them regularly.
"To be able to stay very well connected through email and phone calls and FaceTime-like chat will keep them engaged with what is going on," Morgan said. "They will be able to follow along with my mission on social media.
"They are very proud of me and I am energized by that. I wouldn't be able to do this without their support."
While Morgan said it was hard to prioritize the experiences he will be having on the station, he said he draws from his mentors, friends and family to prepare him for what he will experience.
"I am really looking forward to that first opportunity to look down on the Earth through a window that looks down on Earth at all times," he said.
Plus, he will also have some personal items he is allowed to take on board.
"I have to select them very carefully," Morgan said. "There are some items organizations have given me to fly to space, such as the Boys Scouts. I have been a Boy Scouts leader, and my son is an Eagle Scout.
"I will reveal those items a little at a time."
Morgan said he has wanted to go to space ever since he was a young child, and when he was 10 he wrote a letter to Alan Bean. Bean, the fourth human to walk on the moon, also was on Skylab, a precursor to the International Space Station.
"I got a letter back from him," Morgan said. "Having direct engagement with an astronaut was influential with me."
Morgan said he met Bean at an astronaut reunion before Bean passed away last year.
"I told Alan Bean before he died what that meant to me," said Morgan, who is looking forward to interacting with classrooms on Earth while aboard the station. "It touched him in a very special way. In 30, 40, 50 years I would love to have an adult tell me that as a young child I impacted their life."
CNHI News Service