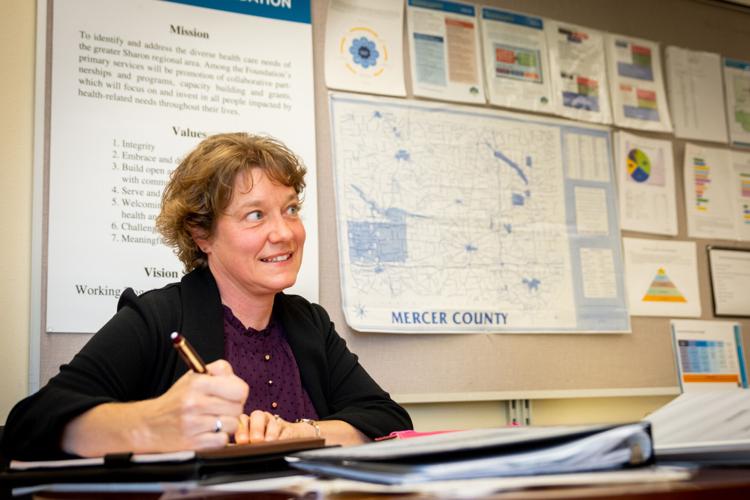 SHARPSVILLE — When Mickey Gula steps away from the Buhl Regional Health Foundation later this month, she'll be leaving the organization in the hands of Jennifer Barborak — a former coworker who had an early start with nonprofits.
The foundation's board announced Monday that Barborak would become the new executive director when Gula retires from the position Sept. 30.
Though it will be about two weeks until she takes over as executive director, Barborak's experience starting and operating a nonprofit began in 2001, when she and her husband founded Shenango River Watchers.
Before that, Barborak was a student at Slippery Rock University studying environmental science when she had an opportunity to hear Robert F. Kennedy Jr., son of the assassinated U.S. senator, speak about his environmental group "Riverkeeper."
When Barborak asked what she could do in Pennsylvania, Kennedy invited her to a Riverkeeper symposium in Pensacola, Fla., where she received training that would serve her later in life.
"It was hours and hours of training — how do you become a 501(c)(3)? How do you write a press release?" Barborak said.
Unlike Riverkeeper, which usually sues polluters, the Shenango River Watchers opted to take a more education-oriented approach and organizes activities such as cleanup days or tire recycling. Barborak would help found other organizations, including the Sharon Beautification Commission, Friends of MERP (Medical Equipment Recycling Program) and the Sharon High Robotics Team.
Barborak volunteer efforts also have included the Sharon Revitalization Committee, Mercer County Regional Planning Commission, Meszaros Family Charitable Foundation and Buhl Park, and worked as the water operations manager and volunteer coordinator for WaterFire Sharon.
But it was during her time with the UPMC Community Health Foundation that Barborak said her knowledge of what she could do for the community, "exploded."
Starting as a grant writer, Barborak became proficient enough that UPMC offered to pay for her master's degree studies in grant writing and management-nonprofit program evaluation. Her training included how to examine and evaluate data and determine whether the organizations she wrote grants for were actually doing what they claimed.
"I also dabbled in marketing, so I worked on their webpage, did some Facebook stuff, and I created the foundation's annual reports," Barborak said.
That experience with grant writing and educating will be useful when Barborak takes over at the Buhl Regional Health Foundation, which was founded in 2016 with the millions of dollars netted from the sale of the then-nonprofit Sharon Regional Health System to a for-profit company. The foundation seeks to creatively affect the community's quality of life through partnerships, education and grant making.
Gula, who previously worked alongside Barborak when both were nurses at Sharon Regional in the 1990s, has led the health foundation since its beginnings four years ago.
However, the Buhl legacy reaches back to the establishment of Christian H. Buhl Hospital n 1896. The hospital only had 18 beds, but there was a great need for medical care among residents and mill workers, Gula said.
"We had a lot of immigrants coming to this area that were living in close quarters, so a lot of infections such as diphtheria could spread very easily," Gula said. "There were also a lot of traumatic injuries from working in the steel mills, and a couple of the physicians who started the hospital were Civil War surgeons who had experience with trauma."
In modern times, the foundation continues to meet the needs of the community by providing grants to nonprofit organizations, along with holding community forums to assess and address the needs for issues such as public transportation, mental health, addiction or family support, Gula said.
"One of our goals is collaborative programs, so we'll teach agencies how to write grants and work with them on grants, and we encourage them to work with other people in the community who are doing similar efforts," Gula said.
As Barborak takes over the duties of executive director, one of her tasks will be to develop a new strategic plan for the foundation. The current strategic plan has been in place since its founding in 2016 and focuses on how to organize a nonprofit organization and how to lay the groundwork. Now that the foundation is established, the new strategic plan will focus on continuing a collaboration with local agencies, Barborak said.
"I was already connected with the community, but with Mickey, it's like taking it to the next level," Barborak said. "The way she reaches out into the community and even beyond the community, and her ability to understand a problem and know who in the community is working on that problem — it's mind blowing."
Though she will have to step away from some of the other organizations she is involved with, such as the Shenango Riverwatchers, Barborak said she will continue to participate as a volunteer. As for Gula, she intends to spend retirement with her daughter's family and her grandchildren, although Gula had similar words of praise for Barborak and the future of the foundation.
"I anticipate that her grant-writing skills, leadership, her ability to bring groups together and collaborate on a variety of things, and her tremendous amount of community knowledge, will only launch the foundation to a whole other level," Gula said.
Like David L. Dye on Facebook or email him at ddye@sharonherald.com.