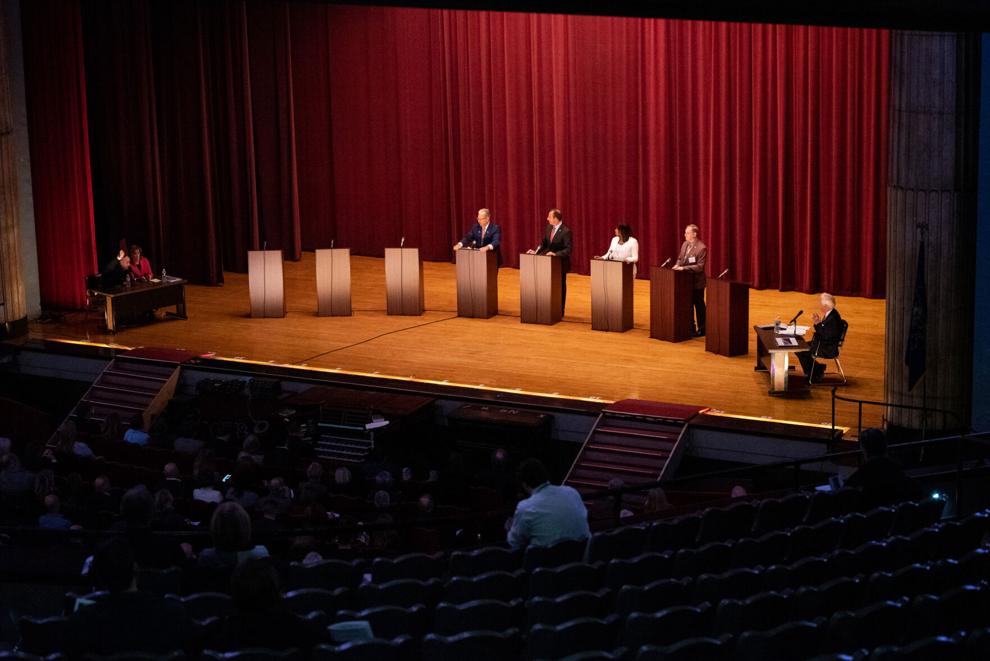 NEW CASTLE — During the hour-plus drive to New Castle from South Fayette Township in Allegheny County, Ron Betz asked his son, Zach, if he wanted to know who were the media-ordained Republican front-runners for U.S. Senate and Pennsylvania governor.
Zach turned down the offer. He was going to see some of them soon enough anyway.
"I make sure to do my own research," said the 19-year-old high school senior, who will cast his first ballot May 17 in the Republican primary, possibly for candidates who took the stage Wednesday at the Scottish Rite Cathedral in New Castle.
The Betz family, and a crowd that filled nearly all of the building's lower level, got to hear from Senate candidates Kathy Barnette, Jeff Bartos, George Bochetto and Martin Rosenfeld.
Three of the most prominent candidates — former Ambassador Carla Sands, television doctor Mehmet Oz and hedge fund executive and treasury official in the George W. Bush administration David McCormick — did not attend the debate.
Their absence put them in for some pointed criticism from the candidates who did turn up.
NEW CASTLE — The four Republican U.S. Senate candidates in the debate Wednesday at Scottish Rite Cathedral in New Castle agreed on most issues…
"You can't save Main Street if you can't find Main Street," said Bartos, who was the Republican nominee for lieutenant governor in 2018 and helped to create the 30-Day Fund, which offered low-interest loans to companies affected by the COVID-19 pandemic economic restrictions.
He championed economic development, saying, "Our number one export is our children. It should be energy."
The candidates — all seeking to replace Republican Sen. Pat Toomey, who opted not to seek re-election this season — fielded questions from political strategist and commentator Jeffrey Lord on their legislative priorities, EPA regulations and their effect on the energy industry, whether they would support retaining U.S. Sen. Mitch McConnell as the party's Senate leader, the Afghanistan withdrawal and foreign affairs, the national debt, impeaching President Joe Biden, gun control legislation, Dr. Anthony Fauci and COVID-19, China, social media platforms, and election security.
While the candidates on stage targeted, if only rarely, those who stayed away, they were collegial toward one another. More than once, a debate participant said they agreed with one or more of the others.
"The worst candidate on this stage would be better than the best Democrat," said Bochetto, a Philadelphia attorney and Pennsylvania boxing commissioner who went to court to prevent removal of the city's statue of Christopher Columbus and filed his candidacy papers this week.
Barnette, author of the book "Nothing to Lose, Everything to Gain: Being Black and Conservative in America," and a conservative commentator, said — in response to the McConnell question – that it was time for some "new blood" in Washington D.C.
"People should not go to D.C. and the only way to get them out is when they die," she said.
Most of the candidates' answers tracked with Republican orthodoxy, with very little disagreement. On the McConnell question, Rosenfeld — a former deputy sheriff in Elk County and current constable — said he appreciated the current Senate minority leader's refusal to vote in favor of removing former President Donald J. Trump from office but then took issue with McConnell's condemnation of Trump's actions during the Capitol riot on Jan. 6, 2021.
"I would have a difficult time supporting McConnell," he said.
Bartos, who listed term limits as his top national legislative priority and pledged to serve no more than two terms if elected, said McConnell already has a strong legacy.
"Thirty or 40 years from now, we'll still be talking about the conservative judges appointed by President Trump and pushed through by Senator McConnell," he said.
After the debate, Ron Betz said he thought all of the candidates — but especially Bartos and Barnette — did well.
"I enjoyed the debate tremendously," Ron Betz said. "I really liked Kathy and Jeff."
Zach Betz agreed with his father's assessment.
"Kathy really stuck out to me and Jeff, too," Zach Betz said.
Of the four candidates on stage, he said those two best embodied what he expected from Pennsylvania's next U.S. senator.
"We really just need a politician with a backbone," he said. "Someone focused on serving instead of the next election."