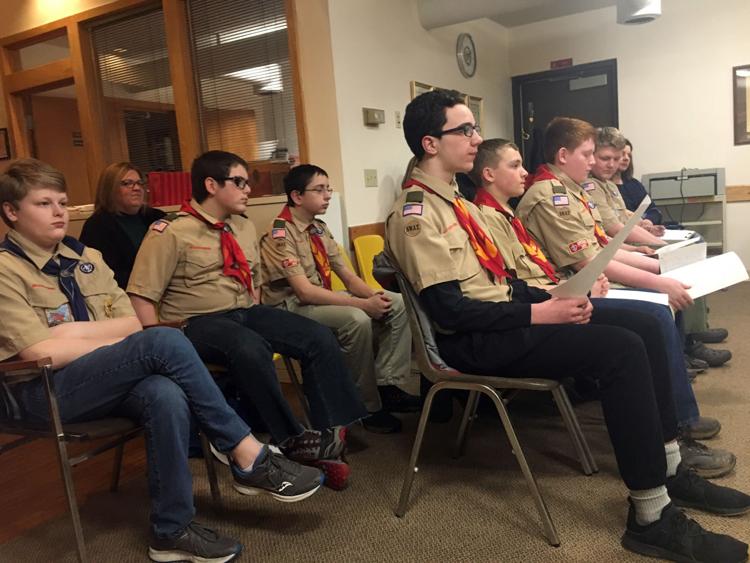 SHARPSVILLE — Wednesday night's Sharpsville Council meeting drew a larger-than-usual audience.
Almost a dozen Boy Scout from Troop 45 in Sharpsville turned out for the borough council meeting as a requirement for their Citizenship in the Community merit badge. Rachelle Shea, the troop's merit badge counselor, said attending a meeting was an Eagle Scout requirement and she tries to bring a group every other year.
The scouts led attendees in a prayer and Pledge of Allegiance to open the meeting. Borough Manager Ken Robertson then explained how council functions and the council members took questions from the scouts.
Scout Cavin Brant, 13, said the scouts brainstormed questions after looking at some of the community's needs.
"We tried to think of things that would help the community, and make things better for people like kids and older people and vets," he said.
Some of the questions brought up by the scouts were about issues borough officials were already looking at, such as replacing the Kelly Road Bridge — a PennDOT project that is supposed to move forward within the next year or so, Robertson told the group.
Scout Caleb Rogers, 13, brought up the possibility of creating parking spaces specifically for veterans at local businesses.
"It's something that we think could be helpful since older veterans may have health issues and could have difficulty getting around," Rogers said.
Robertson said designating veterans-only parking spaces was beyond the borough's control but he was able to advise the scouts on how to move forward.
"That is something we've noticed more of, and it is something that would have to go through the owners of the businesses," Robertson said. "I would try writing a letter to the owners of the businesses, and I can help get you that contact information."
Scout Peter Plummer, 12, brought up the possibility of stocking local ponds and streams with fish, since fishing is an "enjoyable" activity that helps maintain the ecosystem. Robertson deferred to council member Tom Patton, who said groups such as the Boy Scouts could try signing up for the annual fish stocking organized by the Fish and Boat Commission.
"I think normally the commission stocks the fish but they need all the help they can get," Patton said.
Like the other scouts, Michael Kovach, 12, said Wednesday was the first time he had attended a borough council meeting, and he had not expected how quickly council members were able to provide answers for the scouts.
"I was surprised at how fast they answered the questions and how fast the meeting was," Kovach said.
After the meeting concluded, Robertson said he thought the kids and their questions were "wonderful." Robertson said some of the current borough council members had parents or grandparents who previously served on council and said it was good to see young people involved with their local government.
"One, two or more of those kids could be sitting up here some day," Robertson said.
Like David L. Dye on Facebook or email him at ddye@sharonherald.com.