BROOKFIELD 
TOWNSHIP – Township trustees have chosen a fire chief from South Carolina, but he'll be returning home to northeast Ohio.
Trustees unanimously voted Friday morning to hire David Masirovits, 43, of Ladson, S.C., who is a captain at Goose Creek City Fire Department. His employment is conditional on passing a background check and physical examination.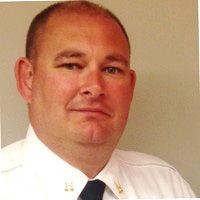 Trustees notified Masirovits of their decision immediately after the meeting, and he accepted the position.
All three trustees said the selection of a new chief was long and difficult because of the high quality of people who applied for the post.
"He brings a lot to the fire department,'' Trustee Ron Haun said. "He's a team player, and he wants to make Brookfield Fire Department his home.''
Trustee Dan Suttles agreed.
"I am very confident we hired the best person for this job,'' he said.
Goose Creek City Fire Department had about 7,000 runs last year. That's about a third of what Brookfield has annually, Suttles said.
In a phone interview Friday, Masirovits said he and his wife have been yearning to return to the area. He grew up in Conneaut, Ohio, and graduated from Ashtabula High School and Ashtabula County Joint Vocational School.
"We've been looking in the entire state (of Ohio) in looking for jobs. But we focused on Northeast Ohio,'' he said. "We both wanted to be closer to our families we have there.''
Masirovits said his life has been devoted to firefighting.
"I come from a family of firefighters,'' he said. "I've been serving in firefighting since I was able.''
A key part of his job, he said, will be setting a high standard for himself and the department.
"I like to lead from the front,'' Masirovits said. "I believe in a strong command presence, and to be on the forefront of today's fire service. I have a desire to be the best, and have a value for teamwork.''
He is also a paramedic and said he wants to bring that experience with him. Once he is settled in, Masirovits plans to talk with township leaders, members of the fire department and the community.
"I want us to have a vision, to see what are we going to be like 15 to 20 years down the road,'' he said.
Masirovits has three children, with the youngest being 12. He and his wife, Holly, have been married for 22 years.
He will be paid $65,000 a year, trustees said, along with benefits including health insurance and a pension. 
Brookfield's former fire chief, Keith Barrett, retired in December. Trustees hired the Ohio Fire Chiefs' Association, a nonprofit advisory group, to assist in filling the post. Brookfield fire Capt. Dave Coffy has been serving as interim chief. 
Coffy did not apply for the fire chief's position.