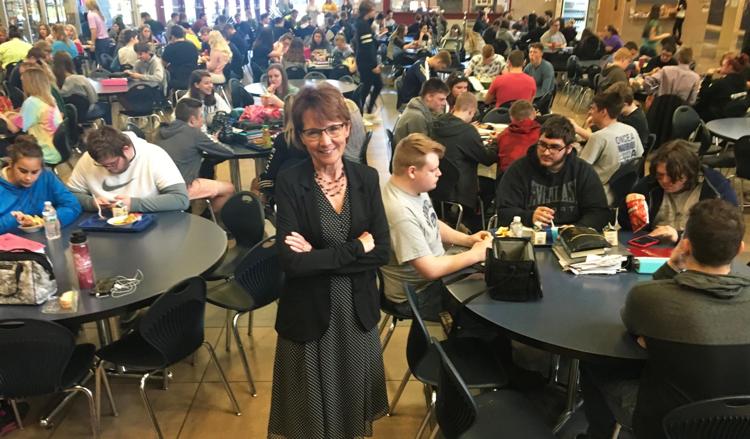 BROOKFIELD, Ohio – There's a folder labeled "New Superintendent" in Velina Jo Taylor's office at Brookfield Local School District's administrative office.
And it keeps getting thicker.
"I keep putting stuff in there," Taylor said.
The folder is a gift from the superintendent to her successor. Taylor is leaving her Brookfield post July 31 to become superintendent of Lakeview School District in the Cortland, Ohio, area.
Brookfield School Board is expected to name a new school chief at its next school board meeting, which is set for 7 p.m. Wednesday in the school's auditorium. The new superintendent will take over on Aug. 1.
Taylor has been an administrator in Brookfield for eight years — three as superintendent and five as high school principal. She started her career as a 12th-grade English teacher at Brookfield, where she worked for 16 years, and also worked at Canfield Local School District and the Mahoning County Education Service Center.
During Taylor's term as superintendent, she helped to lead the district out of fiscal emergency status last year after almost five years as a fiscally distressed school district.
Faced with a deficit of more than $1 million in 2013, the district reduced spending by about $1.5 million by eliminating staff and cutting other costs.
"I was a willing part of that process but not the mastermind,'' Taylor said of emerging from fiscal emergency.
She gave much of the credit to Craig Yaniglos, the district treasurer who Taylor brought on board in 2017.
"He implemented changes in procedures like reviewing all of our vendor contracts to get better prices,'' she said. "That jump-started the process.''
Taylor said there were projects she wanted to complete during her tenure but she didn't have the funds. That includes a bus garage that dates back to 1939.
"I can put my hand through the concrete block,'' Taylor said of the garage's walls.
Lightposts at the football field installed in 1949 desperately need to be replaced, she said.
"They're made of wood,'' Taylor said. "And you know they can't last forever.''
The austerity measures had an impact on operations on occasion.
During a fierce February cold snap, water pipes in the school's fire sprinkler system broke in the middle and elementary school. That resulted in standing water several inches deep in hallways and classroom floors.
Water damaged walls and sections of the ceiling, which rang up a bill of more than $40,000, she said. The district's insurance covered most of the cost, but the district paid a $2,000 deductible.
Although she will miss Brookfield, Taylor said she is looking forward to her new post at Lakeview, which has about 2,000 students, and is about twice the size of Brookfield School District.
Last year, the district opened a $31 million school building for preschool to eighth-graders. 
"It's not a traditional school building,'' Taylor said. "It has a rooftop garden and classrooms with walls that can be raised or lowered so that multiple classes can participate with each other.''
When asked about her favorite moments as superintendent, Taylor had a ready answer.
"Watching students graduate is special,'' she said. "I think any graduation is a special moment.''