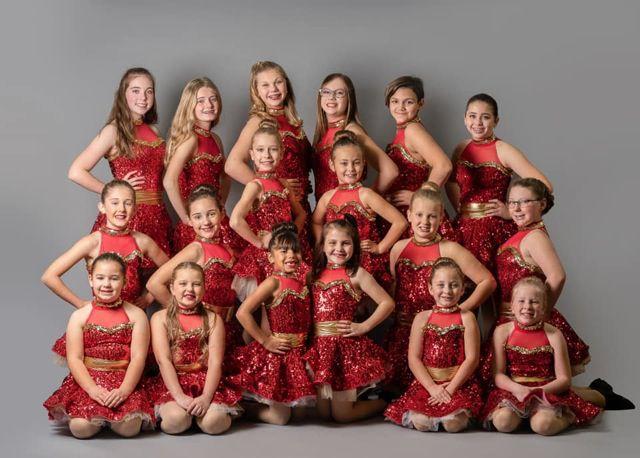 The opportunity to travel to Walt Disney World is a once-in-a-lifetime opportunity for many people, but the opportunity to dance there is even more so. 
In December, a group of 18 Buhl Club Dancers, ranging in age from 7 to 15, participated in "Dance the World: Holiday Season Edition," a performance festival where dancers showcased their talent at Disney World.  
"It's a unique opportunity for these girls to have a chance to dance at Disney World," said Michelle Bowers, Buhl Club program director. "It's a chance to bring dance studios from all over to learn one dance routine."
The students learned both a parade routine and a stage routine, which they performed at the Magic Kingdom and on stage at Disney Springs, with about 1,000 dancers from 45 dance studios, Bowers said.
"All of the girls engaged in two different performances," said Kimberly Marchetto, whose 12-year-old daughter, Alexandria, participated in the event.
This was the second time Buhl Club Dancers participated in Dance the World. The first time was in June 2017 during the "Dance the World: Summer Edition."  
"Once they send out that routine, dance instructors start teaching that routine to all of the dancers," Marchetto said. "All of the girls knew the exact same dance."
At Disney Springs, a professional hip hop dancer opened the stage production where Buhl Club dancers danced with students from other studios, Bowers added.
"It was called 'Celebration of Dance,' which was similar to the Magic Kingdom parade routine, but they performed on a stage at Disney Springs," she added.  
Rehearsals for "Dance the World: Holiday Season Edition" began in May with the frequency of practices increasing as the trip drew closer, Marchetto said.  
"Some of these girls were dancing seven days a week," she added. 
"We've been practicing at least once a week ever since (May) for around two hours a practice," said her daughter, Alexandria, a Sharpsville High School seventh-grader. 
Despite visiting the Disney theme parks, Alexandria said her favorite part of the trip was dancing.
"It was wonderful!," Alexandria said. "I had a lot of fun down there." 
Each student brought her family with her, making the trip a family vacation, Bowers said. 
"It's meant to be an experience with your family, a once-in-a-lifetime opportunity to dance at Disney World," Bowers said of the festival. "That's why I wanted to do it because it's not a competition."
Planning for the trip began about 18 months ago and required Buhl Club dancers to raise their own money, Bowers said. 
"We did some fundraising to help with the cost of the trip," Bowers said. "We had some sponsors from local businesses."
Marchetto said it was the relationships that formed during the trip that struck her.
"A lot of these girls did not know one another," she said. "They got to know one another. It was fascinating to see how the older girls adopted a mentorship of the younger girls and established a relationship with them," Marchetto said. 
She described the overall experience as "phenomenal" for multiple reasons. 
"My daughter said she thought it was such a 'phenomenal' experience she couldn't keep from smiling during the parade. As she was coming down Main Street (during the parade) she saw everybody smiling at her. It was quite the experience for all of them."
Like Heidi Warren on Facebook or email her at hwarren@sharonherald.com.