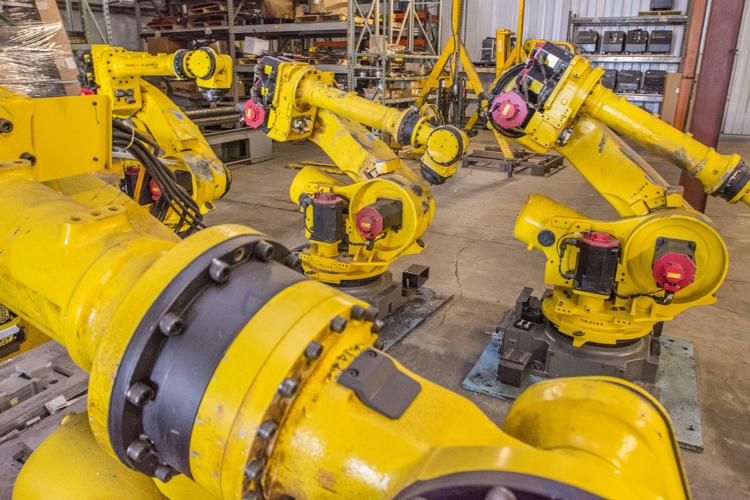 PYMATUNING TOWNSHIP – Not long ago, officials from NASA called Eric Shafer, owner of Industrial Robotix, to ask what his robots could do.
"I told them, 'What do you want them to do?''' Shafer said.
Shafer, of West Salem Township, depends heavily on his ability to develop robots to perform an expanding range of tasks. As the Industrial Rototix company name indicates, the robots he develops aren't recreational devices, nor do they vacuum floors.
"There's a local farmer who produces seeds that came to us,'' Shafer said. "His daughter worked for him, and he didn't want her to have to lift heavy seed bags anymore. So we sold him a robot that can do that for her.''
Industrial Robotix is among the companies and individuals that will be honored Thursday at the Phoenix Awards. The company will receive the award for best growth in small manufacturing.
The event, sponsored by the Shenango Valley Chamber of Commerce, honors the best businesses in the area. The Phoenix Awards ceremony will be held from 11:30 a.m. to 1:30 p.m. Thursday at the Corinthian Banquet Center, 47 Vine Ave., Sharon.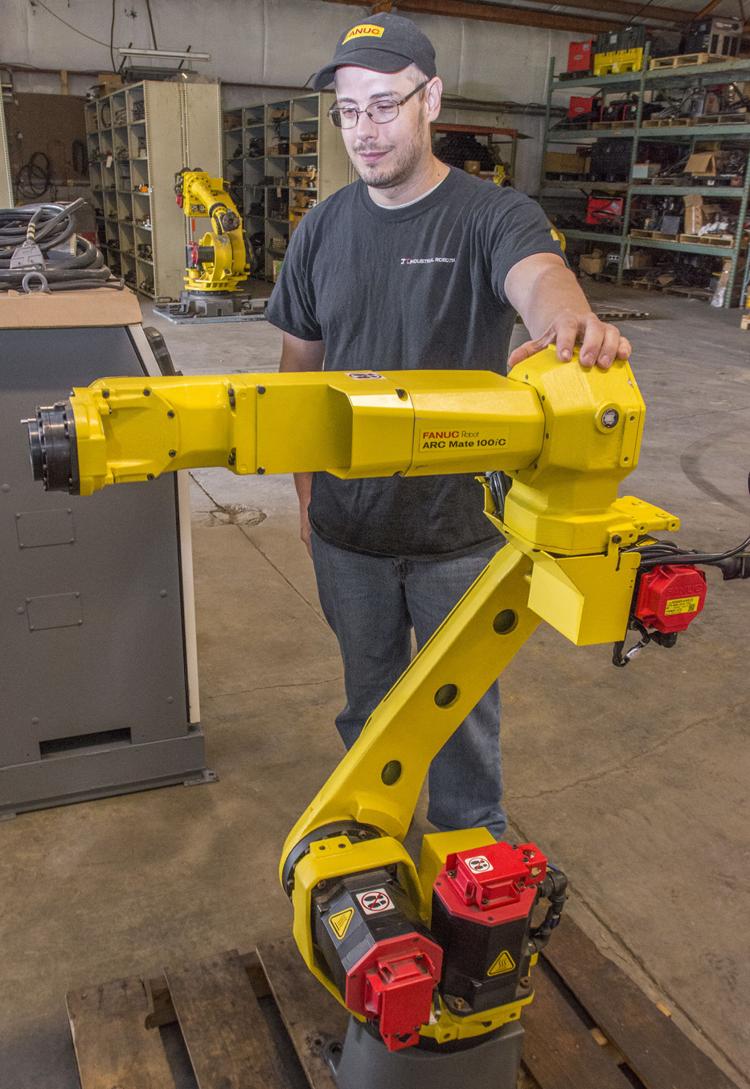 Also being honored are: The Therapeutic Subscription Box of Hermitage for best new business startup; Anna Marie Mindicino of Do. Good. Period in Sharon will receive the entrepreneur award; Olive's Place Boutique and Gift Shop in Sharon Regional Medical Center will receive the innovation award; American CAP Co. in Wheatland for growth in large manufacturing; UPMC Horizon in Farrell and Greenville for growth in large non-profit service; Sharon Regional Medical Center for growth in large for-profit service; Tails of Hope in Hermitage for large non-profit service; Chelsea Rowe Rescue Fund in Sharpsville for small non-profit service; and Sara Giordano of the Insite Group and downtown Sharon's Hanging Basket program for the beautification award.
After Shafer graduated from Reynolds High School in 1992, he spent years working for other companies in the robotics industry. In 2004, he struck out on his own and started his business in a small Sharpsville building. Four years later, the business had outgrown that site, and he moved to Greenville-Reynolds Development.
Industrial Robotix is now housed in a 25,000-square-foot multi-use building that serves as a production operations, repair shop and research and development center.
The facility has 11 employees, and most of them had to learn on the job, even with technical college degrees.
"Most of my employees have a mechanical or electrical engineering background,'' he said. "You don't find people with a lot of robotics experience. You get that on the job.''
Shafer said Industrial Robotix doesn't usually create robots from scratch. About 75 percent of the time, the company buys and restores old robots, and then sells the devices for industrial applications.
The company often upgrades other robots with amenities such as new software that enables them to perform more tasks.
The automotive industry is one of Industrial Robotix's biggest customers. These yellow classic "arm" style robots are commonly used to weld sections of vehicle bodies together on automotive production lines.
"Each plant can have thousands and thousands of robots,'' Shafer said.
He said the automotive industry will continue to be a significant customer base. With that in mind, Shafer formed a spin-off company, GreaseBots, which offers a new product that promises to be a big time-saver for factory work.
"Robot arms have to have their grease changed every 3,000 to 5,000 hours,'' Shafer said. "The way it's done now is manually with a grease gun that can take six hours. GreaseBots can do it in 30 minutes.''
He touts GreaseBots as being "intelligent'' devices but wasn't quite comfortable in calling them true robots. Shafer has secured a U.S. patent for the devices, and he hopes to have an international patent in hand by year-end.
When humans first worked alongside automated devices, safety regulations hadn't yet caught up with the new reality of life on factory floors. Workers who toiled next to the steel machines often got knocked around, Shafer said.
"People were really getting beat up,'' he said. Changes in regulations now require many of these robots to be placed in safety zones that are away from shop workers. Also, improvements in software and design changes have made robots safer, he added.
Collaborative robots, which are specifically designed to work safely next to humans, are now the rage, Shafer said. Used in such applications as creating machine parts or packaging items, they often have motion-detection sensors that stop their activities if a human wanders near. Robotix also creates safety software programs.
"It monitors the robots' safety systems,'' he said. "And it will stop a robot from doing something if needed.''
As with humans, rigorous tasks can affect the useful life of a robot.
"Some robots have an easy life,'' Shafer said. "They don't move around as much and may not have heavy lifting like the bigger robots do.''
In the upcoming decade he believes the food industry is ripe for expanding duties for robots.
"There may not be a person at the cash register,'' Shafer said. "There could be a robot flipping burgers and making fries.''
While eager to explain how a robot can add super human-like efficiency to production needs, Shafer said there are times where businesses have to find out for themselves they need a robot.
"You can't convince people they need something that they don't think they need,'' he said.
Robots of today, Shafer said, bear no resemblance to those depicted in dystopian fiction, where people become reliant on devices and lose their humanity.
Robots can be job creators rather than job destroyers, he said.
"It allows people to move into a more technical trade in running and servicing a robot,'' Shafer said. "Somebody still has to service the thing."