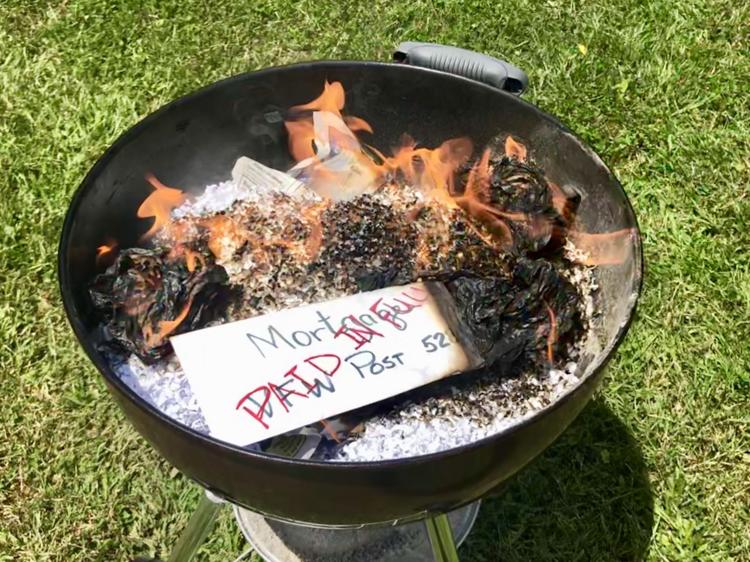 FARRELL – Commander Jim Grossman threw the "deed" for the Farrell VFW building into flames Saturday at a gathering to celebrate paying off the mortgage early.
A few special guests were in attendance because, as part of that celebration, the club decided to donate money to four organizations.
"We want to do our part for the Farrell community," Grossman said. "We have a family around here. It took us a long time to build that. We're pretty proud of this place."
The Farrell VFW Post 5286 paid off the mortgage to the building at 1233 Idaho St., and bar manager Mike Missik suggested they donate some of the savings to the Farrell fire and police departments, Joshua's Haven and Akron Children's Hospital.
Post 5286 has been in the building since 2010. It boasts a bar area, banquet hall, bocce hall and a patio and outdoor area with corn hole.
While flames marked the happy occasion of paying off the mortgage, the present post home was built because of fire; the former building on the same site was destroyed in November 2003.
Saturday, Sherry Swetz was on hand to accept $500 for Joshua's Haven and Sarah Podolan accepted a check for $1,000 to Akron Children's Hospital. Farrell fire and police departments were given $500 apiece.
"Without their donations, it all falls back on the city," Farrell fire Chief Mike Renner said. "They donate all the time. It's a great organization."
The $1,000 total for the departments will go into the equipment funds.
Renner and police Chief Jon Rococi said they will buy anything from flashlights to helmets, boots, coats or shirts for their departments.
"Any of the little stuff that helps get stress off the city budget," Renner said.
A lot of the equipment is used between the departments.
"We can't thank them enough," Rococi said.
Follow Melissa Klaric on Twitter and Facebook @HeraldKlaric, email: mklaric@sharonherald.com