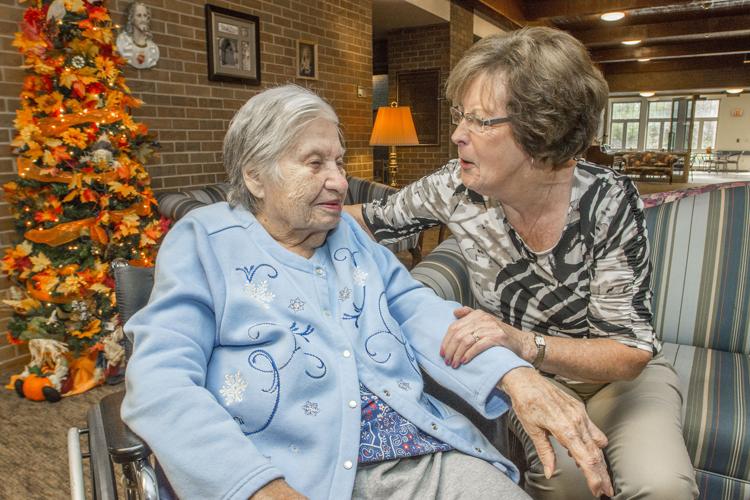 HERMITAGE — For Rob and Elizabeth McGoff of Hartford, Ohio, helping seniors is a way of life.
So when they were starting their own business, they found the home health care service business Seniors Helping Seniors to be exactly what they were looking for.
The 30-something couple, both Catholics, had close relationships with their grandparents growing up, Elizabeth McGoff said. 
"We like helping seniors," she said. "You learn so much just by talking to them."
Seniors Helping Seniors founder Kiran Yocum worked with Mother Teresa in India for 14 years. That appealed to the McGoffs, who attend Church of Notre Dame in Hermitage with their three daughters, Isabella, Gabriella and Mirabella.
What sets the organization apart from other similar agencies is that their caregivers are primarily seniors. All of them are background-checked,TB-tested, bonded and insured.
"Having a senior caregiver is a game-changer," said Rob McGoff, who said he tries to pair people by personality. "That's really what makes the company special."
Typically Seniors Helping Seniors caregivers are 50 and older, though that's not a hard rule, according to Rob McGoff.
"I would never pass anyone up solely on age," he said.
Caregivers create a bond and a relationship with their clients, said Rob McGoff. When that happens, services are going to get done. 
"It's not the other way around," he said. "(Seniors Helping Seniors) is a way to keep seniors in their own homes as long as they're able.
During the interview process, the McGoffs look for caregivers who are loving, empathetic, caring and compassionate.
"We want people to feel like it's a friend stopping by," said Rob McGoff. 
Three times a week, Kathy Mueller of Hermitage does just that.
"I'm blessed with good health," said Mueller. "I have good energy most days."
For about a year, Mueller has been the caregiver for Mary Kimbrough, 98, a resident of Saint John XXIII Home in Hermitage. Before moving into the senior citizens home, she lived in Hermitage and Mercer.
"I enjoy coming here," Mueller said. "Mary and I get along good. (She's) a sweetheart to be with and that makes my job easier."
A former secretary in a doctor's office, Mueller, now retired, said she enjoys having a schedule and a purpose when she gets up in the morning. 
Even if she were not employed by Seniors Helping Seniors, Kathy said she would want to see Mary anyway 
"She's special," Mueller said of Mary. "She's my only client."
Not a lot of clients continue services with their caregivers once they enter a facility. But Rob McGoff said Mary's son didn't want to separate the two when she moved into Saint John XXIII. 
Seniors Helping Seniors provides a wide range of services, including meal preparation, transportation, doctor appointments, medication reminders, house maintenance and small repairs, grocery shopping, overnight stays, personal grooming and dressing, dementia/Alzheimer's care and respite care.   
"We don't have a lot of rules on what we can and cannot do with our clients," said Rob McGoff. "I almost never say no to requests."
Transportation is one of the more popular services, he said. Some adult children like having a second set of ears at their parents' doctor appointments, he said.
"Having seniors as caregivers, their schedule is flexible," said Rob McGoff.
A lot of times, the client has an adult child who lives out of town and cannot check in on Mom or Dad, he said. So they hire Seniors Helping Seniors to check in on them. 
"The adult children really like that one," Rob McGoff said. "We report back to the children what we've witnessed."
With a senior citizen population of about 24 percent in Mercer County alone, the Rob McGoff said Hermitage seemed like a prime location. Prior to opening the Hermitage franchise in September 2018, the nearest Seniors Helping Seniors operation was in the Cleveland area.
"We're kind of on an island here," Rob McGoff said of the franchise, which has more than 100 locations. 
The Hermitage Seniors Helping Seniors serves clients in Mercer County, Butler County and Crawford County in Pennsylvania and Trumbull and Mahoning Counties in Ohio.
FOR MORE information, visit www.seniorcareshenangovalley.com.