Sitting in front of his Royal Motel on Wednesday Sam Mehta was soaking up sunshine and relaxing – a little.
A few days earlier Mehta, owner of the Hermitage motel, learned his business was awarded a $10,000 grant.
"I could use that now,'' he said with a smile. "I'm going to use my grant for my mortgage.''
Under the Covid Hospitality Industry Recovery Program, grants funneled through the state were created for businesses like Mehta's. Better known as CHIRP grants, Mercer County was given over $1.2 million, and the program is being administered by Penn-Northwest Development Corp., the county's lead economic development agency.
Unlike other COVID-19 relief packages that cast a wide net in the business community, this one was honed for the hospitality industry. Eligible businesses included hotels, restaurants, bars, and taverns.
Penn-Northwest awarded grants ranging from $5,000 to $50,000. Those sums would be a windfall for most family households. But that isn't the case for businesses, Rod Wilt, Penn-Northwest's executive director said.
Grants are covering between 2 to 8 percent of lost revenue, Wilt.
"We're not talking about a huge bailout here,'' he said. "This isn't going to cover the losses these businesses have seen – not even close.''
Penn-Northwest got 65 CHIRP applications and awarded 52 grants.
As the COVID-19 pandemic spread in march 2020, businesses like restaurants and motels closed their doors hoping for better days ahead. Those businesses reopened, but profits are nowhere near the levels needed to cover the enormous losses, said Peggy Mazyck, president and CEO of VisitMercerCountyPA, the county's travel promotion agency.
"Our hotels are in deep trouble,'' Mazyck said. "They keep telling me how much they are hurting.''
Revenue at some hotels is down as much as 40 percent, she added.
"And getting their staff to come back has been hard,'' Mazyck said.
To keep the business afloat, some motel managers are working in sales, the front desk and as housekeepers.
"It's been a really tough time for everybody,'' she said. "I'm glad to see them getting something.''
There were some rules to qualify for a CHIRP grant. They include that a business must show a 25 percent reduction in any quarter of 2020 compared to the same quarter in 2019.
And there are twists and turns to the regulations.
A restaurant's headquarters could be based elsewhere but still qualify if it operates a restaurant in the county, such as Golden Corral's Hermitage restaurant.
Also, a restaurant could be a small, separate operation and qualify, such as the Tam O'Shanter Snack Bar located at Tam O'Shanter's Golf Course in Hermitage.
Ownership relationships among businesses are allowed if each were operated separately, such as the Buhl Mansion Guesthouse and Spa, Donna's Diner, Tara A Country Inn, and Park Inn by Radisson, all part of the locally owned Winner Hospitality organization.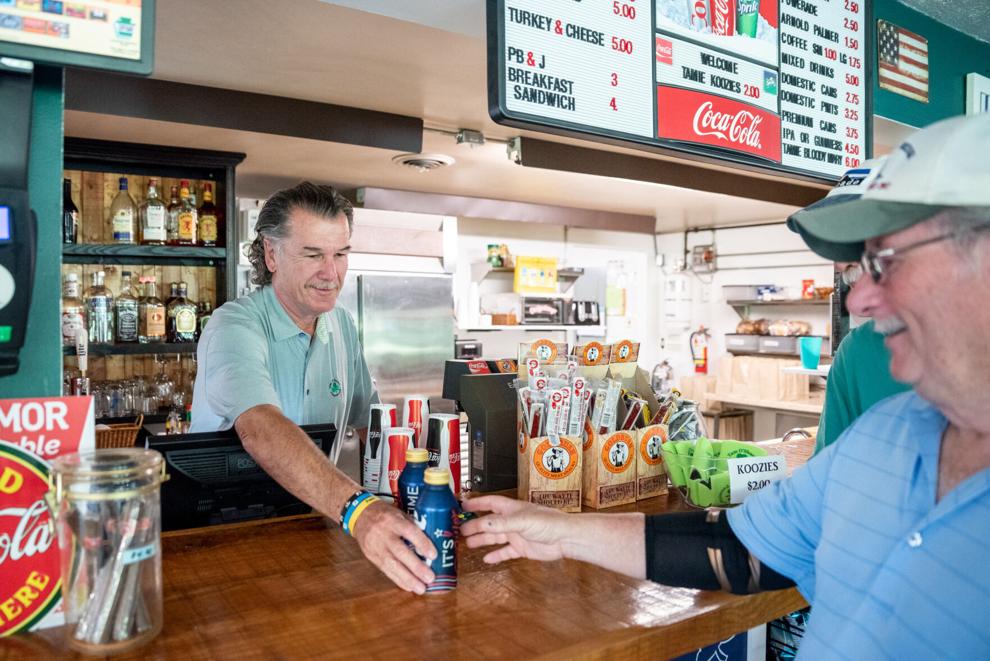 Overall though there was little leeway, Wilt said. No priority was given to minority or women business owners.
Grant amounts varied based on economic performance. A business losing $500,000 in revenue would likely qualify for a larger grant than one losing $10,000.
Mehta said he continues to worry about the future of his Royal Motel. But he does see a glimmer of hope.
"Business is down,'' he said. "But it is better than last year.''
Local CHIRP grant recipients
| BUSINESS | MONEY GRANTED | TOWN | BUSINESS TYPE |
| --- | --- | --- | --- |
| Ami Shahill LLC | $5,000 | Mercer | Hotel |
| Censeo Solutions Inc. | $10,000 | Greenville | Full-service restaurant |
| Coolspring Inc. | $35,000 | Mercer | Hotel |
| Corinthian Inc. | $15,000 | Sharon | Full-service restaurant and caterer |
| GJDQ Inc. | $30,000 | West Middlesex | Limited-service restaurant |
| Great American Ventures Inc. | $40,000 | Grove City | Mobile food services |
| Grove City HIE, LLC | $50,000 | Mercer | Hotel |
| Lulu Beans LLC | $15,000 | Sharon | Full-service restaurant |
| MLH Distillery LLC | $25,000 | Grove City | Drinking places |
| Mahashakti Corp. | $30,000 | Grove City | Hotel |
| Mercer Pizza Barn, Inc. | $10,000 | Mercer | Full-service restaurant |
| Niko and Lou's Coney Island Inc. | $10,000 | Sharon | Full-service restaurant |
| PJ Ricky Inc. | $30,000 | Mercer | Full-service restaurant |
| Royal Motel | $10,000 | Hermitage | Hotel |
| R. J. Williams Inc. | $30,000 | Greenville | Drinking places |
| Renee Rice | $10,000 | Hadley | Full-service restaurant |
| Smokey G. Inc. | $15,000 | Mercer | Full-service restaurant |
| Spring Valley Golf Club Inc. | $10,000 | Mercer | All other traveler accommodation |
| Towne Place Suites by Marriott | $50,000 | Mercer | Hotel |
| Star Properties Inc. | $25,000 | Hermitage | Hotel |
| Hampton Inn Suites | $50,000 | Mercer | Hotel |
| Candlewood Suites | $50,000 | Mercer | Hotel |
| Toss'd Food Service, LLC | $30,000 | Hermitage | Full-service restaurant |
| Trepasso Mills | $5,000 | Mercer | Mobile food service |
| VMAR Inc. | $10,000 | Greenville | Drinking place |
| Crew 78, LLC | $30,000 | Hermitage | Full-service restaurant |
| GBU Corral LLC | $50,000 | Hermitage | Full-service restaurant |
| Neofotistos Enerprises, Inc. | $40,000 | Greenville | Full-service restaurant |
| TTT Patton Inc. | $45,000 | Mercer | Full-service restaurant |
| Tam O'Shanter Snack Bar Inc | $5,000 | Hermitage | Full-service restaurant |
| Greenville Cobblestone, LLC | $45,000 | Grove City | Hotel |
| Suprima Int'l Inc. | $15,000 | Hermitage | Hotel |
| Koehler Brewing Co. | $10,000 | Grove City | Drinking place |
| Saibaba Krupa | $20,000 | Sharpsville | Bed and breakfast inn |
| Moti Hera, Inc | $10,000 | Hermitage | Bed and breakfast inn |
| Tara, A Country Inn, Inc. | $40,000 | Clark | Bed and breakfast inn |
| Park Inn by Raddison Sharon | $50,000 | West Middlesex | Hotel |
| Mercury Lodging LLC | $5,000 | Mercer | Hotel |
| Winner Hotels Corp | $50,000 | West Middlesex | Hotel |
| Shayona Krupa Inc. | $5,000 | Grove City | Hotel |
| Meridian Hotels Inc | $45,000 | Grove City | Hotel |
| Winner Hospitality LLC | $20,000 | Sharon | Bed and breakfast inn |
| ECG Business Ventures | $10,000 | Mercer | Full-service restaurant |
| JS and Family Inc. | $10,000 | Hermitage | Full-service restaurant |
| SB Williams, Inc. | $10,000 | Greenville | Drinking place |
| Keg Bar and Grille LLC | $15,000 | Sharon | Full-service restaurant |
| Kim Thai Inc | $15,000 | Hermitage | Full-service restaurant |
| Pearla | $5,000 | Hermitage | Full-service restaurant |
| Cristy S. Brooks | $20,000 | Greenville | Full-service restaurant |
| Donna's Diner LLC | $20,000 | Sharon | Full-service restaurant |
| Lanciotti LTD | $10,000 | Greenville | Full-service restaurant |
| Vey Group, LLC | $5,000 | Hermitage | Full-service restaurant |