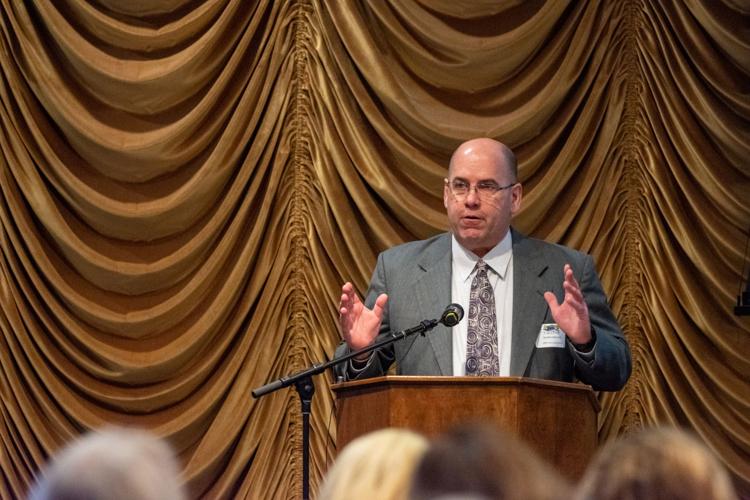 HERMITAGE — The city will welcome a trio of new businesses to the Hermitage Towne Plaza area later this year.
Bob Irr, vice president of retail leasing for JJ Gumberg Co., announced the arrivals Tuesday at the Shenango Valley Chamber of Commerce's 2020 Forecast Breakfast.
Irr said Gabe's clothing store and Ollie's Bargain Outlet will be moving into the plaza. Rita's Italian Ice – a franchise operated by former Sharon and New Castle school district superintendent John Sarandrea – will open in an outparcel located directly next to the new Arby's.
Irr said Rita's Italian Ice is expected to open this spring, while Gabe's and Ollie's Bargain Outlet will open in the third quarter of this year.
Gabe's stores, formerly known as Gabriel Brothers, is a discount fashion retailer headquartered in Morgantown, W.Va. Ollie's Bargain Outlet is a discount retail store originally based just outside of Harrisburg.
Gabe's will occupy roughly half of the space at the former Kmart, which closed in 2018 as a part of the retailer's restructuring. Big Lots expanded its operations to the other half of the former Kmart building last year. 
Ollie's Bargain Outlet will occupy the site of the former Big Lots, located roughly 100 yards across the plaza.
JJ Gumberg Co. has managed the Hermitage Towne Plaza property for more than 40 years. The company most recently tore down the old Arby's restaurant and reopened a new store late last year.
"There are a lot of exciting things happening," Irr said.
He did not have information on how many employees will be hired at each establishment and directed specific employment inquiries to the individual retailers.
Attempts to reach Sarandrea, and representatives from Gabe's and Ollie's Bargain Outlet were unsuccessful Tuesday.
Roughly 14 other speakers were on hand at the forecast breakfast to give discuss last year's accomplishment and visions for 2020. The speakers were broken up into six categories: chamber initiatives and events, culinary, education, community and economic development, innovation and revitalization, and art. 
Other speakers included:
• Co-chairs of Leadership Shenango 2020 Courtney Davis and Chuck Greggs
• Riley Atterholt of Thrive Shenango Valley
• Brianna Piccirilli of the Shenango Valley Home and Garden Show
• Ron Martin of Smoky Martin's BBQ
• David George of Joy Cone
• Dr. Jo Anne Carrick of Penn State Shenango
• Dr. Susan Traverso of Thiel College
• Dr. Kathy Richardson of Westminster College
• James Dignan, discussing opportunity zones within the city of Sharon
• Jim Landino, owner of JCL energy
• Tom Roberts of the Hope Center for Arts and Technology
• Chanel Cook of Erie Arts and Culture