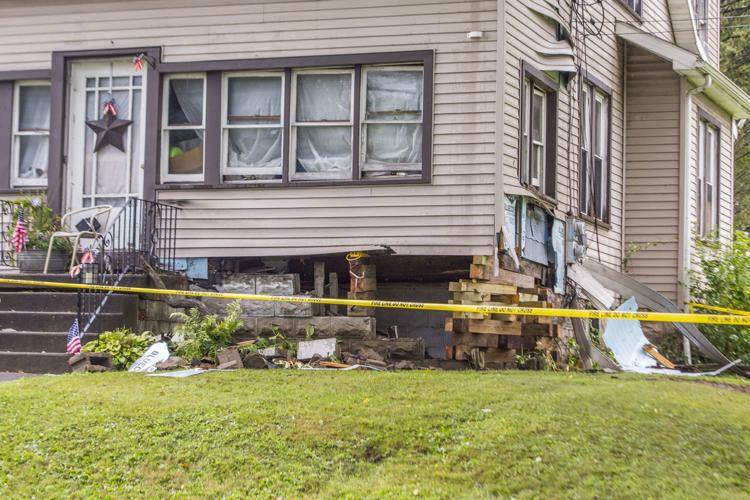 SOUTH PYMATUNING TOWNSHIP — A Hermitage resident could face charges after the car he was driving hit a South Pymatuning home Tuesday morning.
Sometime after 12:30 a.m., Justin C. Hazlett's car left the road and crashed into a house on Buckeye Drive near Tamarack Drive.
The occupants of the home were in the living room at the time of the accident, but none of them were injured.
Although he was not sure of the full extent of Hazlett's injuries, South Pymatuning police Chief Paul Ferm said the driver appeared to have some facial injuries and allegedly complained his shoulders were sore.
"He was alert and everything, but he was injured pretty good," Ferm said.
Hazlett was taken to Sharon Regional Medical Center. Ferm said hospital staff wanted Hazlett to be taken to a trauma center, but he refused and checked out sometime Tuesday morning.
A dog was riding with Hazlett in the passenger seat at the time of the accident. Humane Society of Mercer County officials took the animal from the scene, but its injuries were severe enough that it had to be euthanized, Ferm said.
Before the accident, Hazlett was originally spotted by a Sharpsville police officer, who reported seeing him speeding on Walnut Street and "blow through" a stop sign at the intersection of Walnut and Shenango streets. In the time it took for the officer to turn on his lights and cross the bridge over the Shenango River, Hazlett's taillights had already disappeared, Ferm said.
The officer continued searching the area for Hazlett. After doubling back on Buckeye Drive with his lights off, the officer reported seeing a glint on the side of the road, which turned out to be the taillights of Hazlett's car emerging from the South Pymatuning residence, Ferm said.
"Apparently he failed to negotiate that turn, and there's about an eight-inch curb there, so he probably traveled about 136 feet before he hit the house," the chief said.
Ferm said speed was a factor in the crash, but added that officers suspect alcohol might have been involved as well.
The results of Hazlett's hospital bloodwork will be sent to the Pennsylvania State Police's crime lab in Greensburg. Depending on the results, he could be facing a charge of driving under the influence, traffic-related charges such as careless or reckless driving, and an animal-related charge due to the subsequent death of the dog, Ferm said.
Stacks of wood were used to support the house after the car was removed. The building has been sealed and the occupants displaced since the car moved the whole foundation, the chief said.
Like David L. Dye on Facebook or email him at ddye@sharonherald.com.