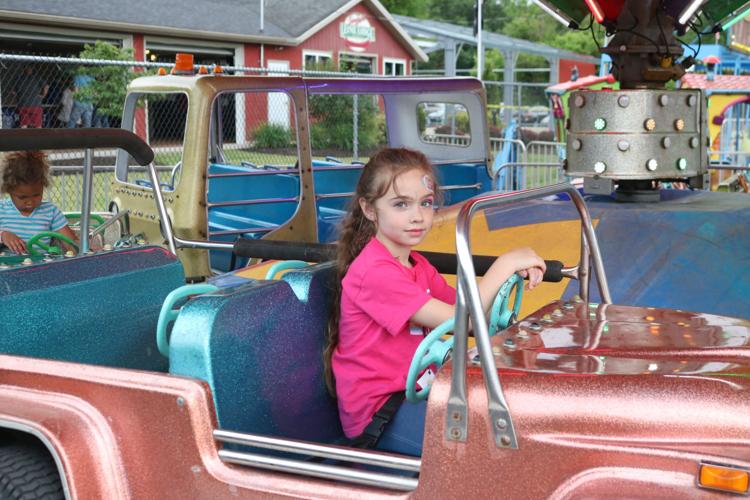 SHARPSVILLE — After a successful return last year, the Sharpsville Community Carnival is on again.
Following a lull of over a decade, the Sharpsville carnival returned last year, when it was hosted by Thelma's Sports Nook on East High Street. At the time, carnival planners weren't sure what to expect, but turnout — "thousands" of attendees over the carnival's four-day 2018 run — ensured the event would return again, said Thelma's manager Shannon Jewell.
"We had an overwhelming response from the community. It was very positive, so we started thinking about next year," Jewell said of this year's events.
The 2019 carnival got off to an enthusiastic start Tuesday, with a good turnout in spite of inconsistent weather during the day. People from throughout the area enjoyed rides, snacks, games and activity booths.
Attendees this year will be met with at least 10 games, rides and vendors provided by Deshler Amusements, while more than a dozen local nonprofits, band booster organizations and private vendors will be participating as well, Jewell said.
Other entertainment will include a Guns and Roses tribute band, "Night Train," on Saturday, with a fireworks show at 10 p.m. Friday.
"It's great to have something in the community that can bring people here and provide something for people without them having to drive somewhere else, such as Youngstown," she said.
Instead of solely using the grassy area around Thelma's, the carnival will make greater use of the parking lot, with a shelter to be erected. Handicapped parking is available in front, while regular parking will be located along nearby streets and at Sharpsville plaza like last year, Jewell said.
"Last year there weren't really any challenges when we were planning, it was more so that it hadn't been done in such a long time," she said.
Jewell also credited Sharpsville Police Department and Mercer County Fire Police. She said the authorities were very supportive with the carnival and helped with both traffic and providing a presence in the area during the festivities.
Like David L. Dye on Facebook or email him at ddye@sharonherald.com.