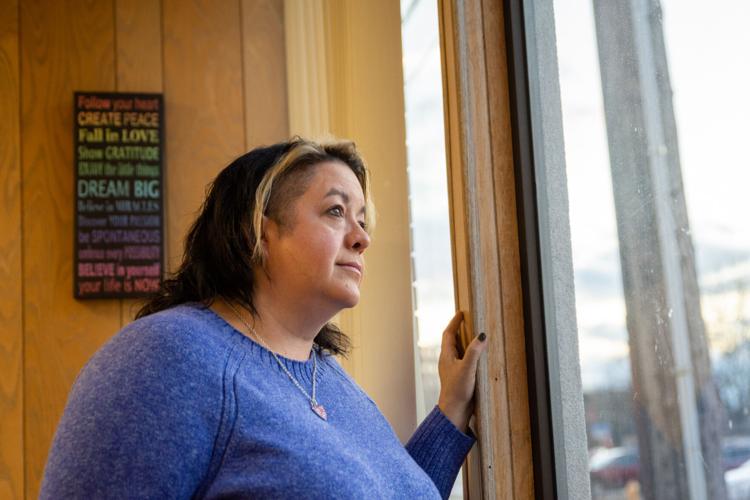 SHARON — During her four and a half years as executive director of the Shenango Valley Chamber of Commerce, Sherris Moreira's prime directive has been to help.
And Moreira said she plans to continue helping — but in a new role.
She officially resigned Sunday from the chamber position, effective Dec. 31, to assume the position of director of business development at OhanaLink Technologies, a Hermitage-based tech startup that helps connect people during medical events.
OhanaLink held a kickoff celebration at its headquarters in the LindenPointe technology park. Its first app, OhanaLink Baby, allows expecting parents to invite family members into a virtual "waiting room" that helps connect friends and family members to connect with the parents-to-be during the childbirth process.
Moreira said she will most miss those she's come in contact with during her time at the chamber.
"It's always going to be the people," she said. "The hardest decision about this is I love being in a place where I can help."
She cites the October 2019 "Rising Rust Belt" conference, held as a cooperative effort with the Lawrence County and Youngstown-Warren chambers of commerce, as one of her most significant accomplishments at the Shenango Valley Chamber of Commerce.
The conference, at Park Inn in Shenango Township, featured a day-long series of panels, including keynote speeches by Pennsylvania Lt. Gov. John Fetterman and Ohio Development Services Agency Director Lydia Mihalik.
Moreira said the event was a sterling example of cooperation across regional boundaries and state lines, and it represented a changing mindset from parochialism to one that encouraged collaboration.
"The whole community came together, the whole region came together, to take a look at ourselves," she said. "I'm very proud of that."
This year, during the COVID-19 pandemic, Moreira said the Shenango Valley Chamber of Commerce and the region's business community has been challenged.
Under her leadership, the chamber rose to that challenge by creating a non-profit arm that was able to pursue grants and distribute personal protective equipment and food — purchased from local restaurants that sorely needed the business during the pandemic downturn — to first responders.
"I think every business was strapped everywhere," Moreira said. "We found the need and pivoted to it."
Prior to assuming the Shenango Valley Chamber of Commerce executive director post, Moreira had been director of group tourism for Pittsburgh Transportation group. She received the Marketing Partner of the Year award in 2014 from Visit Pittsburgh. 
Moreira's resume includes work as editor of Views & Voices — now Valley Voices – a sister publication of The Herald, and as a Herald reporter.
She said her work with the chamber had become "all-encompassing" and that going to OhanaLink will enable to be more involved with her family.
"Sometimes you have to look at your life and go 'OK. How can I do things more efficiently," Moreira said, citing the prospects of upcoming milestones in the lives of her daughter and mother. "Those are some things I need to be present for."