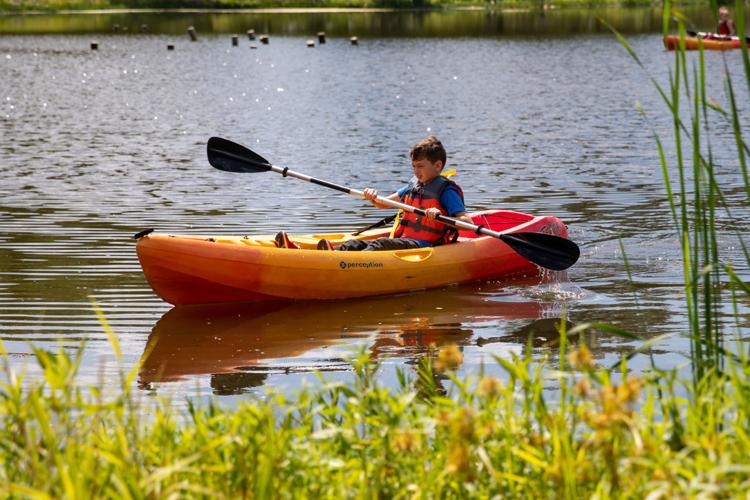 HERMITAGE — As her daughter Melonie paced behind her, Jessica Gregg purchased a brightly-colored collection of fruit from a vendor Sunday afternoon outside the Buhl Park Casino.
"We just kind of stumbled upon it," said the Hermitage resident, who had attended a church picnic in Buhl Park when she noticed vendors and visitors near the casino.
Ferris Farms Produce of New Castle, which operated the produce tent, was among 50 vendors to participate Sunday in the Shenango Valley Fitness Fest and Wellness Expo. The event included representatives from a wide range of health and wellness organizations that offered area residents a chance to gather information or try activities from yoga demonstrations to canoe rides.
The expo was the first of its kind for area vendors in the health and wellness fields, said Breanna Griffin, owner of Anytime Fitness in Hermitage, who helped coordinate the event.
"I think it shows that there are a lot of people in this area who care about being healthy, and bringing all the businesses together in one place helps to show people that they don't have to drive to Cleveland for something, or they can try something for free in this area," Griffin said.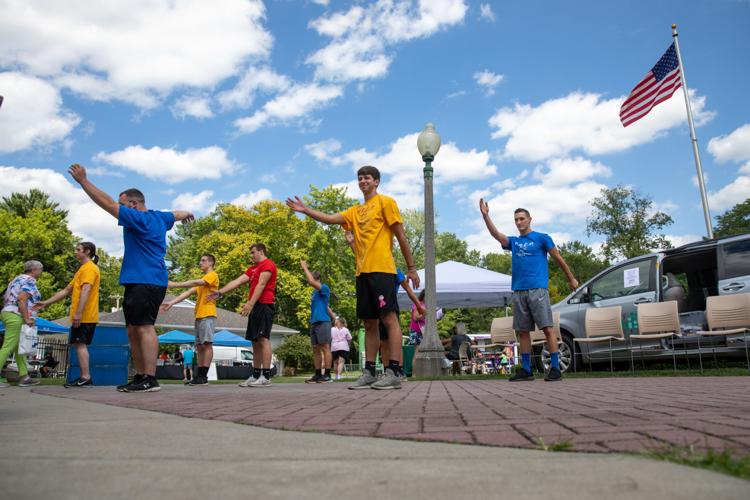 At Ferris Farms Produce's tent, employee Gabby Sabo said one of the most popular items that day among customers were cherry husks, though the farms' tomatoes were also popular.
"It's a good chance for us to get our name out there, but it's also good for people who want to eat healthier and try looking at some different foods," Sabo said of the expo.
Aside from the vendors and demonstrations outside, even more vendors were available inside the Buhl Park Casino.
Buhl Community Recreation Center operated one of the tables, where the organization presented information on its dance programs and six-month family memberships. The center also had information on its partnership with Maple Tree Cancer Alliance, where cancer patients can participate in exercise programs recommended by their doctors.
On the second floor, Tracy Duffy of Morris Chiropractic had a table with information and scanners to show visitors their stress points.
Duffy, whose practice is based in Hermitage, said she had seen at least a few hundred people looking for information on services available locally.
"A lot of people who came by asked where we are, and when we tell them people start to say, 'Oh, by that?' or 'I know where that's at,'" Duffy said.
The Shenango Valley Fitness Fest and Wellness Expo was organized by the Shenango Valley Chamber of Commerce and the Mercer County Cancer Coalition, which is made up of the Buhl Community Recreation Center, AWARE, American Cancer Society, the Shenango Valley YMCA, Primary Health Network, Grove City Medical Center, UPMC Horizon and Sharon Regional Medical Center, said chamber Executive Director Sherris Moreira.
She estimated that 1,500 people might have attended the expo throughout the day.