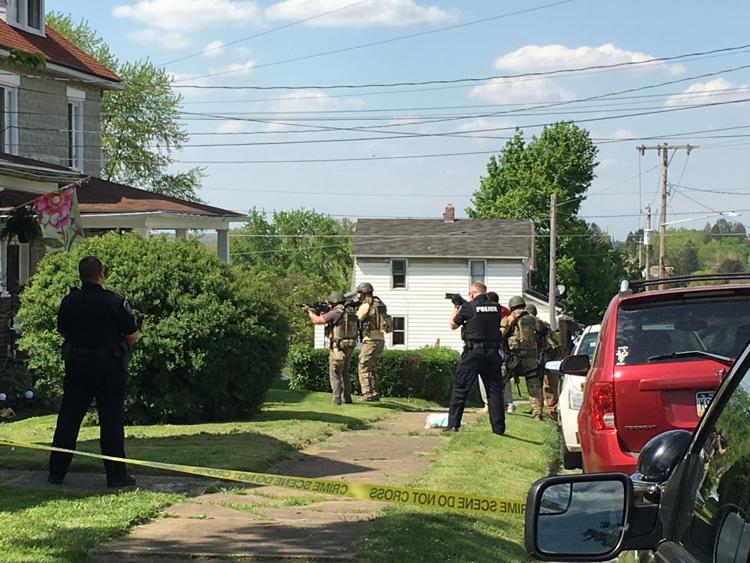 FARRELL – Authorities apprehended a city man wanted on an outstanding warrant connected with 10 charges, including simple assault and making terroristic threats, at an Emerson Avenue house Monday afternoon.
Farrell police Chief Jon Rococi said Robert Dontai Russell, 35, surrendered without incident following a standoff. Around 3:40 p.m., Russell emerged from his home at 412 Emerson. He obeyed police's instructions, backing onto the street with his hands folded behind his head.
The Mercer County Critical Incident Response Team entered the house at 3:51 p.m. and exited at 3:59 p.m. after searching the building.
"That's their procedure," Rococi said about CIRT checking out the house after Russell was in custody.
The police chief said CIRT responded after officers saw Russell on the back of a riding mower, cutting the grass.
"He fled the tractor and went into the house," Rococi said.
Following a reported incident on April 30, Russell was charged with three misdemeanor counts of simple assault, two counts of recklessly endangering another person, two counts of terroristic threats with intent to terrorize another person, two counts of terroristic threats causing serious public inconvenience and one count of criminal mischief causing damage to property.
Rococi said police took precautions when taking Russell into custody because he was charged with a violent incident that involved a firearm, which was not found Monday.
"There will be additional charges," he said.
Sharon and Sharpsville police departments assisted Farrell police, along with the Mercer County Sheriff's office.