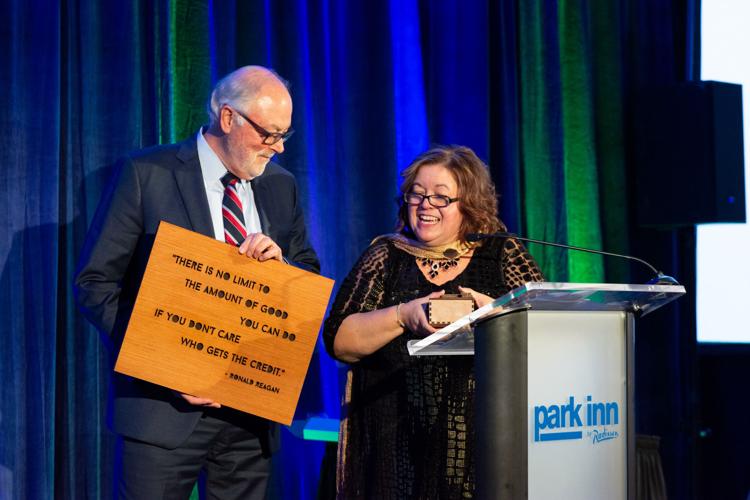 Gary Hinkson did not want to be on the stage Wednesday night at the Shenango Valley Chamber of Commerce's annual dinner.
And he wanted to make a speech accepting his award as the 2019 Shenango Valley Business Ambassador even less.
And for the people who got up and discussed the Hermitage city manager's decades of service to his hometown, that is exactly the reason he belonged up there and why the honor he received was so well-deserved.
The tributes to Hinkson began with Hermitage Assistant City Manager Gary Gulla.
Gulla used a Biblical story to share a bit about what it is like to be a city manager.
He discussed Noah and his attempt to build an arc — and the rules, regulations, permits, obstacles and red tape that slowed the project to a grinding halt.
And when Noah gave up, frustrated by the barriers and asked God if he was going to release the waters to destroy the Earth, a rainbow appeared. There was no need to release his wrath, God said.
"The government has already done that," He said.
And that is the life of those who strive to push economic development in a community, Gulla said.
"All those problems sort of end up on (the city manager's desk)," he said.
Gulla said that Hinkson has spent his career working behind the scenes to make good things happen for the community — fostering regional cooperation and bringing opposing sides to the table to reach an amicable solution.
"Gary has led so many projects," Gulla said.
From the Shenango Valley Animal Shelter and Buhl Park to major initiatives for the county and Hermitage like the ecenter@LindenPointe, Gulla said Hinkson has been the force that got the work done.
And it is a role he has taken without the need for attention, credit or fanfare, Gulla said.
He reminded the crowd that Hinkson began his career as a police officer in 1972 and has been serving his community ever since, changing the direction of the city, promoting regionalism and collaboration and setting the stage for the Hermitage's growth and success.
"That is an investment in a community," Gulla said.
And that is a commitment that Bob Jazwinski, president and founder of JFS Wealth Advisors, said that has delivered measurable and significant results for the people of Hermitage.
Jazwinski said that when the 1994 Hermitage Board of Commissioners hired Hinkson, they knew that the going would be rough.
The city needed a strong leader, he said.
In 1993, the city had $17 million in revenue and $11 million in reserves. Today, those numbers have increased to $86 million and more than $25 million, respectively, Jazwinski said.
"I think the Hermitage commissioners of 1994 made a good decision," he said. "I think there are no valid claims that tax dollars have not been wisely spent in Hermitage."
Jazwinski also discussed Hinkson's commitment to the sustainability and continued development of Buhl Park, citing his leadership as a key factor in the preservation of what he termed a treasured community resource.
He added that Hinkson's love of baseball has put him on many diamonds across the community, helping many young people love the game as much as he did.
The coaching and mentoring he did there are similar to the work he did all across the county, Jazwinski said.
He added that he has no doubt that the Hermitage 2030 comprehensive plan that Hinkson has helped to create will become a reality — and that the city manager will find others to give credit to for the success.
Jazwinski said he hopes the city manager will be around for a long time, but that someday, he knows he will retire.
"When he does, his legacy will live on, and his light will shine on," he said.
But credit for what he has accomplished will not be part of any retirement speech, he added.
"You would never know that from Gary; you would have to ask others," Jazwinski said.
And true to form, when Hinkson made his way to the podium to accept the chamber honor, he began with self-deprecating humor and a quick list of people who have been the "real force" behind the success of the work that he has done in Hermitage — Gulla, his city of Hermitage staff and the many Hermitage commissioners and business leaders he has worked with over his career.
What started as just one small group of students has grown into multiple teams, award-winnin…
And when he received the plaque, which was inscribed with a quote from Ronald Reagan, "There is no limit to the good you can do if you don't care who gets the credit," he paused to thank not only the chamber, but also those who came to speak about his achievements.
"This is overwhelming for me," he said.
He joked about his age, acknowledged the other chamber award winners and started to list the accomplishments of Jazwinski and Gulla.
But it was when he spoke about his family, his son and daughter and his wife, Carol, that Hinkson's voice cracked a little.
It is their support, he said, and Carol's understanding, that has got him where he is today.
"If someone deserves an award, it is Carol," he said.
She has kept him grounded and gotten him through the hard days, he said.
"I have been incredibly blessed in my life," he said.
And after saying that his speech was not as crisp and complete as it should have been — because his staff did not get the chance to prepare his remarks, Hinkson ended with a recitation of the many people who have helped him along the way — and gratitude for what life has given him.
"I got to be the head baseball coach at my alma mater, Hickory High School. I have been a police officer and the city manager in my hometown, and I work with some of the smartest and most dedicated staff," he said.
Hinkson challenged those in the room to keep expanding the county's vision and to work collaboratively to continue to make the moves that will continue to improve the standard of living and the quality of life for the residents of Hermitage and Mercer County.
"We need to work to find those opportunities, and we need to work to make them a reality," he said.