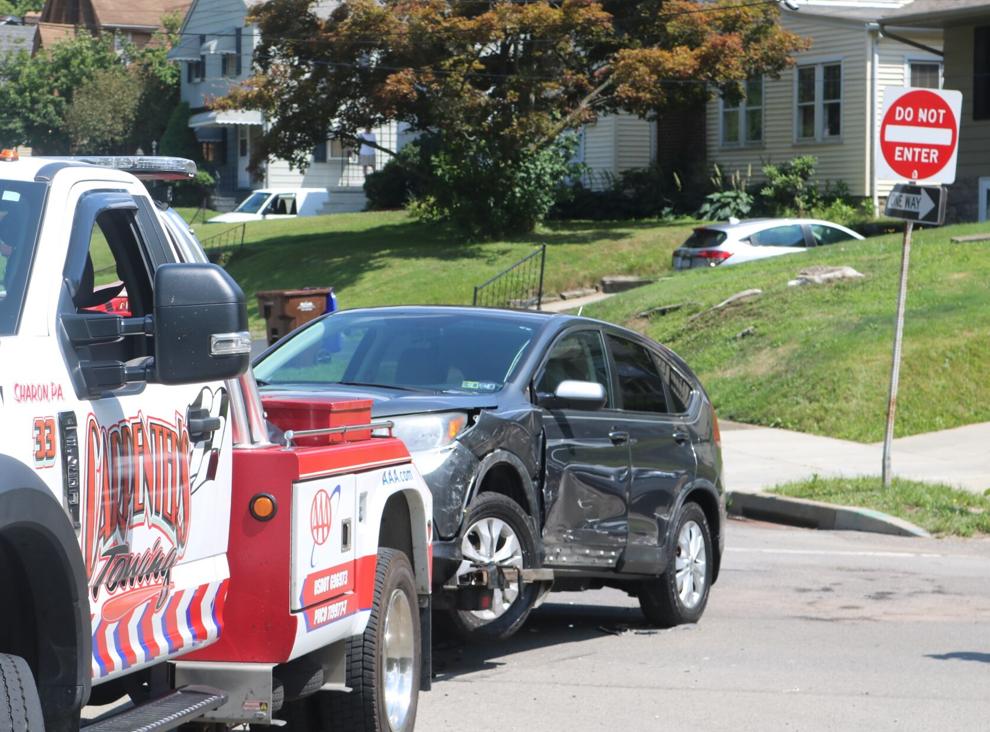 SHARON – After two accidents in three days, city officials could close the intersection of Spencer Avenue and East Connelly Boulevard as early as Friday, Sharon City Manager Bob Fiscus said.
The intersection, which city officials have called Sharon's most dangerous, has been the location of 16 accidents, including a fatal wreck last November, since 2019.
"One of the most extreme actions is to temporarily close the intersection while we evaluate all the options and look for a long-term solution," Fiscus said. "I have taken some action that would facilitate that option but a decision has not been made yet. We need feedback and input from PennDOT."
Fiscus said the issue is on today's city council agenda, but a decision will not be made until Thursday, when he meets with PennDOT.
"Something needs to be done, and something needs to be done rapidly," Fiscus said.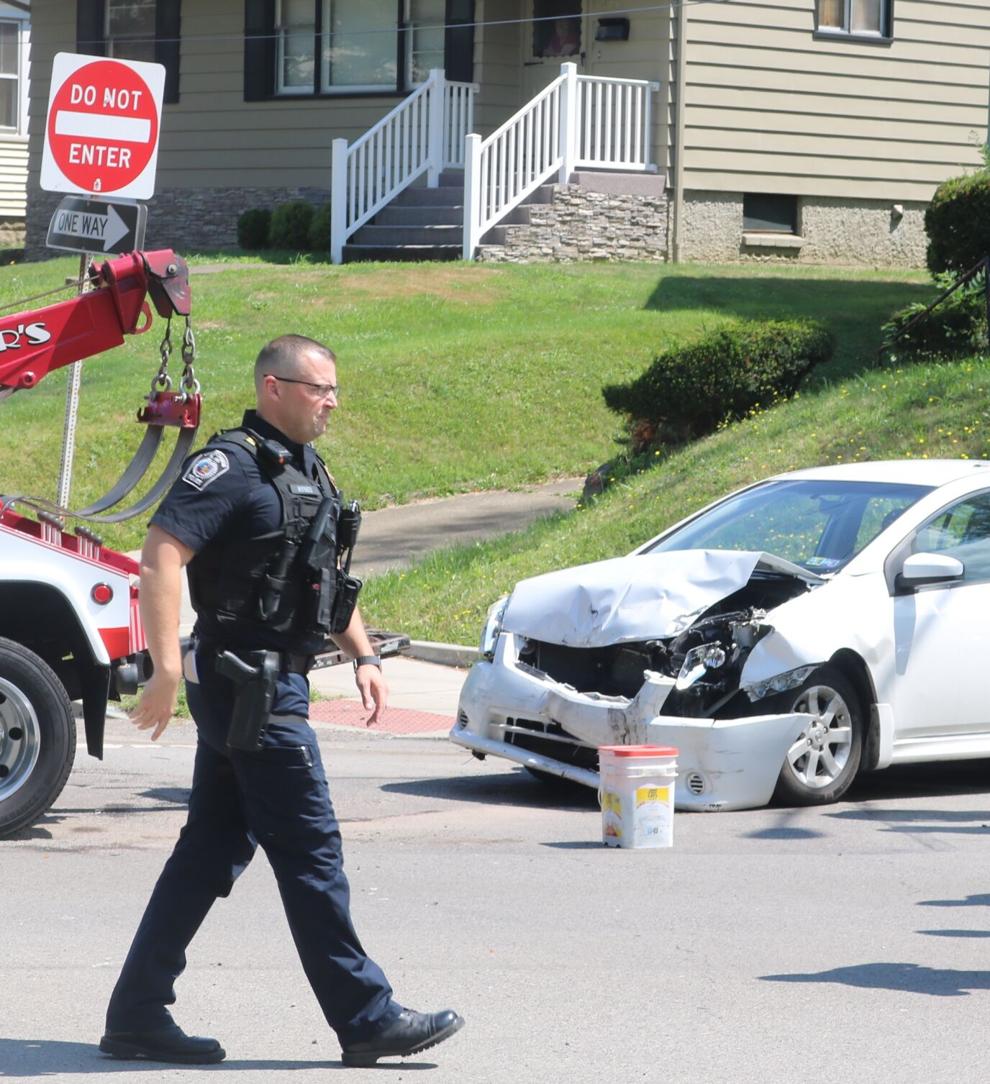 Fiscus said one of the difficult questions is why the incidents are happening more frequently than they used to.
"I think it's because of distracted drivers," Fiscus said.
Police did not have full details of the accidents Sunday and Tuesday at Spencer Avenue and East Connelly Boulevard.
Some Sharon residents on Spencer Avenue do not necessarily want the intersection closed, but they want something done.
Jeff Moody, who lives in the 400 block of Spencer near the intersection, said he thinks there are different things city officials could do.
"I think they ought to be able to put some directional signs up the freeway," Moody said. "There's a lot of roads in the tri-county area, they have 'red light ahead' over top the lane and it even tells you if it's green or red."
Moody said as a 40-year resident of his home on Spencer he knows that when the light turns green on Spencer, motorists should not immediately go.
"You don't pull out to cross the freeway – you wait," Moody said.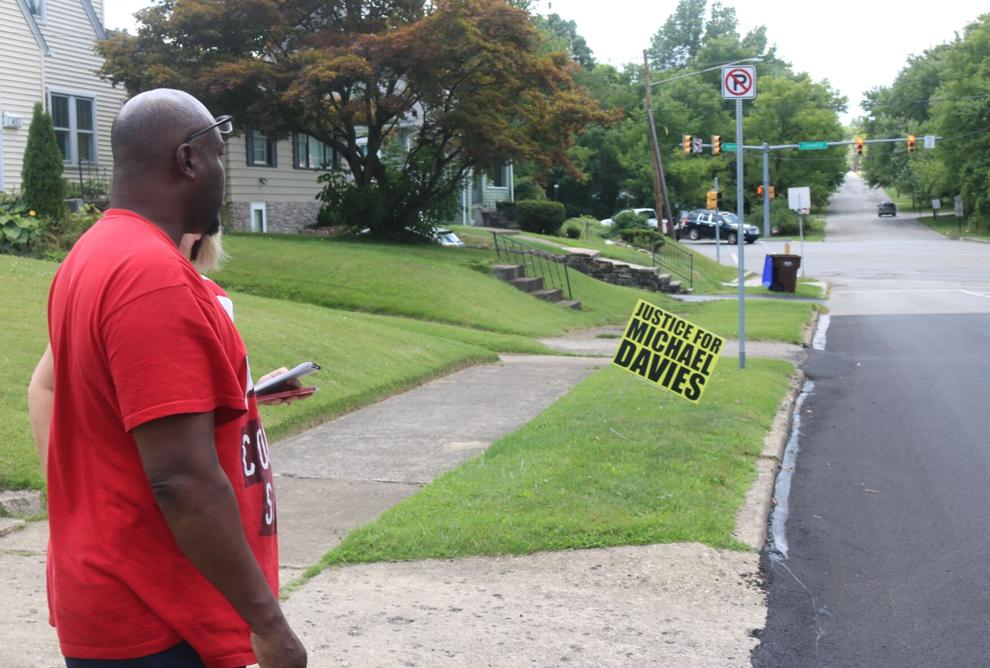 He said blocking off the end of Spencer may or may not remedy the situation, but it is not his preference.
Moody's neighbor, John Reiter, has seen many accidents at the intersection over the 61 years he has lived in his house in the 400 block of Spencer Avenue.
"I wish I had a dollar for every one," Reiter said.
Reiter thinks the problem is with today's attitudes in society.
"I told my mother she should not drive because there's too many knuckleheads out here," Reiter said. "You see how people drive, and with the intersection the way it is, it just kind of exacerbates everything."
Reiter said he would not care if they shut down Spencer Avenue.
"Something needs to be done," Reiter said. "Obviously if they shut it down, you're going to stop the southbound flow of traffic so – problem eliminated."
In Reiter's yard and all along Spencer in the two blocks all the way up to East State Street, many of the green lawns are punctuated by bright yellow-and-black signs reading, "Justice for Michael Davies" and "Save a life; shut down Connelly/Spencer intersection." They refer to November's fatality victim.
The city commissioned a safety study by Trans Associates of Pittsburgh on the East Connelly Boulevard intersections of Spencer and Service avenues, which are a block apart.
Fiscus said the study gave different permanent options to increase safety.
The first option is to eliminate signals and place stop signs placed at the intersection. The second option is to make Spencer and Service avenues dead-end streets on the north side of East Connelly.
"Ultimately, my recommendation is that Spencer and Service become dead ends," Fiscus had said after the study was completed.
Sharon officials have dubbed the intersection the city's most dangerous because the frequent accidents, including the Nov. 5 crash that killed Michael Davies, 43, Greenville.
The November fatal accident was the 13th wreck since 2019 at the intersection. Five of those incidents resulted in injuries, with 11 people requiring hospital treatment. Another crash happened in late April when two people were injured in a two-vehicle accident.
In the wreck caused Davies' death, Michael Ray Salsgiver Jr., 23, of Sharon, pleaded guilty to having an accident involving death or personal injury.
Police said he ran the red light on East Connelly at Spencer heading west and slammed into Davies, whose vehicle was crossing the freeway from Spencer. Davies died Dec. 8 from his injuries.
Salsgiver was sentenced June 29 to 18 months to 3 years in state prison, followed by 3 years probation.
Two days before the fatal accident, Sharon City Council, in a reaction to previous wrecks, had begun discussing ways to make the Spencer-East Connelly Boulevard area safer.
In February, the city banned right turns on red from Spencer and Service avenues onto the four-lane East Connelly.
City council said in June that they would need more time to review the traffic study before they could discuss it.
The next city council meeting is scheduled for 6:30 p.m. today.
Follow Melissa Klaric on twitter @HeraldKlaric or email her at mklaric@sharonherald.com