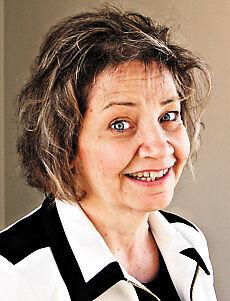 This week the Pennsylvania Department of Health, responding to a warning from the Centers for Disease Control, paused administering the Johnson & Johnson vaccine. The so-called one-and-done vaccine was linked to six cases of women with serious blood-clots.
I read the sad news online Tuesday in The Herald, one of eight CNHI newspapers for which I serve as regional publisher. That was three days after I became one of more than 250,000 Pennsylvanians injected with the Johnson & Johnson vaccine. (The state is scheduled to lift the pause next week.)
My first response was a light-hearted, "just my luck," followed by a vague but palpable feeling that I was in mortal danger.
Of course, I knew — in my head at least — the links between the vaccine and blood clots were uncertain. And even if the connection was direct in six cases, millions of women had shown no ill effects. I knew my chances of harm from the vaccine were far less than getting in an auto accident on my way to work.
But I also had a more real and immediate fear: Because I contracted COVID in late October — fortunately, with the mildest of symptoms — I probably would experience some pretty unpleasant side effects from the vaccine. Women tend to have them more intensely, anyway. That's why I chose the only one-shot option now available. Who wants to go through that mess twice?
Still, seeking medical attention, even once, especially when it involves needles, was no easy ride for me. There are few places I avoid more assiduously than anything resembling a doctor's office.
Because I've been blessed with good health, I typically wait years between doctor's visits. In medical offices that no longer know my name, I'm a perennial new patient.
Still, I sucked it up and got the shot, and for 24 hours, life was good. Then came fever, extreme soreness in my arm, and leaden fatigue. I slept more than I had for months.
Just as the side effects eased, I was, true to form, hit with the sad news that six women had developed blood clots, possibly related to the vaccine.
As I am now in the potentially problematic six-to-13-day period following the vaccination, I still get fleeting second thoughts about the shots.
But choosing life must outweigh our fears. Like most people, I've seen too many people I care about lose family and friends to COVID-19. Those left behind live daily with feelings of guilt and abandonment. There is nothing I wouldn't do for them. Until I was offered the vaccine, I felt there was nothing I could do.
With all its uncertainties, minor risks, and unpleasantness, the vaccine represented the one way I could finally control a disease that has controlled all of us for far too long.
Despite my reluctance to seek medical treatment or face another needle, the people I love and care about made the decision for me. My concern for them dwarfs any personal terror or aversion.
For 34 years, I've worked in an industry that requires a tough skin — today more than ever.
I'm not whining. I love my work and believe that serving as a newspaper publisher strengthens my community and world. But those who really know me know that my role as wife, mother, daughter, co-worker, and friend is my true bliss.
More for them than for me, I've become one of nearly 2.5 million Pennsylvanians who have been vaccinated. We understand the benefits of life far outweigh the minor potential risks and discomforts of vaccination.
That leaves almost 10 million Pennsylvanians to go. I continue to hope they find it the right choice for them as well.
SHARON SORG is publisher of The Herald.