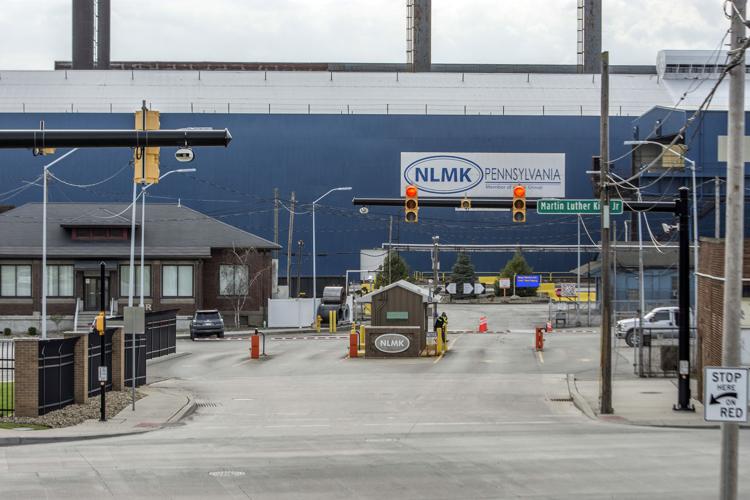 FARRELL – When Jill Burke found out the U.S. Commerce Department had rejected NLMK's application for an exemption from President Donald Trump's tariffs on foreign-made steel, her reaction was emotional.
Burke, a communications specialist on the staff of U.S. Rep. Mike Kelly, R-16th, Butler, spearheaded the congressman's efforts to relieve the Farrell-based steel mill of the fees.
"She was on the verge of tears," Burke's boss said.
Burke might have had some company after the Commerce Department issued its ruling on April 19. And there will be even more tears if the tariffs force NLMK Pennsylvania to close its Farrell plant.
NLMK's filings and the Department of Commerce's denial are available online. Those documents indicate NLMK's claim that suitable steel slab – the raw material that the company processes into steel coil for consumer products including appliances and vehicles – is not produced domestically in sufficient quantities to meet demand.
Further, companies like U.S. Steel and AK Steel reserve much of their slab production for their own production of coil, Bob Miller, president and CEO of NLMK Pennsylvania, asserted.
"The vast majority of U.S.-produced slabs are internally consumed by the domestic slab producers in the production of other steel products, with a very minor portion being sold on the commercial market," Miller wrote in a letter, dated March 23, 2018, that accompanied the company's tariff exclusion filing.
Miller also cited a 2002 Rutgers University study that indicated U.S. mills consume their own slab for processing because coil has greater value than the raw slab.
Since the tariffs were enacted in March 2018, NLMK officials said they had paid more than $160 million in the fees. In the application letter, Miller said NLMK would pass the costs on to customers, which will increase costs downmarket to consumers.
At least two other U.S. steel producers – Nucor and AK Steel – filed statements of their own to oppose NLMK's tariff exclusion filing. In its statement, AK Steel said it does not now produce steel to fill NLMK's demand, but could increase capacity sufficiently within eight weeks.
Nucor said in a filing U.S. slab production is insufficient to meet demand specifically because of foreign competition in the market, precisely the issue President Trump intended to address when he established the tariffs. The company said domestic suppliers would respond to the tariff protection by increasing production to fill demand.
"The President's clearly articulated policy objective is to reinvigorate the U.S. steel industry from top-to-bottom (sic), beginning with melting and pouring the steel," Nucor claimed in an unsigned, undated letter. "Granting NLMK's request would do the opposite by encouraging a business model that relies on imports at the most important part of the production chain."
U.S. Steel has also reportedly opposed NLMK's exclusion request.
Kelly said he believed the company had made a compelling argument to the Commerce Department for granting the tariff exclusion.
"We believed that we had the right story to tell," he said.
But the Commerce Department thought otherwise. In a ruling dated April 19, department Executive Assistant Secretary of Export Administration Matthew S. Borman issued a ruling denying NLMK's request for tariff relief.
In a two-page statement, Borman cited a finding by the International Trade Administration, an agency of the Department of Commerce tasked with protecting the international trade interests of U.S. companies.
"... ITA recommends finding, based on all of the evidence presented, that the product referenced in the above captioned exclusion request is produced in the United States in a sufficient and reasonable available amount and of a satisfactory quality, and recommends denying the request for an exclusion," Borman wrote in his decision.
This week, Miller said NLMK has found sources for slab that will lessen the tariff's effects, but the company will re-evaluate the situation, possibly as soon as the end of this year.
The effects of NLMK's operations have effects that could reverberate well beyond the factory's fences. The company provides, between property taxes and wage taxes, almost one-fourth of Farrell's municipal operating budget.
The city, which emerged in February from more than 30 years in economically distressed status, could be plunged right back in if NLMK shut down. However, City Manager Mike Ceci said he is optimistic that the company will maintain operations.
Kelly said he and his staff will continue working with Miller and other NLMK Pennsylvania officials on helping the company avoid or lessen the tariff's impacts.
"We have to take a look, at this point, what we're going to do," Kelly said.
Follow Eric Poole on Facebook or Twitter @HeraldEricPoole. Email him at epoole@sharonherald.com.