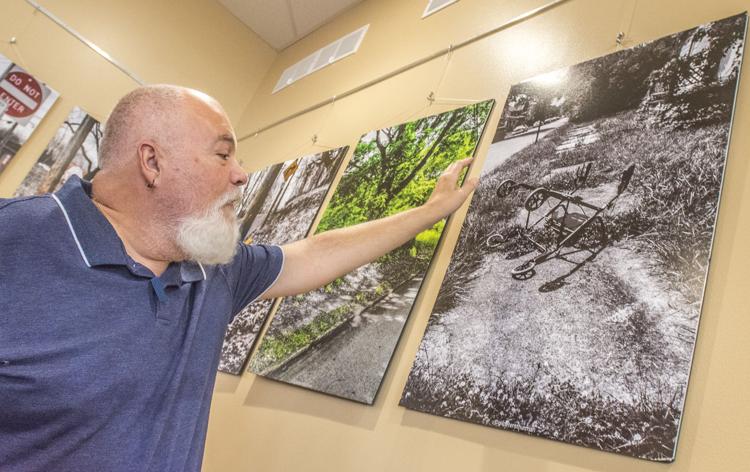 SHARON – Photographer Gil Thurman wanted to show how Sharon's sidewalks are not always walker-friendly.
So he took pictures to illustrate the city's walking conditions.
Those pictures are now part of a Random Acts of Artists presentation called "Where Sidewalks End."
Thurman, who lives on Prindle Street in Sharon, said he got his inspiration from walking out his front door.
One of his pictures shows his walker tipped over on an overgrown sidewalk with a tree hanging over it.
"These are on Prindle Street over in my neighborhood," he said, pointing to the photograph. "There's all these houses missing and then (the sidewalks) are all grown over. I was showing the fact that I couldn't even walk up that sidewalk."
Thurman also took a picture of the construction on East State Street this summer where the sidewalks were freshly laid to show an example of progress. Then a photo of impassable sidewalks just one street away.
"Nobody uses the sidewalks, everybody goes up and down the street," Thurman said. "There are a lot of handicapped people in chairs and they drive out in the street."
Thurman's photos and those of another local photographer, Tim Cimperman, are highlighted in the show on display through Oct. 31 at the Random Acts of Artists Gallery & Art Emporium, inside Cravings Cafe and Creamery, 76 Shenango Ave.
The project is a joint effort between Mercer County, and Trumbull and Mahoning counties in Ohio. Each county selected two photographers to document sidewalk conditions.
"It's designed to bring light to the fact that there's a need for good sidewalks," said Terry Polonsky, president of Random Acts of Artists. "We're fortunate in downtown Sharon that the sidewalks have all been really done nicely, but you go one block out of there, like Irvine Avenue, and you cannot understand how people are able to walk on the sidewalks, let alone push a cart or something like that."
Polonsky helped organize the traveling show, which was first on display for six weeks in The Soap Gallery in Youngstown. After the Sharon exhibition, "Where the Sidewalks End" will move to the Trumbull Art Gallery in Warren, Ohio.
Polonsky said sidewalks are not only a problem here, but in Mahoning and Trumbull counties as well.
"So we got together. This is an art advocacy piece that just brings light to it," Polonsky said. "It's not an easy problem to solve. You can't just put sidewalks in and fix them inexpensively. You can get grants, but there's a lot of money involved in doing it."
Polonsky said that Sarah Lowry, director of the Healthy Community Partnership in Mahoning County, was one of the show's driving forces.
Lowry said the project came into being when a group she works with was looking into the physical and mental health benefits of walking. That would involve making sure people are safe where they are walking.
"Everyone should have the same opportunity to get where they need to go without fear for their safety," Lowry said.
Lowry said she doesn't intend for the show to point fingers at anyone.
"We really just wanted people to think and pay attention to how the typical environment promotes that kind of activity but also a feeling of safety or connectivity," Lowry said. "Or does it create a barrier so people feel isolated and cut off from other people and where you need to go?"
Follow Melissa Klaric on Twitter and Facebook @HeraldKlaric, email: mklaric@sharonherald.com