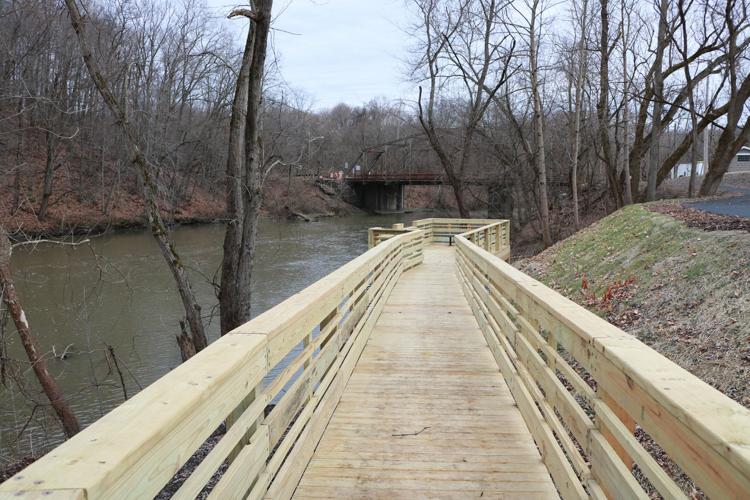 MERCER — Mercer County's commissioners announced their plans Thursday for what amounted to $20,000 in "found money."
The commissioners approved spending the funds – a grant from the Pennsylvania Counties Workers' Compensation Trust, abbreviated as PComp – to cover most of Mercer County's share in three projects at their weekly meeting.
Commissioner Matt McConnell said the grant freed up other money because the projects, and their spending, had already been committed.
"These were all expenses that we probably would have been required to do regardless," he said.
The county committed $10,000 for repairs to Pine Run Dam, $8,367.83 for the Mercer Borough Streetscape project and $2,281 in overhang repairs to the county-owned Acker Building in East Lackawannock Township. The grant covers all but about $650 of the county's share in the three projects, with the rest coming out of Mercer County's general fund.
PComp is the workers' compensation fund overseen by officials from several counties. McConnell is a member of the PComp executive board, and Lawrence County Commissioner Dan Vogler is board chairman.
Member counties can receive money from PComp through dividends when the account is overfunded, and as a reward for not having excessive workers' compensation claims.
McConnell said the grants can be used for projects that prevent employee workplace injuries. The streetscape project – a $371,471 project to upgrade sidewalks along South Diamond Street in Mercer – qualifies because it will make walking around the courthouse safer. The federal government paid for all but $40,000 of the streetscape project, with the borough paying half of the rest.
The commissioners committed another $15,000 Thursday to the Sharpsville Erie Canal Riverwalk project, with the money coming out of Mercer County's share of unconventional gas well fees charged to companies that drill in the state for shale gas.
The county received $318,634.20 this year from the fees.
Mercer County's disbursement will help pay for Sharpsville's percent match of the $343,572 project.
Work on the project is finished, with only inspections to be completed.
The Riverwalk, along Canal Street in Sharpsville, will feature a trail and fishing pier. A portion of the Kelly Road Bridge, scheduled for replacement in the next two years, will be used as a gateway at the park.