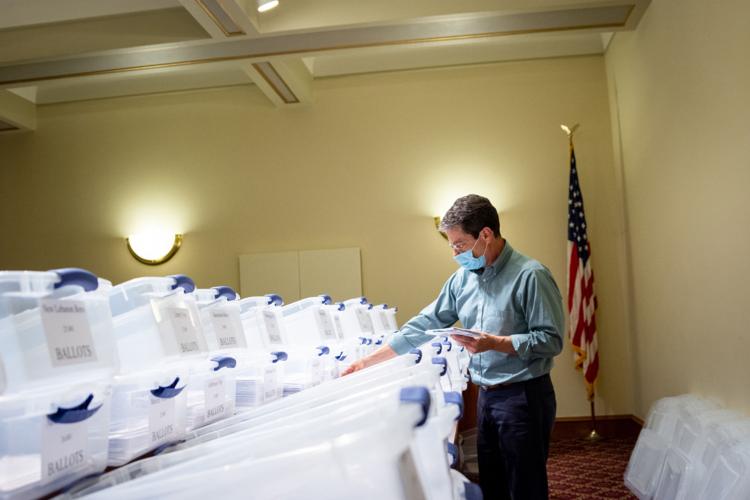 MERCER — With Mercer County buried in a deluge of mailed ballots, it is unlikely that anyone will know voting results by the end of election night June 2, the county's election director said Friday.
"Complete results will not be reported for several days," said Jeff Greenburg, Mercer County director of election and voter registration.
County election workers will probably not be able to begin counting the mail-in ballots until at least Friday, June 5, three days post-election.
That's nothing new, Greenburg said. Mercer County has begun — and usually ended — the absentee ballot count on the Friday after the election.
But a combination of the COVID-19 pandemic and a new state election law has increased demand for mail-in ballots.
The June 2 election — which has already been delayed by the virus restrictions — is the first Pennsylvania election that offers unrestricted voting by mail. Previously, voters could request absentee mail-in ballots, but only after certifying that they would not be able to vote in person, either due to physical restrictions or due to being out of their voting district.
And state residents are taking advantage of the opportunity, with more than 1 million mail-in ballot requests statewide.
As of Friday, the county had already gotten back more than 3,000 completed mail ballots, all in sealed envelopes. Greenburg said the office has sent more than 9,000 ballots, including those that have been returned, to voters, with several hundred still to be distributed.
With a Tuesday deadline for requesting mail-in ballots, Greenburg said voters who still haven't asked for a ballot should file their requests in person at the courthouse Tuesday. Otherwise, there is no guarantee that the voter will receive their ballot in time to return it before the election.
While the county already has thousands of completed ballots on hand, state law dictates that it can't do anything with them until the polls open on June 2. And Greenburg said Mercer County won't even do it then.
The election workers will be too busy that day, running the election.
"We will not be able to touch these ballots until June 3 because we do not have the staff," he said.
The county election workers will open the ballot envelopes starting the day after the election, but the process is a time-consuming one. Greenburg said actually counting the ballots with an optical scanning device could begin Friday, "if we're lucky."
"Once we get the ballots open and flattened, that will be the fastest part of the count," he said.
But those figures — possibly more than 10,000 ballots — won't be available on election night, with enough votes uncounted that no meaningful results will probably be available.
And the same will go for the general presidential election in November, Greenburg said, unless the state changes its rules for handling mail-in ballots. Under those rules, county election workers can't begin opening mail-in ballots until Election Day. 
Larger counties might have staffs sufficient to begin the process on the day of the vote, he said. But that's not possible in Mercer County.
Greenburg suggested that the state pass a law allowing county election bureaus to begin opening ballots before the election so they could begin counting on Election Day. Otherwise, people might have to wait days for results.
"That's what it's always been," he said of the delayed mail-in ballot results. "The differences in the absentee (and mail-in) votes are going to make up a much larger percentage."
Follow Eric Poole on Facebook or Twitter @HeraldEricPoole. Email him at epoole@sharonherald.com