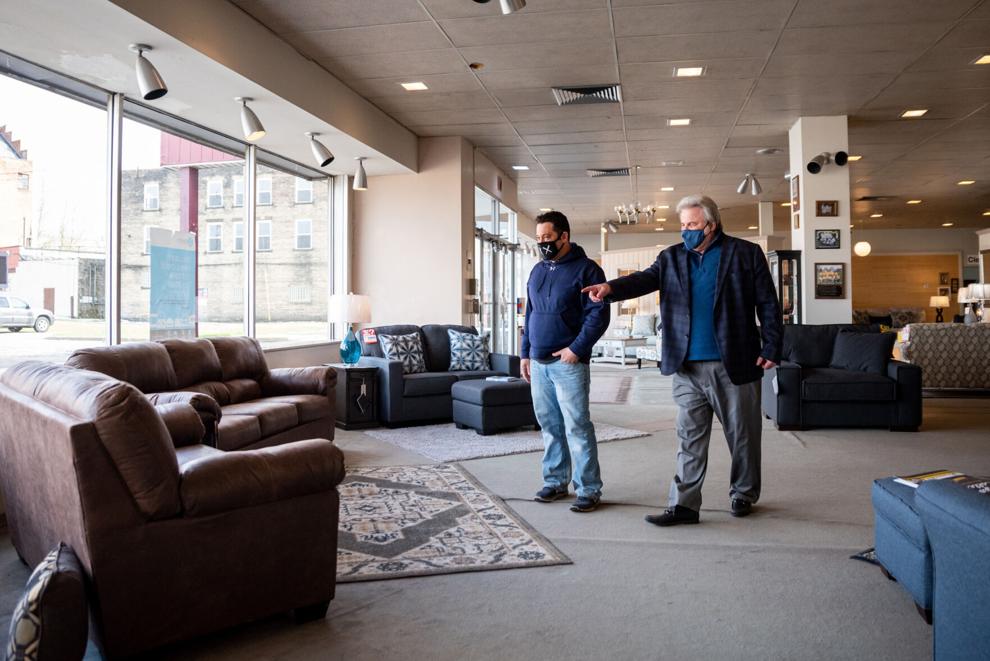 Fran Lengyel could be the rock star of the federal relief stimulus plan.
The retired administrative assistant for the city of Hermitage and his wife are among the millions benefiting from the program. Checks running up to $1,400 per person in the U.S started being deposited in late March. 
Lengyel said they used part of the money as a deposit to buy a car, some to buy new furniture and have stashed a bit away for an upcoming short vacation.
"You want to spread it around a little bit,'' Lengyel said.
These government funds were part of the $2.2 trillion stimulus bill passed by Congress and signed into law by President Joe Biden. A similar package with stimulus checks was approved last spring under the Trump administration.
Both measures had the same goal – to aid Americans who got financially socked from the COVID-19 pandemic.
There are clear local signs that the funds are being spent – but not everywhere. And there's finger pointing that the money has jacked up prices on some consumer goods.
Count Laskey's Furniture among the businesses reaping the rewards from the checks.
"Almost everything we have is flying out the door,'' Steve Laskey, co-owner of the downtown Sharon furniture store said. "The stimulus money has helped people decide it's time to get rid of their old furniture and buy new.''
This isn't an isolated situation in the furniture trade.
Saxony House Furniture in downtown Grove City is seeing the same buying frenzy, store owner Randy Risch said.
"We're almost to the point of selling furniture before it even gets to the store,'' Risch said.
There's quirky math at work here tied to the stimulus plan. Like other non-priority businesses, most furniture retailers were deemed non-essential businesses and ordered closed last spring when the pandemic hit.
Risch counted up 72 days that his store was shuttered.
In normal times, a shutdown that long would critically wound or kill a retailer.
The stimulus checks helped. But the federal Payroll Protection Plan also was a lifeline. Under the plan, the government reimbursed businesses for paychecks if they kept employees working.
"It allowed us to pay some of our bills,'' Risch said.
When tallying up their 2020 financial results both Laskey's and Saxony House had the same outcome – it was a record sales year. Lackey's said sales were up around 25 percent, while Risch pegged his gains at 40 percent.
"That's pretty amazing when you consider we were closed for 72 days,'' Risch said.
It's not all smooth sailing. The wait time for many upholstery goods, such as couches and recliners, is now hitting six months.
"And we've been told it's going to get worse,'' Risch said.
A real irritation are suppliers missing promised delivery dates, Laskey said.
"We notify the customer their recliner or sofa is going to be in, only to find it doesn't arrive until a month later,'' he said.
Also, furniture prices have jumped. A recliner brand selling for $299 before the pandemic is now fetching $399 – a 33 percent leap. Overall furniture prices are up between 10 to 15 percent, Risch said.
Furniture sticker price increases are a classic tale of supply-chain economics.
Foam, used in most upholstered goods, has skyrocketed in price. Foam manufactures also were among the nonessential business shut down last year. The added crushing demand for furniture has resulted in severe shortages that are driving up prices, Risch said.
Coy Price, owner of Lakeland Chrysler, Jeep, Dodge, Ram in Hempfield Township, said he isn't seeing anyone rushing in to buy vehicles with their stimulus check in hand.
"At least that's what they're telling us,'' Price said.
The pandemic is playing havoc on car inventory nationwide, he added. Around this time of the year the dealership typically carries a total of 170 new and used cars on the lot. He now has just 60.
Automakers shut down production for nearly two months last year, which halted new vehicle supplies.
"When people buy a new car, they turn in their old one,'' Price said. "And if there aren't new cars being sold, that hurts the used-car market too.''
In turn, that's created soaring used car prices.
"When we go to auction now to buy a used car we have to pay the retail price – not the wholesale price,'' he said. "That makes it rough on car dealers.''
One local auto salesman who didn't want to be named said he's finding stimulus money is going toward buying low-end vehicles – older cars with lots of miles.
It's not just a tight market for cars. Motorcycle dealers such as Thunder Harley-Davidson in Sharon are begging for more new bikes, Steve Kaufman, store manager said. Like automakers, motorcycle production came to a halt last spring due to the COVID-19 pandemic, which has tightened supplies. Still, buyers are using federal stimulus funds to make the deal, Kaufman said. 
Typically, the store keeps used motorcycles downstairs. But with scant supplies of new vehicles a dozen used motorcycles grace the prime dealership floor for lack of inventory. Also, delivery was slowed after Harley-Davidson hired a new delivery company this year that is still learning the ropes, Kaufman added.
Other supplies are hard to find such as motorcycle batteries, Kaufman said.
Still, buyers are using stimulus funds.
"You definitely feel it makes a difference, Kaufman said. "It gives them the money for the down deposit.''
Outdoor adventure products are benefiting from the stimulus program, said Casey Shilling, co-owner of Carried Away Outfitters. The business has stores in downtown Greenville and South Shenango Township in Crawford County.
"I need to get more kayaks in – they're going pretty fast,'' he said.
A classic case of buyers using stimulus dollars was when a husband and wife arrived at the Greenville store. They were there just to buy a fishing kayak for the guy, but the wife saw a kayak she wanted. The total came to $1,500 – just $100 over a single stimulus check, Shilling said.
"These checks are helping,'' he said of sales.
Ultimate Rentals and Sales in Grove City, which sells and rents outdoor equipment such as backhoes and zero-turn mowers, is getting a boost from the government checks, Shawn Elder, company president said on Thursday. 
"We sold three zero-turns yesterday, and a part of that was stimulus money,'' Elder said.
There are tiny items out there being bought by stimulus checks. 
As Lengyel walked through Hermitage Agway he stopped to pick up several vegetable seed packets. A pinch of his stimulus dollars was going towards gardening.
"Every little bit helps,'' Lengyel said.