MERCER – Avery Gerber loved watching Brian Finley repel down a 40-foot-high fire truck ladder – upside down.
"They like that,'' said Finley, a Mercer East End Volunteer Fire Department firefighter, as Gerber and scores of other elementary children looked on Wednesday at the Mercer County PennDOT Open House.
But he had stiff competition — a group of furry friends representing the Shenango Valley Animal Shelter.
"I liked the dogs,'' said Avery, who is a first-grader at Mercer Area Elementary.
There was lots for students to see at the 24th annual open house. Held at the Mercer maintenance complex, PennDOT employees showed off their equipment, including beefy trucks and snow plows.
Over the years, the event has drawn other service providers from police departments to the Mercer County Conservation District.
And the gathering is a hit, with children and the public, said Jill Harry, PennDOT spokeswoman.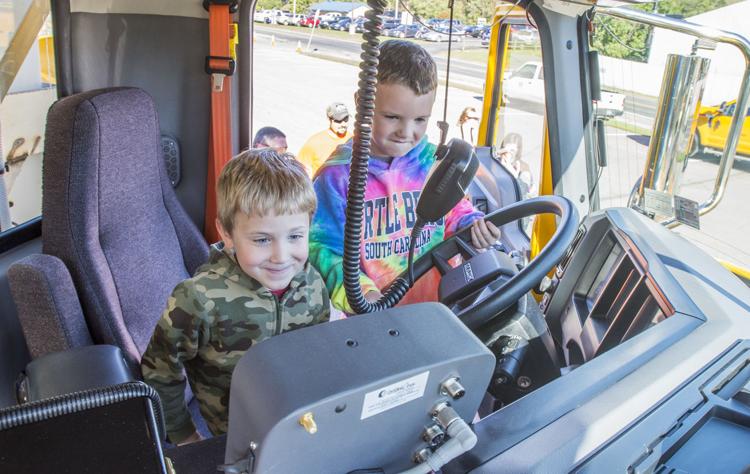 "This is really county-driven,'' Harry said as she walked through lines of children. "This is a unique event for Mercer County and statewide. It takes about nine months to organize all of this.'
The open house is designed to give the public an inner view of PennDOT's operations, said Darrell Chapman, PennDOT's Mercer County maintenance manager.
"Year after year, the open house serves as a wonderful opportunity for the community to learn what PennDOT does and how we do it,'' Chapman said. "It is also a reminder that we are members of the community as well.''
A firefighter from Jefferson Township Fire Department was in full gear, including an air tank.
"That's so I can breath if there's a fire,'' he told students. "When I turn it on, I sound like Darth Vader from Star Wars.''
AFSME Local 2101, which represents maintenance workers at the center, also chipped in. The group bought $500 in prizes for the children. Winners' names were pulled from a can. Local businesses also contributed prizes.
"We've been doing this for years,'' said Jesse Buzard, a maintenance worker overseeing the prize drawings. "We have a bunch of happy kids with prizes that leave here that's for sure.''
Adults weren't left out, They had a chance to win one of several donated gift cards.
The "Paint the Plow'' exhibit has become the event's feature.
Local high school students are invited to decorate PennDOT's snow plows with snazzy colors. This year's theme was: "Don't Rush in Ice and Slush.''
Attendees had the option to view and to vote for their favorite plows by putting pennies in correlated containers. All funds raised are donated to the State Employees Combined Appeal – a charity fund created by state workers.
But the voting isn't over. The public can still pick their favorite plow from Sept. 30 to Oct. 7 by going online at: www.penndot.gov/district1.
There were somber sites to show the serious side of the work PennDOT does. A memorial display was shown to raise work zone safety awareness. The display included 89 posts, one for each PennDOT employee who has died in the line of duty since 1970.
Mercer first-grade teacher Crystal Ruhlman said the event also has another lesson.
"It teaches the students all the resources that are there,'' Ruhlman said.