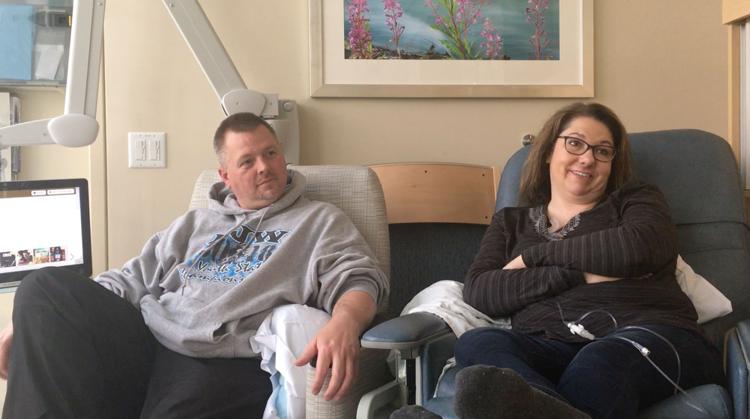 Down the road, Tara Johnson believes her two sons might remember her battle with cancer even better than she will. 
Her oldest, Emery, 10, will remember pouring milk for his brother Sam, 7, when her hands were too sensitive from the chemotherapy to properly grip the jug.
He will also remember helping his father, Leroy, fold laundry and clean the house while his mom was wiped out from an eight-hour visit to the Hillman Cancer Center in Pittsburgh. 
Sam will remember his "hero project" from school in which he nominated God as his hero for being able to cure his mother's stage four colon cancer. 
"(Sam) always tells me that one day he wants to find a cure for cancer," Tara said. "And he just might be able to do that."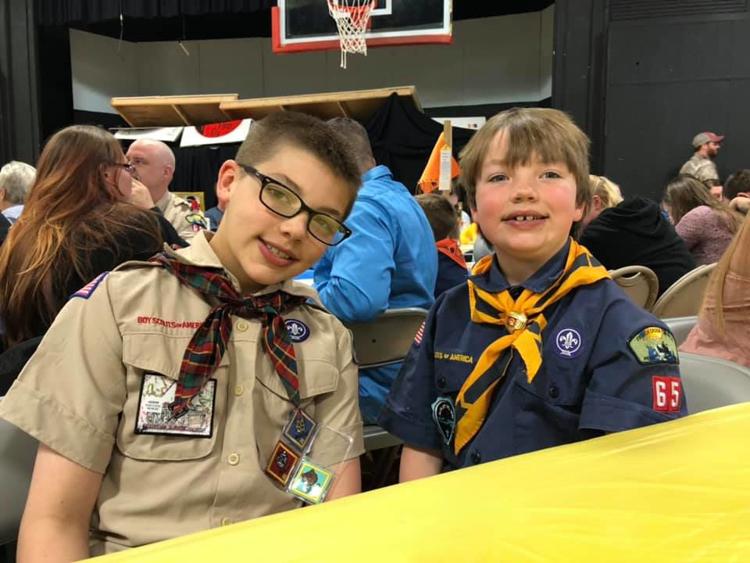 Tara is still fighting — just as she did to get her diagnosis in the first place.
And part of her mission now is to share her story — in hopes that hearing it will encourage others to be their own health advocates.
The journey begins
Tara, a West Middlesex native, said her story could have had a different ending two years ago when she turned 40.
Her grandmother and great-aunt both died of colon cancer. Even though her particular form of colon cancer is not genetic, she asked to have a colonoscopy done.
But when she went in for her yearly physical, her doctor told her she was too young and wouldn't need to worry about a colonoscopy until she was 50. Plus, her insurance wasn't going to cover the procedure. 
"There was a little voice in my head that told me I really should push," Tara said. "But I dropped it and let it go — even though that little voice said, 'You know, you really should get this checked out because of the past history with your grandma.'"
Tara ended up in the emergency room on Nov. 25, 2018, with severe abdominal pain and pressure. At the time, she thought it was just a round of diverticulitis, a condition she had grappled with two years prior. Her doctors thought the pain was a symptom of ovarian cancer. 
After five days of tests, doctors determined she had stage four colon cancer. She was just grateful to finally have an answer. 
"I was relieved we knew what was going on," Tara said. "And I was absolutely terrified. I just kept praying we would get a chance to fight it. Because at that point, I wasn't even sure if it was going to be something they were going to be able to address, or if it was already too late."
Fighting with 'grit'
Tara became a stay-at-home mom after Sam was born after previously working as a teacher's aide.
With the boys shuffling between a plethora of different sports and activities, she describes her average day as a "whirlwind" of transporting her sons to their various obligations.
Emery became an all-American wrestler in April when he took fourth place at the Tournament of Champions in Columbus, Ohio. Tara said Emery's never-die attitude is what separates him from other wrestlers his age, and often enables him to produce victory out of what appears to be almost certain defeat. 
"We call it 'grit,'" Tara said. "He hangs in until the very end of the match and finds a way to pin the kid. That's what I like about wrestling. It's just one person and you go out there and control your own destiny."
Tara doesn't think about defeat during the all-day chemotherapy treatment sessions. Sometimes she and Leroy watch a movie in the treatment room. Other times they nap. But mostly, she said, they talk about the boys.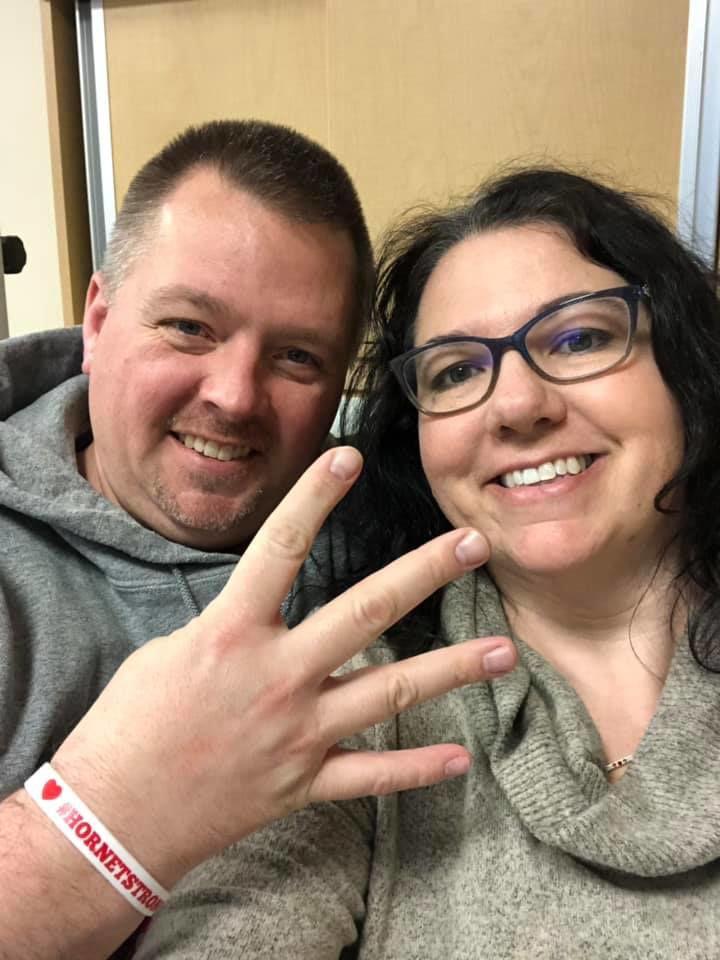 Tara is still hooked up to a portable chemotherapy pump for two days when she returns home from her treatments. She said she handles the chemicals fairly well, but is so sensitive to cold temperatures that even handling lunch meat can prove too painful for her. So it's up to Leroy to handle most of the daily business until the treatment round is over. 
"At first it was scary and intense because we weren't sure what was going to happen," Tara said of her initial visits to Hillman Cancer Center. "Now I'm just worried about getting caught up on the laundry and what is coming up in the next couple days."
The chemotherapy has caused Tara some headaches and nausea, but she said she hasn't been violently ill like she expected based on what she has seen on television. She considers herself lucky she still gets to go to the boys' games and to slip into a mostly normal routine. 
"I'm blessed because I tolerate it really well," she said. "Doing regular things helps me be myself, which is a big part of the recovery process."
The right support system
Leroy helps coach Emery and Sam's wrestling teams, and Tara said he takes his job seriously. 
"The kids are all his kids," she said. "He's there all day. He's really involved with the process."
Leroy calls it "mat therapy," and said the coaching provides a much-needed escape when life's pressures start to build.
"I need those kids more than than they need me," he said. 
Tara found an important piece of her own support system though a wrestling group on Facebook called Bad Karma.  
After sharing her story to the group, Jennifer Burke, of Ashville, Ohio, reached out to Tara with a nearly identical cancer story. 
"I needed to hear her story," Tara said. "Because the statistics aren't great. That gave me a lot of hope."
Jennifer, also 42 and a mother of two, battled colon cancer from 2017-18 and underwent 18 rounds of chemotherapy. She's now in remission. 
"I would love to be the kind of person that Jen is to me, to someone else," Tara said. "I think I can help keep people from letting it get as advanced as it did for me."
Being your own advocate
Tara doesn't hold a grudge against the doctor who told her she was too young for a colonoscopy. Instead, she's focusing on spreading awareness and encouraging people to be their own best advocate — especially those who are 30 to 40 years old. 
She said the cancer is more aggressive in younger people because their cells are multiplying faster, allowing the cancer to spread more quickly. And since men and women in that age range aren't as likely to undergo a screening, the cancer is often left to grow undiagnosed. 
"Previously people didn't get scanned until they were in their 50s, and the average age of someone to die from colon cancer is 72," she said. "But now it is a growing group of people (getting colon cancer who are) in their 30s and 40s. And by the time they figure it out, the cancer has already metastacized and is growing very quickly."
The advocacy is already paying dividends. Tara said just by spreading the word on Facebook, multiple people in what she calls the "underrepresented" 30 to 40 year age range have reached out to her and let her know that her story inspired them to be proactive and get a colonoscopy before their 50th birthday. 
She added that she believes colon cancer could be 100 percent preventable if enough people are willing to work together to develop better screening and more widespread awareness. 
"It's a battle and I'm determined we are going to come out on the other side," Tara said. "But there's just a lot of people who don't. The more I do this, the sadder it makes me that it got as far as it got, and that there are other people this is going to happen to that it really doesn't need to."
The scariest part
Although Tara has managed to create positives out of her cancer diagnosis through her advocacy, she said some fear still remains. 
"It's still a little scary," she said. "And it will be until I'm in remission and I know that they are going to be able to cure me."
But mostly she worries about her boys, and what will happen if she is gone. To an extent, Tara said the cancer treatments have already changed them. 
"They worry a lot more now," she said. "(Sam) is worried about our dog and people dying now, and before, he was a lot more carefree. I just hope they can take this experience and make it a positive."
But even though her treatments wear her down, Tara said she can feel herself getting better. She said between her family and the community support, she feels hope, and that she is on the road to recovery. 
"Attitude has a lot to do with it," she said. "I have full faith (in the doctor's) ability to get rid of the cancer like they did for Jen."