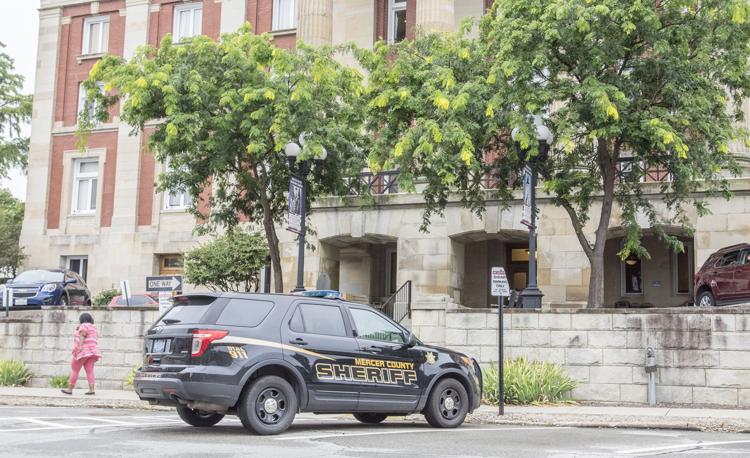 MERCER — Even though Mercer County Commissioner Matt McConnell doesn't think it will make the county courthouse any safer, he expects that visitors will be required to enter the building through a single-access point after passing through a metal detector.
"I think that will just funnel the problem to other locations," McConnell said. "I think it will give people a false sense of security."
A point of contention for years – both candidates for the Mercer County Sheriff Republican nomination in this year's primary said they would work to restrict courthouse access if elected – the issue has come to a head after a Sharon man was accused of threatening to detonate plastic explosives in the courthouse.
Kenneth Ferri has been charged with making bomb threats and terroristic threats in connection with the accusation, which included a threat to bring a gun to the courthouse in a bid to commit "suicide by cop." He remained in jail as of Tuesday evening.
The courthouse has two entrances, neither of which have entry security. Deputies from the sheriff's office patrol the building at times, but not on a continuous basis.
McConnell said cameras have been installed inside the building during previous security upgrades, and the courtrooms, located on upper floors, sometimes use metal detectors to screen people attending high-profile and emotionally fraught trials.
After the bomb and gun threat last week, county officials, including Prothonotary Ruth Bice, have reached out to call for single-point access and the installation of metal detectors. Mercer County is one of the few courthouses in Pennsylvania without such measures. Beaver, Lawrence, Crawford and Butler counties all have single-point access with metal detectors.
Commissioner Tim McGonigle said he deferred to the judges' opinion on the issue of single-point, metal detector-controlled access to the courthouse when he took office in 2016.
"I told the courts that I would support what the president judge wanted to do," McGonigle said.
At that time, then-President Judge Thomas Dobson was opposed to tighter security. After Dobson's retirement in 2017, Judge Robert Yeatts, his successor as president judge, adopted a different stance.
Yeatts supports adopting single-point access controlled with a metal detector. He said the move should be as cost-effective as possible and should be performed in conjunction with other actions, including training for sheriff deputies and other courthouse staff, but called the entry policy a first step.
Just as Yeatts represented a shift on security from Dobson, McGonigle's opinion on the issue has shifted. The commissioner said he was concerned for public safety with no screening and two-door access to the courthouse.
"The recent bomb threat is bringing to light that we need to upgrade our security before we are hit with unbearable regrets," McGonigle said.
Deputy Bruce Rosa, who will likely take office in January as sheriff, said he would prefer a single point of entry, preferably located in the basement of the courthouse where a handicapped-accessible ramp is available, manned by security personnel with metal detectors and X-ray machines.
While deputies provide security at the courthouse, Rosa said having one entryway could help the deputies go from being a reactionary force to a preventative one.
"If you put single-point security there, and you have that deterrent, then you now have the upper hand and you're going to prevent those guns, knives and bombs," Rosa said.
Rosa, who is running unopposed in the November sheriff's election, said threats to the courthouse can come from a variety of sources. Violence could stem from an altercation between family members of victims and defendants, or a victim's relative looking to harm a defendant also could pose a security issue.
"I'm not looking at an inmate as a criminal — I have a duty to protect them as well," Rosa said. "Just because he didn't make bond doesn't mean he committed the crime, but some victims or their family members' emotions are high, and the defendant's in chains and shackles, so he can't defend himself."
Deputies can still intervene when someone uses their fist or a chair or a pen to attack someone, but Rosa said if weapons can be removed from potential threats altogether, it would help give anyone in the courthouse more peace of mind.
"It's going to cost the same amount now as it would after something happens," Rosa said. "Why wait and mix money with the blood of the innocent?"
Sheriff Roni Shilling said the county has an X-ray machine, a metal detector and metal detecting wands at the courthouse available for the deputies.
"We would have them set up outside the courtroom to check anyone going inside," Shilling said.
Shilling said she was very supportive of having higher-security measures at the courthouse, including the implementation of a separate entrance for defendants transported from the Mercer County Jail or other detention facilities. That measure would allow deputies to prevent contact between defendants and the public.
Ultimately, though, the decision would be up to the commissioners. McConnell said he would oppose adopting single-point access and metal detectors, but he would not interfere with implementation if the other two commissioners voted in favor. McGonigle said he now supports those security measures.
That would leave the third commissioner, Scott Boyd, as the tie-breaker, literally. And Boyd said he hasn't made a decision yet.
Boyd said he and the other commissioners will reach conclusions on courthouse security in the coming weeks.
"We need to start looking at the options," he said. "I've been mulling it over as to what it will look like for a number of months."
Like David L. Dye on Facebook or email him at ddye@sharonherald.com.