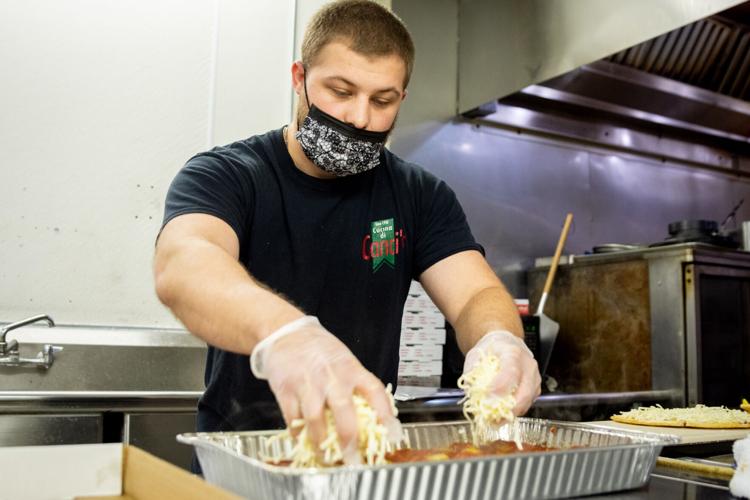 HERMITAGE – Like other business owners, Michael Tota of Wheaton Dry Cleaners has suffered economically from the COVID-19 pandemic and the accompanying lockdowns.
Part of the problem is that many of his customers — such as teachers and school administrators — are likewise affected by the pandemic while the other part is others assumed his business was among the nonessential businesses closed during the spring, Tota said.
"I was considered non-essential and shut down for about a week, then the governor declared that cleaners and laundromats were essential," he said. "But by then the damage was done."
Tota has been able to get some assistance, including six-month forgiveness on his mortgage from First National Bank. But he also is benefitting from a pandemic grant program by the city of Hermitage. The city distributed its small business grants on Dec. 21.
The city opened its Community Development Block Grant COVID Small Business Disaster grant program Nov. 23 and 47 businesses applied online. Three applications were deemed ineligible and city officials asked the remaining applicants to submit more information for the underwriting process, Hermitage's Assistant Manager Gary Gulla said.
Mary Ellen McKendry, with the city's community development office, coordinated the communications and documentation with the applicants. A project review committee recommended the first round of grant applicants to the Hermitage Community and Economic Development Commission, which approved the list on Dec. 17, Gulla said.
Twenty-three small businesses received grants of about $5,000 in the first round, for a total of $110,500 awarded. In the second round, city officials will review those businesses who weren't able to provide sufficient information in time for the first round, Director of Planning and Development Jeremy Coxe said.
Hermitage city commissioners applied for the funds in June, when many businesses were struggling from the pandemic's economic impacts. While awaiting approval from the state, the commissioners discussed using city funds to provide more immediate relief to local businesses and then using the CDBG funds to reimburse the city, but officials did not want to risk using city funds without certainty from the state that its own would be approved.
For Tota the dry cleaner, the grant will help cover payroll for about a part-time employee until about April, when he hopes more people will be vaccinated against COVID-19. Earlier this year, Tota ran the store for about seven months, six days a week by himself.
But even though applying for the grant process was still a relatively new process for him, Tota said city officials guided him in the process.
"They were helpful for people like me who are a little more technologically challenged. They were helpful with that," Tota said, referring to Gulla and city Manager Gary Hinkson.
Fellow business owner Cam Cianci of Cucina di Cianci's said his restaurant business began when an uncle opened the restaurant in Greenville in the 1950s. Cianci later bought out a cousin in 1992 and remained in Greenville until 2015, when the restaurant relocated to Hermitage.
However, the restaurant's new location hasn't had what Cianci would call a "normal year" yet, between closures, reopenings and varying degrees of occupancy, although take-out helped keep the business afloat.
"We're very grateful and appreciative of everyone in the community that supported us along the way," he said.
Though Cucina di Dianci's has been around for more than a half-century, Cianci said he wasn't able to apply for COVID-19 Payroll Protection Program aid — which offered loans that would be forgiven if he kept his employees working. The PPP required businesses to include their previous year's tax returns and he was unable to submit that information because the restaurant was in the process of relocating.
Fortunately, he was able to apply for the city's small business grant program, which will help cover payroll about 12 employees. Like Tota, Cianci said city officials were very proactive with providing any assistance the business owners needed during the application process.
"If there was ever anything additional they needed they made sure to let you know by calling or emailing, and they'd let you know what they needed or if you needed any help," Cianci said.
Like David L. Dye on Facebook or email him at ddye@sharonherald.com.