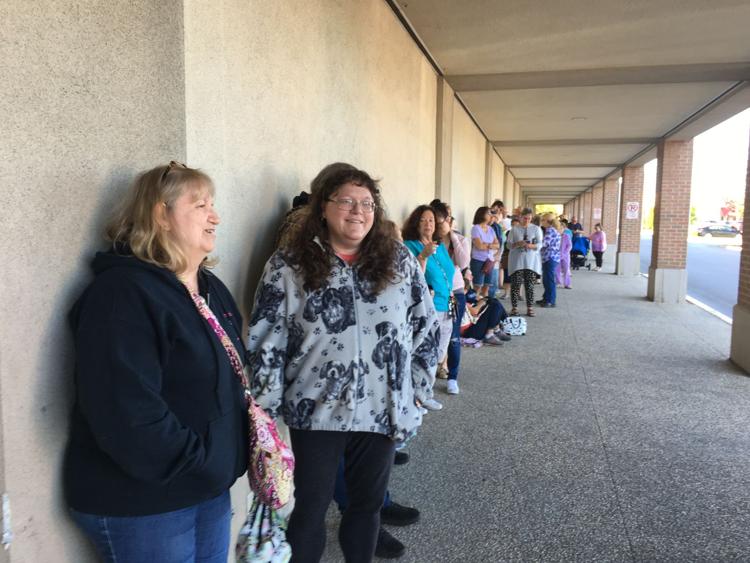 HERMITAGE ­– Arriving at 6:45 a.m. on Sunday for the 9:45 a.m. grand opening of the Michaels Hermitage store, Gail Stafford found herself first in line followed by family members.
"We do this on Black Friday,'' Stafford, a Sharon resident said. "It's fun.''
By the time of the formal ribbon cutting, there were around 75 in line. The store had a soft opening last week but that didn't dampen shoppers' demand on Sunday.
In addition to its craft and artisan supplies that were on sale, Michaels was offering $10 gift coupons and other goodies for the first 100 customers.
Housed at Hermitage Towne Square on South Hermitage Road, the store initially operated as Pat Catan's, which also offered arts and craft products. Michael's Cos. bought the entire Pat Catan's chain three years ago and in January announced it was closing all 36 of the chain's stores. But the company also said it planned to "rebrand'' a maximum of 12 stores and reopen them under the Michaels banner by the end of this year. 
Michaels also is a craft and arts retailer, with more than 1,200 stores in 49 states. 
Employing 38, the Hermitage Michaels has lots in common with Pat Catan's, such as offering artist paints, seasonal decorations, and artificial flowers and fabrics.
But there are differences between the two retailers. The size of the Hermitage store was cut down to 36,000 square feet from the 63,000 square feet of its predessor. The additional space is being used for storage, Vicki Mulligan, the store's manager said.
"But the selection of items we offer is still here,'' Mulligan said, noting Michaels also offers its own brand of products. 
The retail space originally was the Treasure Island discount department store.
Hermitage Commissioner William Moder was on hand for the ribbon cutting ceremony. While retailers have taken it on the chin in recent years by closing their bricks and mortar stores, shoppers still want a choice.  
"There's still a need for certain types of retail businesses,'' Moder said.
Pat Urey of Hermitage was with her family shopping in the store on Sunday. 
"I'm always here,'' she said of her craft buying habits. "I just like these craft stores.''